News > Spokane
Garden District development moving forward after Crestline Street holdup resolved
Sat., May 25, 2019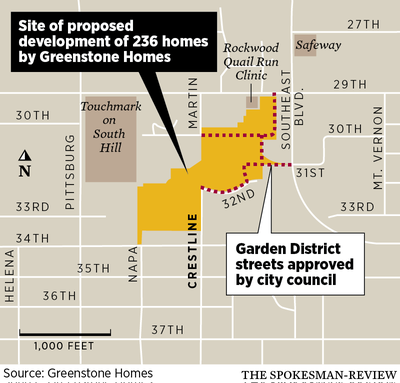 A large housing development will move forward on Spokane's South Hill, after an agreement between the developer, neighbors and the county's hearing examiner was approved by the City Council this week.
At issue was the construction of a major road through the proposed development, which will bring 236 residential units and 38,000 square feet of office, retail and commercial space on 25 acres of land still largely covered in trees, shrubs and grasses.
Earlier this year, Spokane's hearing examiner, David Hubert, said Crestline Street had to be built as an arterial street through the Garden District development to comply with the city's long-term comprehensive plan, which guides development in the city.
Greenstone, the company behind the proposal near 29th Avenue and Southeast Boulevard, and a coalition of neighbors led by Kelly Puzio appealed Hubert's decision, which threw the decision to the City Council.
With the approval from City Hall, Crestline still must be extended, but as a "local access street," following a decision earlier this month by the City Council to remove the designation of "urban major collector arterial" from the street. Instead of a continuous curve effectively connecting 37th Avenue to Southeast Boulevard, a modified street grid with narrower streets will be built, in an attempt to calm traffic and lower vehicle speed.
Jim Frank, founder of Greenstone who brought Kendall Yards to downtown Spokane, said he was "happy with the result."
"It took us a long time to go through this process because we were fighting the city wanting the arterial," he said. "Crestline is not going through. Instead, it creates a local access street. It creates connectivity in the neighborhood and makes more of a grid system out of it. It's about as much of a grid system that you can make given the circumstances that exist there."
The agreement had other provisions.
It reduces the housing density near 34th Avenue. The original proposal had 20 multifamily units directly north of the existing homes on 34th. Now, only single family units will be built here.
Greenstone will build a sidewalk and six-foot landscaped strip between the sidewalk and street between 37th and 32nd, creating a safe walking route through the neighborhood to Hamblen Elementary School.
Dedicated right- and left-turn lanes at Martin and 29th will be built.
In an email sent out to the neighborhood coalition, Preserve Hamblen, Puzio called the agreement a result of "an extraordinary neighborhood effort."
"Our collective effort helped create a beautiful walking path from our neighborhood into the Garden District, one that will be lined with mature, deciduous trees. If we had done nothing, this path would have become a busy arterial loaded with noisy, smoggy cars. As you walk this path in the coming years, know that your work helped preserve this for future generations," he wrote.
Council President Ben Stuckart praised the outcome, and noted the agreement was passed unanimously by council.
"It should be able to begin and we can get some housing up there," he said. "Overall everybody was really pleased with it."
Frank agreed, to an extent.
"I think the agreement is something we reached with the neighbors that I think is a win for everyone," he said. "The city staff may not think it's a win, but at the end of the day it is."
Frank said construction may begin this year, and would be completed with five years.
Local journalism is essential.
Give directly to The Spokesman-Review's Northwest Passages community forums series -- which helps to offset the costs of several reporter and editor positions at the newspaper -- by using the easy options below. Gifts processed in this system are not tax deductible, but are predominately used to help meet the local financial requirements needed to receive national matching-grant funds.
Subscribe now to get breaking news alerts in your email inbox
Get breaking news delivered to your inbox as it happens.
---