News > Spokane
Spokane Valley City Council rejects proposed code change on duplex and townhouse development
Thu., May 30, 2019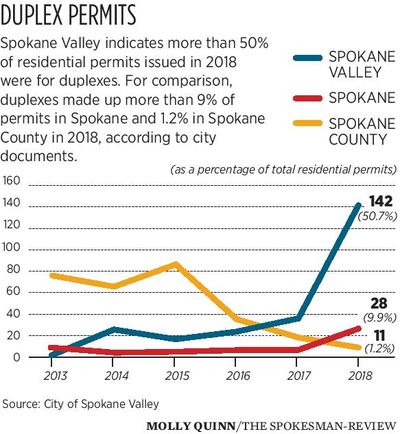 A proposal by a group of Spokane Valley residents to limit duplex and townhouse development in a specific residential zone was voted down Tuesday evening by the City Council.
Resident Pete Miller filed a proposal earlier this year to change a portion of city code to reduce the number of duplexes from three to one per acre in R-3 single family residential zoning, which covers half of Spokane Valley.
The intent of the city code amendment, she said, was to ensure duplexes and town homes are owned by residents, instead of outside investors aiming to flip the developments into rental properties.
The proposal would have allowed duplexes to be across the street, or on opposite corners with separate parcel numbers.
"It's not limiting a property owner's right to build a duplex, if they have a property that will hold a duplex," she said, referencing the proposed change to city code. "We aren't taking that away from them. We are taking away duplex rental units – 1 acre and above – owned by out-of-state investment corporations."
Spokane Valley has experienced a sizable increase in duplex development since 2013, and it has been an issue frequently brought up by citizens at public hearings for subdivisions, who voiced concerns about decreased property values, increased traffic and inconsistency with neighborhood character.
Cottages and duplexes are allowed in single-family, multifamily, mixed-use and corridor mixed-use zones, according to the city. Corridor mixed-use zones are areas that allow light manufacturing, retail, multifamily and offices along major transportation corridors.
Spokane Valley in 2013 issued four permits for duplexes. That number rose to 142 permits in 2018, according to city documents.
Spokane Valley indicates more than 50% of residential permits issued in 2018 were for duplexes. By comparison, duplexes accounted for just more than 9% of permits in Spokane and 1.2% in Spokane County in 2018. The city issued 138 permits for single-family homes that same year, according to city documents.
The planning commission held several public hearings to discuss the amendment and city staff indicated it could affect anticipated development rights as well as reduce affordable housing units and alternative housing types.
They also found it would be difficult to implement and wasn't consistent with the city's comprehensive plan, which indicates allowance of a "broad range of housing opportunities to meet the needs of the community."
The planning commission voted 5-0 to recommend that City Council deny the amendment, which was initially discussed at a May 14 council meeting.
"We had a lot of concern about how to implement the language because we recognize, very respectfully, it was drafted with good intentions and drafted by neighbors who put a lot of effort in it," said Lori Barlow, senior planner with Spokane Valley at the May 14 council meeting. "Their intentions were there, but the literal interpretation had a lot more far-reaching intent than what they may have interpreted or intended it to be."
Spokane Valley city Councilwoman Brandi Peetz said she also felt residents had good intentions with the amendment, but that it might need to be worded differently.
"I feel, like, some of the statistics – the 50.7% increase from 2017 to 2018 – is kind of a little bit alarming," she said. "I've seen duplexes going into older neighborhoods where they don't necessarily fit, and I agree, we definitely have a housing crisis and there's a place for them.But I think I would like to see them more along the corridor mixed use or something of that nature rather than the single family (zoning)."
The City Council opted to advance the amendment to a May 28 meeting for public comment.
Resident Nancy Purcell said there are many "now leasing" signs posted near new developments, but very few single family homes available in Spokane Valley.
Purcell added that Barlow indicated at the May 14 meeting that duplex development was fueled by the economy and the city merged R-3 and R-4 residential zoning in 2017.
"If the changes in the number of duplexes being built was truly driven by the economy, I believe single family residential permits would also have had a significant increase, considering the lack of single family homes for sale in the Valley," she said.
"While I understand the need for housing, I believe the Valley should be encouraging single family dwellings and home ownership rather than duplexes and rentals that have no vested interest in the area," she added.
The City Council in a 6 to 1 vote, denied Miller's proposal. Peetz dissented.
However, the City Council opted to have staff take a closer look at duplex development in the future.
Miller said even though City Council dismissed the code text amendment, residents remain hopeful the city will address duplex development in the R-3 zone.
"I don't feel like our efforts have been in vain because we now have their attention, and hopefully, they can rewrite the code text amendment with their own version that would be consistent with the proper language they need to rectify the concerns that they have," she said.
Contact the writer:
(509) 459-5581
amye@spokesman.com
Local journalism is essential.
Give directly to The Spokesman-Review's Northwest Passages community forums series -- which helps to offset the costs of several reporter and editor positions at the newspaper -- by using the easy options below. Gifts processed in this system are not tax deductible, but are predominately used to help meet the local financial requirements needed to receive national matching-grant funds.
Subscribe to the Coronavirus newsletter
Get the day's latest Coronavirus news delivered to your inbox by subscribing to our newsletter.
---