News > Spokane
Longtime Spokane retailers stick to roots to make Black Friday success
Fri., Nov. 29, 2019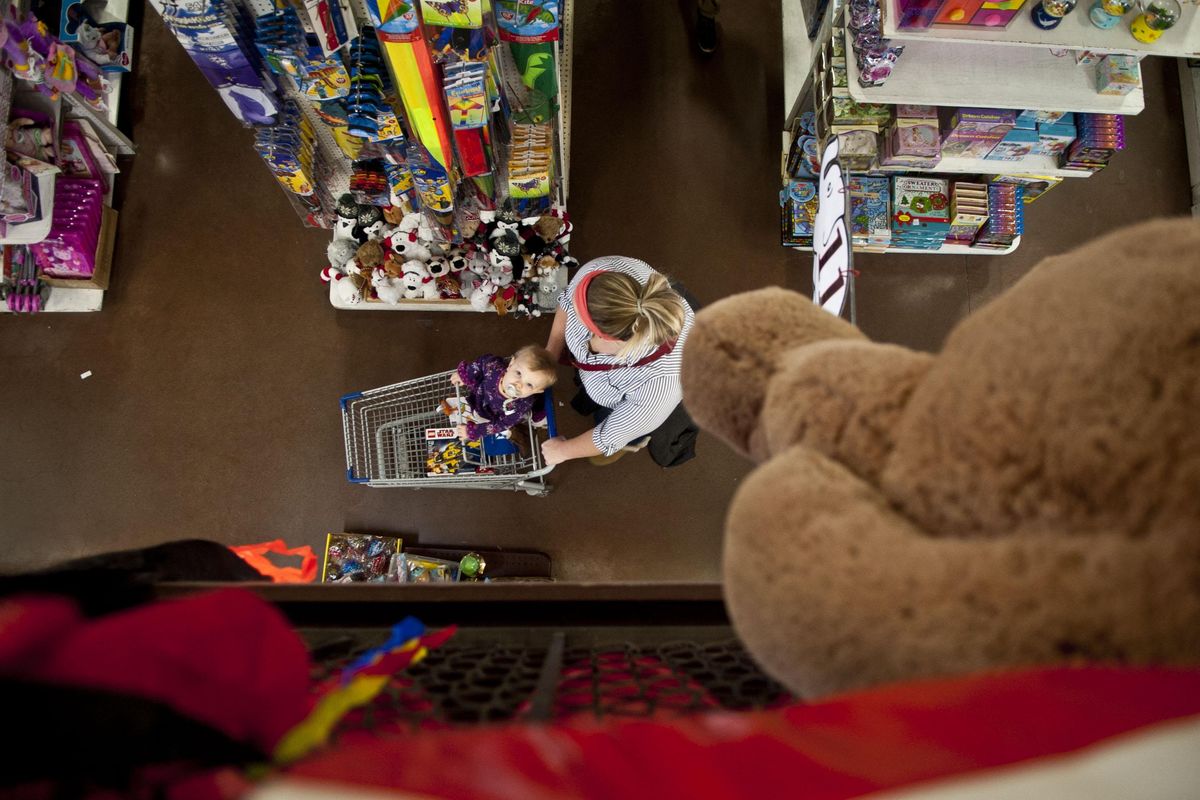 One-year-old Caroline Blumenkrantz of Spokane Valley shops with her mother, Sarai, at White Elephant in Spokane Valley on Wednesday, Nov. 27, 2019. (Kathy Plonka / The Spokesman-Review)
Three of the longest-tenured Spokane retailers have taken different approaches to make Black Friday a sales boost, but not necessarily a game-changer, for their overall success.
Huppin's, The General Store and White Elephant Surplus Stores have about 257 combined years of selling Spokanites everything from electronics to tent poles. While shoppers will find sales at all three locations on Friday , the formula each uses to survive relies on a variation of giving customers what they've always wanted: low prices.
"We still stick to the roots of who we are, the type of business that allows people to go out and have fun," White Elephant manager Katie Conley Mustered said. "We are the toy store for the whole family. We try to make sure we have something for every age."
Murray Huppin continues to run the family business started by his family as a clothing store and pawn shop in 1908 in downtown Spokane. His father, Sam M. Huppin, transformed the business in the 1950s into a major electronics retailer. While most of the business sales now come from online orders, Huppin maintains its retail store at 8016 N. Division St. to keep a connection with the customers.
"Our retail store is still very important to us," Huppin said. "Much of what we offer can't be offered online. If we put in your home theater and home automation system, that requires a relationship and being able to speak to someone to provide services."
The late John Conley started the White Elephant in 1946, selling military surplus on East Sprague. The same year, the late William S. Barany started his own military surplus store, The General Store, on Riverside Avenue.
Barany then moved his business to its current location at 2424 N. Division St. in 1959. It's now managed by Mark McKee, who joined the company this past year.
"I'm having a blast," McKee said.
Unlike White Elephant, McKee said, The General Store is using online sales more and more. For instance, the store will soon offer customers who sign up for the Ace Rewards package free delivery for purchases over $50. They are also partnering with a local shop to offer installation for exterior items, such as lights or bumpers, purchased at the store.
"So, we are adding a lot of things to help drive our sales," McKee said.
Black Friday
Of course, the event billed as the biggest shopping day of the year will feature sales at all three locations.
McKee is offering a scoped BB gun that normally sells for $89.99 for only $29.99. "And we have 40 percent off all snowboard boots and bindings," he said. "We also have 40 percent off all archery products and 30 percent off all rifle scopes."
Shoppers who go to the Huppin's store on Friday can find 54 "door buster" deals, Huppin said. One of those is a 65-inch, Samsung smart TV for $477. "It's a really good television," Huppin said.
At White Elephant, Mustered said everything in the store will be 10 percent off the normal price. While the company has toyed with the idea of moving to online sales, it never has gained traction. Most store employees are members of the Conley family.
"We focus on being able to help the customers when they come in," she said. "When we do our buying, we focus on getting the lowest price possible so we can stay competitive."
The store, which is famous for its wide array of toys, also has a wall of board games that are popular when families gather for the holidays. "We've got minimum one game that will work for every family," Mustered said.
For online sales, Huppin's moved to get ahead of the curve years ago. The company now uses the Amazon platform and does most of its business shipping from three warehouses scattered around Spokane.
"One of the things that has served us well is that we were willing to adapt to the times," Huppin said. "That's why we have been open for 111 years."
That online retail revolution gave rise to Cyber Monday, which gives Huppin's a bigger boost than Black Friday, he said.
"That's basically the biggest shopping day of the year for online sales," Huppin said. "It's an incredibly heavy traffic day. Our warehouses will be running full bore. This time of year, it's like a double month for us."
Huppin said he believes Cyber Monday came about because of slow internet connections some 20 years ago.
"It kind of gained traction when people were using dial-up modems with slow access," he said. After Black Friday sales, employees would get to work, "where they had much better internet performance. It's kind of that simple."
Local journalism is essential.
Give directly to The Spokesman-Review's Northwest Passages community forums series -- which helps to offset the costs of several reporter and editor positions at the newspaper -- by using the easy options below. Gifts processed in this system are not tax deductible, but are predominately used to help meet the local financial requirements needed to receive national matching-grant funds.
Subscribe now to get breaking news alerts in your email inbox
Get breaking news delivered to your inbox as it happens.
---