News > Spokane
Prosecutor: Spokane officer justified in South Hill shooting
Oct. 7, 2019 Updated Mon., Oct. 7, 2019 at 7:40 p.m.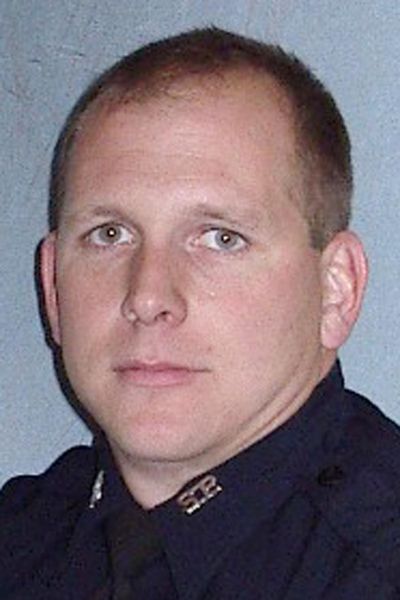 The Spokane County Prosecutor's Office says a police officer was justified when he shot at a fleeing man on the lower South Hill in July.
Spokane police Officer Daniel Lesser was placed on paid administrative leave after he fired two rounds at Charles E. Jackson Jr. on the afternoon of July 6. Neither bullet struck Jackson, who was arrested a short time later. Neither man was injured.
Jackson, 46, was wanted by the U.S. Marshals Service for illegal possession of a firearm. He allegedly pointed a real-looking BB gun at Lesser shortly before the officer fired.
According to the prosecutor's office, Lesser had been on patrol in the parking lot of the Grocery Outlet at Maple Street and Third Avenue when a citizen approached him; the person told Lesser a man was hiding from him behind a dumpster in the nearby Chevron parking lot.
Lesser, a member of the Marshals Service's Pacific Northwest Violent Offender Task Force, drove past the dumpster and recognized the man as Jackson, who has a distinctive stop-sign tattoo on the back of his head, according to the prosecutor's office.
As Jackson began to walk away through the parking lot, Lesser rolled down his window and shouted to Jackson that he was under arrest, according to the prosecutor's office. Lesser then activated his lights and followed Jackson as he ran south along Maple, shouting commands through his window and making several attempts to block Jackson with his patrol car.
After crossing Sixth Avenue, Jackson turned and ran west down an alley near the Mapleview Apartments, according to the prosecutor's office. As he did so, he allegedly looked over his right shoulder, raised his right arm and pointed what appeared to be a black Beretta handgun at Lesser.
Lesser jumped out of his vehicle, updated other officers by radio and pursued Jackson through the alley "because he believed that Jackson presented an immediate threat to everyone in the area, including other responding officers," the prosecutor's office said.
After taking cover behind a telephone pole, Lesser fired two shots at Jackson "a few seconds after Jackson had pointed what appeared to be a gun at him," the prosecutor's office said.
Lesser pursued Jackson into a nearby apartment complex before losing sight of him. Officers later arrested Jackson near 1608 W. Ninth Ave. and determined his weapon was a BB gun.
Lesser has been involved in at least four other police shootings dating back to 2003, three of which were fatal and all of which were deemed justified by the prosecutor's office.
Lesser also came under scrutiny following a February incident that prompted a showdown between the Spokane Police Guild, City Council members and the police ombudsman, Bart Logue. In that incident, Lesser placed his police dog through the window of a truck to subdue a man who had led officers on a chase through the East Central neighborhood.
Sgt. Terry Preuninger, a spokesman for the police department, said Lesser is no longer on administrative leave.
Local journalism is essential.
Give directly to The Spokesman-Review's Northwest Passages community forums series -- which helps to offset the costs of several reporter and editor positions at the newspaper -- by using the easy options below. Gifts processed in this system are not tax deductible, but are predominately used to help meet the local financial requirements needed to receive national matching-grant funds.
Subscribe now to get breaking news alerts in your email inbox
Get breaking news delivered to your inbox as it happens.
---