News > Spokane
Creatures and curiosity: Cryptid Trivia caps lively session at library
Thu., Oct. 31, 2019 A rumored sighting of Bigfoot at the Spokane Valley Library last week has been confirmed. Sasquatch was there. So was the Creature from the Black Lagoon and Gorn, from "Star Trek" fame.
Admittedly, Sasquatch was in a can, and the Creature and Gorn were latex masks; but the crowd of children and adults gathered for Kelly Milner Halls' presentation about cryptid creatures was ready to believe in the reality of mythical monsters. Or at least to consider the possibility that creatures like the Loch Ness Monster might exist.
When a colleague mentioned Milner Halls had a new book out this fall, Spokane County Library District Librarian Alison Johnson knew she wanted to book a program featuring the prolific author.
"I knew the kids would be fascinated," Johnson said. "This time of year kids are geared toward the fantastical."
It doesn't get more fantastical than "Cryptid Creatures: A Field Guide," Milner Halls' latest book.
"My books explain things that I was curious about as a kid, or things I was scared of," Milner Halls said. "I watched all those Bigfoot movies with my dad, and when I asked him if they were real, he'd say, 'I don't know, we need more information, more evidence to be sure.' "
That sparked a curiosity in her that still burns bright, and she enjoys creating that same excitement and thirst for information in children during her presentations at schools and libraries.
"Kids are my kindred, my tribe," she said.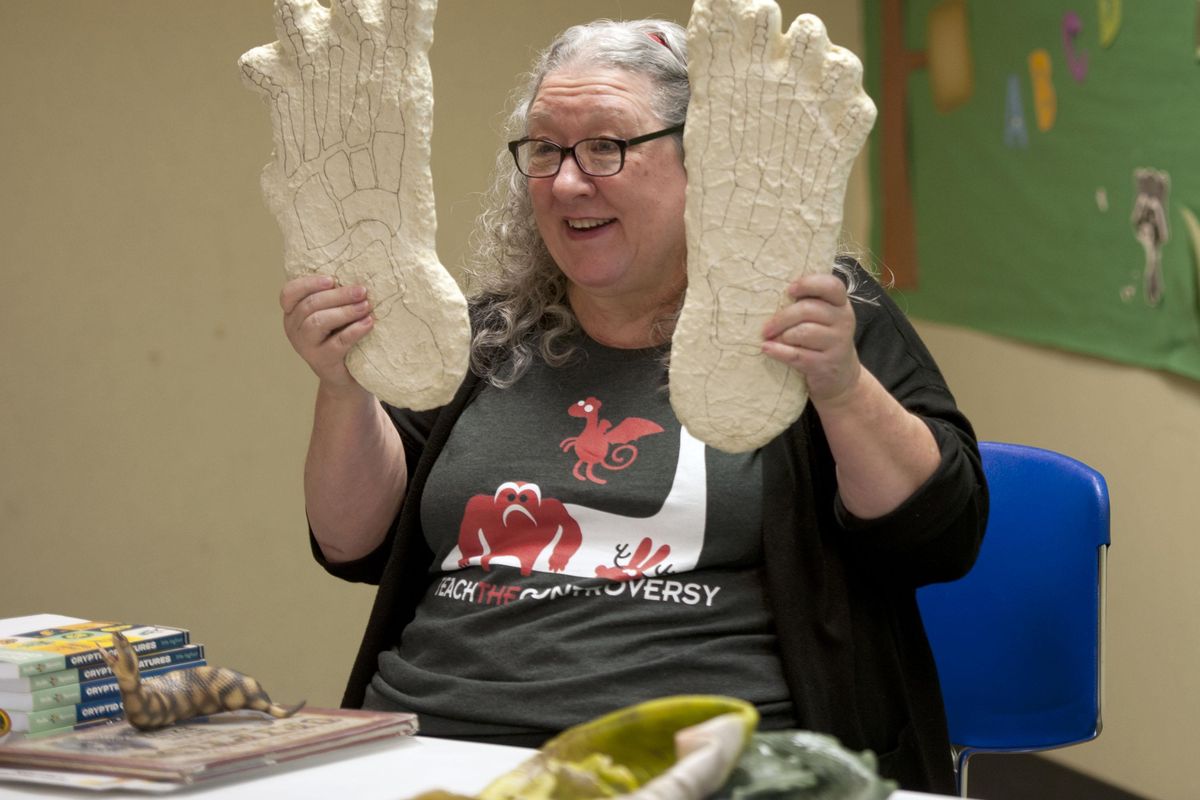 Kelly Milner Halls holds a set of Bigfoot track castings during a discussion about cryptozoology at Spokane Valley Library on Tuesday, Oct. 23, 2019. (Kathy Plonka / The Spokesman-Review)
She's written about all kinds of mysterious things like ghosts, mummies and Bigfoot. She said the most popular section of her 2006 book, "Tales of the Cryptids," was the dictionary in the back of the book.
And that's what spawned the field guide featuring 50 mysterious creatures that may, or may not, be real. Each cryptid is highlighted with three illustrations.
At the Spokane Valley Library, she regaled kids with tales of "Champ," America's Loch Ness Monster, Chupacabra and the Lizard Man of Scape Ore Swamp.
Milner Halls works hard to find credible sources but wants her readers to reach their own conclusions.
"Lots of animals could turn out to be real, or they could be fake," she told the crowd. "I give you the evidence and let you decide."
Her presentation concluded with a game of Cryptid Trivia, and kids were eager to win prizes, including Canned Sasquatch and a copy of "Cryptid Creatures."
Lively interaction is just what library organizers hoped for.
"It's a great way to encourage kids to think critically, and it promotes discussion with family and friends," Johnson. said "It gets them to ask questions."
As for Milner Halls' own thoughts about Bigfoot?
"It's just my opinion, but I'm 80% sure he's out there," she said.
Santiago McAllister, 7, wasn't convinced.
"I don't think Bigfoot is real," he said.
His brother, Isaac McAllister, also 7, said he learned "Bigfoot has really big feet."
Lexi Dees, 10, was excited to be a Cryptid Trivia prize winner.
"My dad's nickname is Sasquatch because he's superhairy," she said.
In addition to helping hone children's critical thinking skills, Milner Halls hopes they'll pursue their own mysteries.
"I'll be 62 on my next birthday," she told the group. "Someday, I'll be too old to write weird books and you could take my place."
Parker Spencer, 14, is on it.
He said he's read all of Milner Halls' books "except the ghost one," and when he studied Greek mythology, it was the creatures, not the heroes, that captivated him.
"I'm starting to make a cryptid creatures guidebook," he said. "I started with Ireland, Scotland and Japan, and I'm thinking about which country to do next. I want to write about as many as I can."
Local journalism is essential.
Give directly to The Spokesman-Review's Northwest Passages community forums series -- which helps to offset the costs of several reporter and editor positions at the newspaper -- by using the easy options below. Gifts processed in this system are not tax deductible, but are predominately used to help meet the local financial requirements needed to receive national matching-grant funds.
Subscribe now to get breaking news alerts in your email inbox
Get breaking news delivered to your inbox as it happens.
---