News > Business
Catalyst rising: Cross-laminated timber structure takes shape in U-District
Sept. 6, 2019 Updated Mon., Sept. 9, 2019 at 4:45 p.m.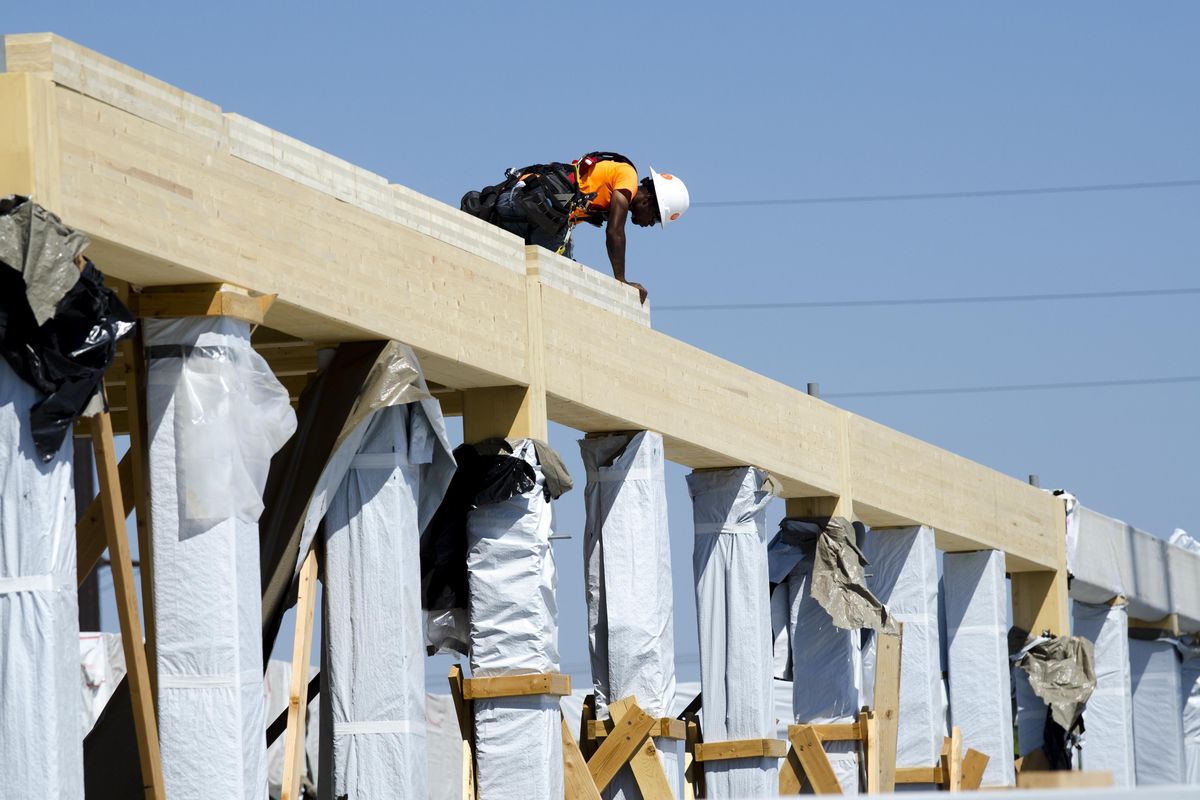 A workers sits atop the Catalyst Building at the south landing of the University District Gateway Bridge in July. The net-zero building, constructed with beams of super-strong cross-laminated timber, is on track to be complete in 2020. (Jesse Tinsley / The Spokesman-Review)
First came the bridge, then came the big wooden building.
Work on the Catalyst campus at the south landing of the University District Gateway Bridge has moved quickly, and the two buildings under construction are on pace to be complete early next year.
Site preparation for the campus began late last year, and construction on the $60 million, five-story, 159,000-square-foot Catalyst Building became a sight to behold at the end of July, when panels of cross-laminated timbers arrived. Since then, the growing structure has looked a bit odd. The dark steel beams that usually support a building have been replaced by bright, blond wooden beams.
"How it looks is pretty spectacular," said Pat Roberts, McKinstry's director of mechanical construction for the Inland Northwest. The Catalyst campus is being developed jointly by Avista and McKinstry, a Seattle-based company that specializes in energy-efficient buildings. "The product itself is pretty spectacular."
The cross-laminated timber, a super strong wood product developed by California-based Katerra, is being produced at the company's factory in Spokane Valley. Unlike steel, most of the holes for mechanical, electrical and sprinkler systems are put in in the CLT panels when they're manufactured. Also unlike steel, there's not a lot of "give" in CLT, the so-called panels have to fit perfectly, like a LEGO set, Roberts said.
"All the holes seem to be working," Roberts said. "All that's going well."
The Catalyst Building is about three stories tall now, and it will "top out" in October, meaning the final structural beam will be put in place, said Gabe Boeckman, McKinstry's communications manager.
When complete, the East Sprague Avenue building will house three degree programs and about 1,000 Eastern Washington University students. As the main tenant, EWU will move its computer science, electrical engineering and visual communication design programs from its Cheney campus to the building.
Boeckman said the project will be "done probably spring or summer 2020. Well ahead of EWU classes starting."
Next door is the four-story Hub facility, which topped out in July.
"That building's going super quick. Now we're working on the final walls," said Boeckman, noting it will be done in the spring.
The 40,000-square-foot HUB includes restaurant and office space, and will house a central energy plant to power it as well as the neighboring Catalyst Building.
Together, the buildings will be part of a "shared energy district," with the Hub providing most of the electricity. The Catalyst Building will be "net zero," meaning it will produce as much energy as it uses. Avista and McKinstry say the Catalyst will be "the first net-zero energy and zero-carbon building in Eastern Washington."
Avista began buying property on the block that has become the south landing in 2016. In all, it has acquired 1.5 acres on the block for nearly $4.4 million.
Though the wooden beams won't be evident from the outside when the Catalyst Building is done, they will be seen from the inside, as will other wooden elements that are usually metal.
"Wood screws and wood leg bolts and things of that matter. There are still quite a few metal plates holding things together in few places," Roberts said. "We call them screws, but they are super long and super big."
In other words, the building will be an uncommon structure. Beside it being the first net-zero building in the Inland Northwest, it's the first CLT building in the state. "Spokane is stepping up and going first," Boeckman said.
"It's unique," Roberts said. "Wood buildings have been built for a really long time, if you think about it. Wood buildings have been around forever. Other CLT buildings have been built. But this one is just specifically unique."
This article was changed on Sept. 9, 2019 to update old figures for the Catalyst Building, a joint project by McKinstry and Avista. It is a $60 million development, and the building will be 159,000 square feet.
Local journalism is essential.
Give directly to The Spokesman-Review's Northwest Passages community forums series -- which helps to offset the costs of several reporter and editor positions at the newspaper -- by using the easy options below. Gifts processed in this system are not tax deductible, but are predominately used to help meet the local financial requirements needed to receive national matching-grant funds.
Subscribe now to get breaking news alerts in your email inbox
Get breaking news delivered to your inbox as it happens.
---