News > Spokane
Self-isolating with 'Minecraft': Furloughed worker starts server for kids, adults stuck inside
Sat., April 4, 2020 The gathering area at the base of a blocky facsimile of Spokane's Riverfront Park clocktower was empty Tuesday afternoon, but more virtual visitors were almost certainly on the way.
"Typically, our most popular server time is around 8 (p.m.) to around midnight," said Justin Achziger, who was leading a virtual tour of his Minecraft creation intended to give the region's self-isolated gamers a way to pass the time inside. "That's when most of the kids get on. It's after dinner's been done and their moms aren't nagging them for anything."
Achziger took a furlough from his night shift job at a downtown hotel just as the novel coronavirus was starting to become a concern. He'd organized game nights and other activities on the Spokane Reddit page as well as a chat service called Discord, but never set up a public space like the expansive online play area where up to 100 players at a time can spend hours building their own structures in the massively popular and widely available online game.
The clocktower is the work of 14-year-old Spokane resident Seth Griffith. It stands 41 meters tall (roughly 6 meters shorter or about 20 feet, than the real thing in Riverfront Park, the amateur architect notes) and took him about three hours to build.
"I kind of grew up on Minecraft," Griffith said in an interview. "I've been playing it almost since it came out."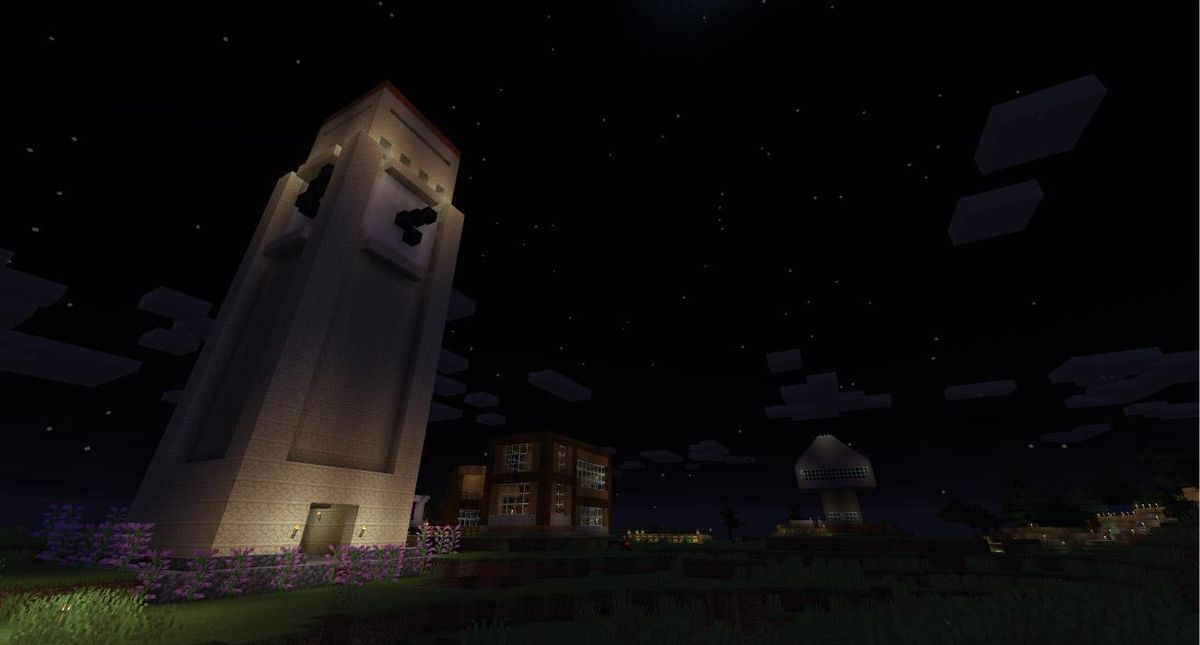 A Minecraft version of Riverfront Park's iconic clocktower is seen in this March 31, 2020 photo. Justin Achziger started a Spokane-centric server of the popular online game as a way for schoolchildren and others to pass the time while stuck indoors. One younger player made this copy of the clocktower, Achziger said. (Justin Achziger)
Other players have built structures that have no resemblance to Spokane landmarks, including a floating wooden ship, a Nordic-inspired castle and even a re-creation of an at-home work desk that doubles as a bunk bed.
Griffith said he wanted to build something that gave visitors the immediate impression that the world had ties to the Lilac City.
"Originally, it was right near the spawn point for the world," Griffith said, referring to the location where new players would first see when loading up the game. "I wanted people to say, 'Ooh, this is Spokane.' "
Achziger points out Griffith's creation, and all the others, as he flies Superman-like above the world, its denizens toiling away beneath him.
"I'm an anxious guy already," Achziger, 27, said. "For years, I've worried about things like anxiety attacks and all that stuff. Playing Minecraft rocks. It's just fun."
The server, which Achziger plans to host until the self-isolation orders from Gov. Jay Inslee and health officials are lifted, also gave a sense of pandemic purpose to Nicholi Wyatt. Achziger recruited Wyatt, whom he'd met through the game nights, to keep order in the new virtual world.
"As a kid, I played with Legos," said Wyatt, who's approaching his 33rd birthday. "I think of this as a more involved version of Legos. I can definitely sink some hours into it and not think about the stress that's going on outside."
But just as players have the ability to create, they also have the potential to destroy. Achziger wanted to make sure the stress of potentially losing a structure that players have spent hours building didn't add to the stress of being forced indoors by the novel coronavirus.
"There's a lot of people out there right now, that you have no idea what they're going through," Achziger said he told a group of players who, early on, made a sport of tearing down structures and harassing other people in the game. "I don't want to put people in a worse situation. 'I'm going to try to relax in Minecraft, and then that terrible thing happened.' "
Officially released in 2011, Minecraft has transcended the gaming world to become something of a cultural phenomenon. Its blocky aesthetic and simple mechanics have drawn in players young and old, and the software has been ported to almost every major gaming console, mobile device and computer since then.
Because of its wide availability, it's generally considered to be the best-selling video game of all time, and in November the trade publication PCGames reported that 480 million people had logged in to play. That's roughly 6% of the world's population of 7.8 billion.
Scholars have also begun an academic study of the game and its effect on developing brains. A 2016 study looked at a server in Minecraft built specifically for children and families with autism, finding that the game and its social chatting tools helped players interact socially with others. A 2019 study published in the journal Frontiers in Behavioral Neuroscience found a correlation between exploration and building in the game and improvements in certain types of memory.
Achziger said the server is not just open to people in Spokane, though that's where he's based and most of the several dozen other players who've logged in live. One player is a young man from Russia who found out about the server by searching "Minecraft" on Reddit, an internet online message board where Achziger invited users to jump into his game.
"We have people who have tested for coronavirus on the server, and they're playing because they have nothing else to do," he said. "You have developers or programmers who just work from home, or just doing nothing better."
Wyatt said he was spending about six hours a day on the server at its peak, but now that the rules have been established he's moved on to other virtual pursuits until his work re-opens. He's also spending time with his pregnant wife, who is a nurse and is largely being kept away from tasks that would subject her to the virus' spread, he said.
"When she's home, I spend my time with her," Wyatt said.
Griffith estimates he spends about an hour a day in the world. He still has online coursework to complete at home, he said, and the virus has interrupted his day-to-day life, including after-school activities and meeting up with friends.
"I find it really relaxing," the 14-year-old said of his time with Minecraft.
Achziger's plan all along has been for the server to be available for players throughout orders to stay home. After that, he'll hand the keys of the world over to others, making it downloadable for other players to explore or, if it catches on, someone else to keep running on a public computer network.
"I'm trying my best to make sure that this is still fun for everybody," Achziger said. "A lot of these kids are 13, 14, 15 and 16, and they don't have school right now."
Local journalism is essential.
Give directly to The Spokesman-Review's Northwest Passages community forums series -- which helps to offset the costs of several reporter and editor positions at the newspaper -- by using the easy options below. Gifts processed in this system are not tax deductible, but are predominately used to help meet the local financial requirements needed to receive national matching-grant funds.
Subscribe now to get breaking news alerts in your email inbox
Get breaking news delivered to your inbox as it happens.
---