News > Spokane
Then and Now: Post Falls Lumber Co.
Mon., April 27, 2020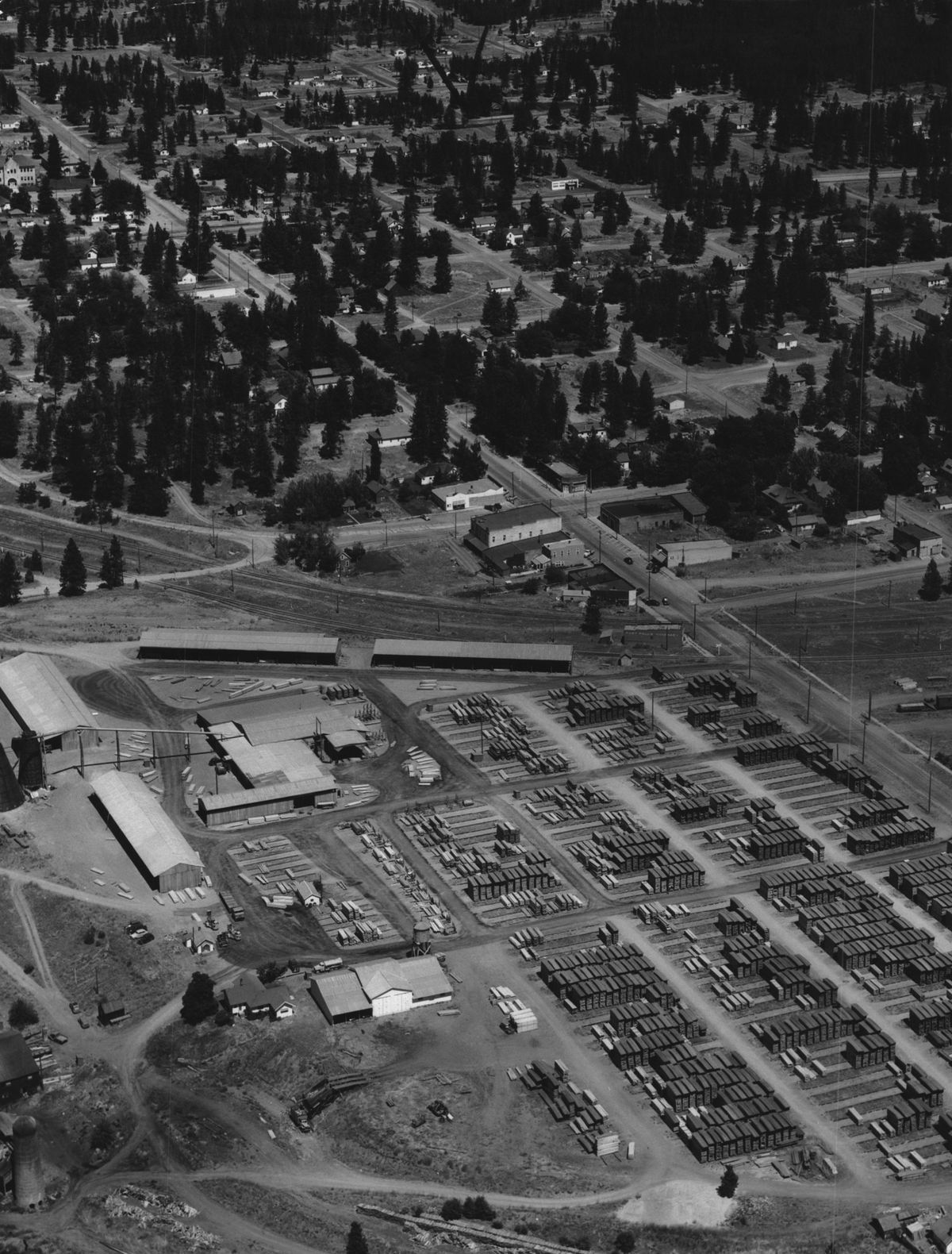 This aerial view of the Post Falls Lumber Co., circa 1950, shows stacks of milled lumber surrounded by the sparse residential density of the little town that grew up around the busy mill, originated by namesake pioneer Frederick Post in the late 1880s. The mill was shut down around 1995 by Louisiana-Pacific Corp., which was downsizing after lawsuits over its failed house siding products. It was sold to developer Harry Green in 2001. The project went into bankruptcy in 2007. Gene Scamahorn Photography/The Spokesman-Review Photo Archive (Gene Scamahorn Photography via The Spokesman-Review Photo Archive / Scamahorn Aerial Photo)
For most of the 20th century, there were several lumber mills along the Spokane River in Idaho. Tugboats would tow rafts of logs to the mills.
One of the first mills was built by Frederick Post in the late 1880s at Post Falls.
During most of its century of operation, it was called the Post Falls Lumber Co.
Post leased the mill to Hugh Strathern, a Scottish immigrant who had run a sash and door factory in Spokane before taking over the Post Falls mill, which he eventually owned with partner Charles Patterson.
Strathern died unexpectedly in 1920 and the Rupp-Holland logging company, and others, took over to keep the mill running and 85 to 100 men working.
The company was sold to Western Pine Manufacturing of Spokane in 1929. The Great Depression shuttered the mill briefly in 1931, but it reopened in 1932 with 30 workers and only operated seasonally.
The principals in Western Pine were L.E. Kirkpatrick and his son Everett. They sold the mill to Herman O. Schumacher in 1946, kicking off a postwar expansion.
In 1955, fire swept through the mill, destroying $100,000 in equipment and inventory. Schumacher restarted with a portable mill and small crew. New buildings and machinery were completed in 1957.
Schumacher died in 1965 and the company was sold to a group of local timber executives.
In 1968, the mill was purchased by Georgia-Pacific, one of the world's largest timber products companies. In 1973, Louisiana-Pacific Corp., which included the Post Falls mill, spun off from the larger company after a court-ordered breakup.
In 1995, a downsizing LP closed the mill and offered the waterfront land for sale for $6 million. With few other offers, developer Harry Green and his partners got the land for well under $2 million. Their plan was for a mixed commercial and residential development with a marina called Post Falls Landing. Two condo buildings and the marina were finished, but following many delays and a real estate recession, Green's company filed Chapter 11 bankruptcy in 2007 and a bank announced it would foreclose. The property now belongs to a group of investors, and residential and commercial lots are on the market.
Local journalism is essential.
Give directly to The Spokesman-Review's Northwest Passages community forums series -- which helps to offset the costs of several reporter and editor positions at the newspaper -- by using the easy options below. Gifts processed in this system are not tax deductible, but are predominately used to help meet the local financial requirements needed to receive national matching-grant funds.
Subscribe now to get breaking news alerts in your email inbox
Get breaking news delivered to your inbox as it happens.
---