News > Spokane
Spokane Public Schools to begin fall with distance learning
Aug. 3, 2020 Updated Mon., Aug. 3, 2020 at 10:39 p.m.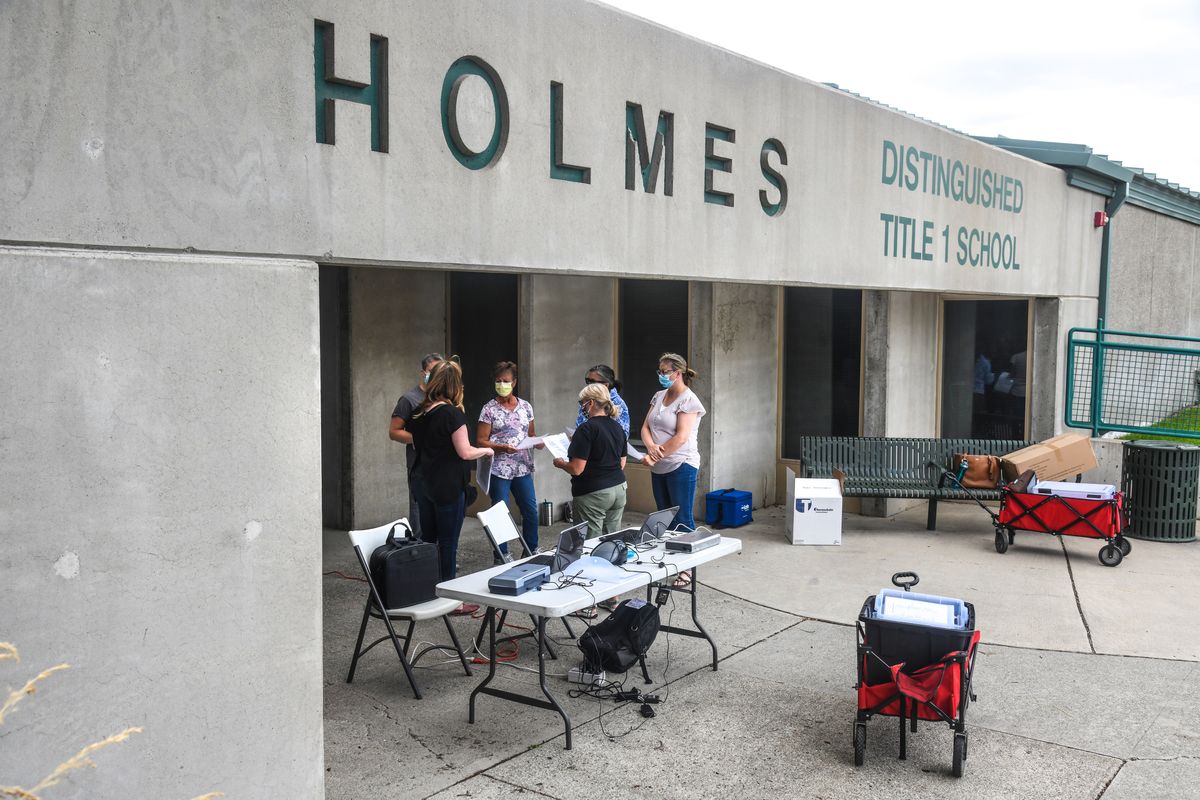 Volunteer nurses gather for instruction before the Spokane Regional Health District conducts curbside COVID-19 testing at Holmes Elementary School, July 7, 2020, in Spokane. Spokane Public Schools on Monday announced that when school resumes in the fall, it will start in distance-learning mode. (Dan Pelle / The Spokesman-Review)
Tens of thousands of children in Spokane County will begin the new school year as they ended the last one: by cracking open a laptop on the kitchen table and hoping for the best.
School officials pledge, however, that the second round of virtual learning will be much improved over the spring. Still, there was no hiding the disappointment in Monday's news.
Like the COVID-19 pandemic that engendered it, distance learning isn't going away anytime soon.
"We are heartbroken and grieving that this is going to be the experience for our students in the fall," new superintendent Adam Swinyard said during a news conference Monday afternoon.
"This is a very hard day for our community, a hard day for our kids and our staff," Swinyard said. "But we'll be working closely with our families."
The district spent much of the summer doing just that. After investing thousands of hours in research, Spokane figured it had covered all the bases – "multiple scenarios," Swinyard said – from in-school instruction to remote learning or a combination of the two.
Then it shared the news with families last week in a series of upbeat webinars.
But when Spokane County Health Officer Dr. Bob Lutz weighed in Monday morning by "strongly recommending beginning the year in remote/continuous learning for all students," the district had no choice.
Pledged to follow the guidance of the Spokane Regional Health District, the district did so Monday in the face of rising coronavirus caseloads in Spokane County.
So did the county's second-largest district, Central Valley, which will open with distance learning only. Other nearby districts are expected to do the same in coming days.
Spokane made it official in a letter to parents that reflected disappointment but also optimism – that come the first day of school on Sept. 3, the distance-learning experience for its 31,000 students will be markedly better than the ragged response to the school closures in March.
"Real-time remote learning will be much different from what families experienced in the spring," the district said.
Spokane Public Schools also offered some heartening details on how it plans to achieve that goal.
In what it called an "improved" distance-learning model, the district plans to offer identified school start and dismissal times; specific times for each period or subject; use of Microsoft Teams as the districtwide digital platform; laptop checkout for all students; and limited in-person instruction for some students.
The key is consistency, Swinyard said. "We believe that routines are really important. … At the elementary level, we recognize the need to move and play."
"We have been diligently planning from the spring to improve the experience to give them every sense of normalcy," Swinyard said.
"This will be a real-time school day," said Swinyard, who promised to share more details with families later this week.
There are still no easy answers for two of the most vexing problems facing Spokane and most other districts: child care and internet access for low-income families.
Swinyard said the district is working on plans to restore the Express child care program sidelined by the pandemic. Details will be shared later.
Also, Swinyard said the district is committed to making sure every student can check out a laptop. At the same time, the district is working with internet providers and community groups to expand access.
Swinyard said he recognized too much screen time can be a detriment. Asked Monday about the school day, he said "we want to be thoughtful on how much time they get on the screen."
Asked whether the district might have deferred a decision for another week in hopes of a decline in COVID numbers, Swinyard declined.
"We have consistently stated that we would follow the instructions of public health officials," he said.
Those directives were clarified by recent numbers, which Lutz cited in a letter to local superintendents.
"Schools are not islands," Lutz said, quoting a report from the Institute of Disease Modeling.
Prior to Memorial Day weekend, Lutz noted Spokane County had 432 cases of COVID-19. Since then it has added 3,384 cases.
"While returning to in-person learning is a shared-goal by SRHD, doing so may come at a significant cost likewise shared by the entire Spokane community, especially our most vulnerable," Lutz said.
"Based on our rates, the existing science regarding COVID-19, and school reopening, I strongly recommend beginning the year in remote/continuous learning for all students," Lutz wrote in guidance sent Monday morning to school superintendents.
Local journalism is essential.
Give directly to The Spokesman-Review's Northwest Passages community forums series -- which helps to offset the costs of several reporter and editor positions at the newspaper -- by using the easy options below. Gifts processed in this system are not tax deductible, but are predominately used to help meet the local financial requirements needed to receive national matching-grant funds.
Subscribe now to get breaking news alerts in your email inbox
Get breaking news delivered to your inbox as it happens.
---