News > Pacific NW
Former Sen. Slade Gorton, state political icon, dies at 92
Aug. 19, 2020 Updated Wed., Aug. 19, 2020 at 8:02 p.m.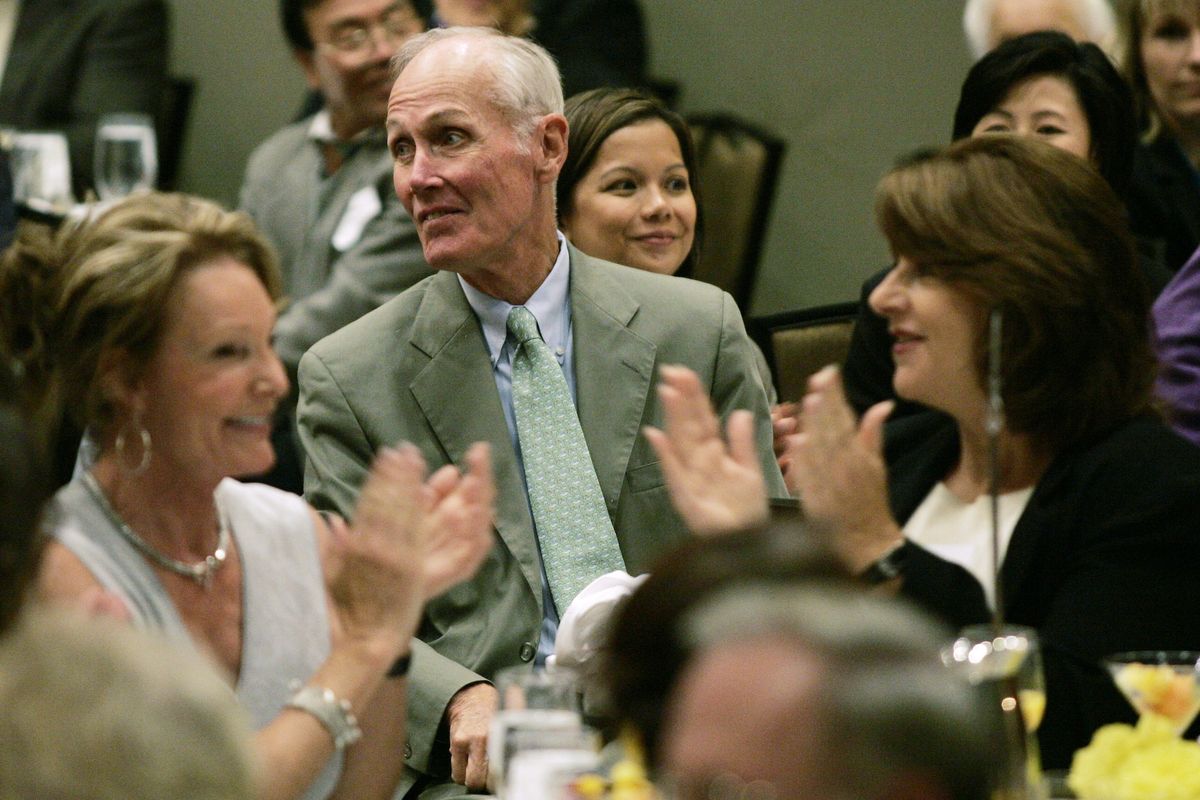 In this Aug. 30, 2006, file photo, former Republican Sen. Slade Gorton, center, is introduced at a fundraiser for Republican Senate candidate Mike McGavick in Bellevue, Wash. Gorton, who served in the Washington Legislature, and as state attorney general before he became a three-term U.S. senator, has died. He was 92. (Ted S. Warren/The Associated Press)
Slade Gorton, a former legislator, attorney general, the only person to be elected to both of Washington's U.S. Senate seats and an icon in state politics for decades, died Wednesday at 92.
"The state of Washington has lost a great public servant," said former Gov. Dan Evans, who described Gorton as a friend and colleague for 65 years.
Thin, bespectacled and cerebral, Gorton was part of the "mainstream" wing of the state Republican Party that has declined in recent years – conservative on fiscal matters, strong on defense but moderate on some social issues.
He left the Senate in January 2001 but never really retired. He served on the special commission investigating the Sept. 11, 2001, attacks and on the state's redistricting commission in 2011, reprising a role he had in the 1960s of redrawing Washington's political boundaries.
"Washington has lost a giant – a man who exemplified the very best in politics and who inspired those of us who followed him into the public arena," state Sen. Mark Schoesler, R-Ritzville, said.
Gorton loved Washington and spent decades in its service, leaving an important legacy for the state and the nation, Gov. Jay Inslee said.
"Slade was an important voice in pushing for the cleanup of Hanford and he fought for health care, the arts and transportation solutions," Inslee said. "He helped keep orca whales out of captivity and in Washington's waters."
In this 1986 photo, President Ronald Reagan and Slade Gorton wave to onlookers in Spokane. (Dan Pelle/The Spokesman-Review)
Born in Chicago, educated at Dartmouth College and Columbia University, Gorton was an Army veteran, an Air Force reservist and an attorney when first elected to the state House of Representatives in 1958, where he served 10 years before being elected state attorney general.
1958 was also the year he wed the former Sally Clark; they had two daughters and a son. They were married for 57 years. Sally Gorton died in 2013.
A longtime baseball fan, Gorton may be the person most responsible for Seattle having a major league baseball team. When the American League moved the Seattle Pilots to Milwaukee after a single season, Gorton, then attorney general, sued. As a result of negotiations, the city got the Mariners, an expansion team.
As the sitting state attorney general with a reputation for strong consumer protection, Gorton was a "giant killer" in 1980 when he defeated Democrat Warren G. Magnuson for the U.S. Senate. Magnuson had held the seat for 36 years and wielded incredible power.
But Gorton's image of youthful energy against that of the aging Magnuson, combined with the Republican landslide that accompanied Ronald Reagan's first election as president, sent him to Washington, D.C.
He lost a contentious re-election battle to Democrat Brock Adams in 1986 but won the race for the other Senate seat being vacated by Evans in 1988. He served two more terms until losing in a close race to Democrat Maria Cantwell in 2000.
In the Senate he fought for deficit reduction, the arts, automobile fuel efficiency standards and requirements that oil tankers on Puget Sound have tug escorts. He served on the Armed Services Committee at a time when the Pentagon was expanding its bases in the state.
Over his career, he wasn't shy about criticizing presidents of either party. As state attorney general, he was one of the first Republicans to call for Richard Nixon to resign over Watergate. In the Senate, he voted to convict Bill Clinton for perjury, one count in his impeachment trial, but voted not guilty on the obstruction of justice count.
In 2016, he argued neither Donald Trump nor Hillary Clinton should be president and signaled his dissatisfaction with those two choices by signing up to be a member of the Electoral College for independent Evan McMullin.
He was a strong supporter of women in the workplace. One of the women hired by the office when Gorton was attorney general was Christine Gregoire, an assistant AG who focused on child abuse cases. Gregoire would later be elected to two terms as attorney general and two as governor.
"Slade was a pioneer in breaking the glass ceiling in hiring and promoting women lawyers at a time when law firms were hiring few women," Gregoire said, calling him a supporter and mentor in a tribute prepared by Gorton's friends and former staffers.
As an elder statesman for the party, Gorton could often be found at GOP gatherings and supporting up-and-coming candidates like George Nethercutt, whom he backed for Eastern Washington's congressional seat in 1994, and Cathy McMorris Rodgers, who replaced Nethercutt in 2004.
In a news release, McMorris Rodgers described him as a mentor from whom she gathered words of kindness, wisdom and encouragement.
"He was brilliant, always cheerful, genuine and had a way of building others up to do and be their best," McMorris Rodgers said. "He inspired many to serve and contribute to the promise of America for life, liberty and the pursuit of happiness for all."
Services are pending, a former chief of staff and longtime friend Tony Williams said.
Local journalism is essential.
Give directly to The Spokesman-Review's Northwest Passages community forums series -- which helps to offset the costs of several reporter and editor positions at the newspaper -- by using the easy options below. Gifts processed in this system are not tax deductible, but are predominately used to help meet the local financial requirements needed to receive national matching-grant funds.
Subscribe now to get breaking news alerts in your email inbox
Get breaking news delivered to your inbox as it happens.
---