News > Spokane
Green Bluff picking a popular activity during pandemic, but farmers worry about apple festival season
Aug. 23, 2020 Updated Mon., Aug. 24, 2020 at 9:32 a.m. Everything is peaches and cream at Green Bluff as the farms continue to work through their peach season.
Despite statewide coronavirus guidelines, U-pick farms have not had to change operations too much over the summer – especially as of this week, when Gov. Jay Inslee issued new guidelines for agritourism businesses in Phase 2 counties, which includes Spokane County.
"We've actually seen more folks come out," said Jason Morrell, owner of Walters' Fruit Ranch. "It's something they can do and it's pretty socially distant. We had our strawberries as our first season in the spring this year, and we had record numbers of people."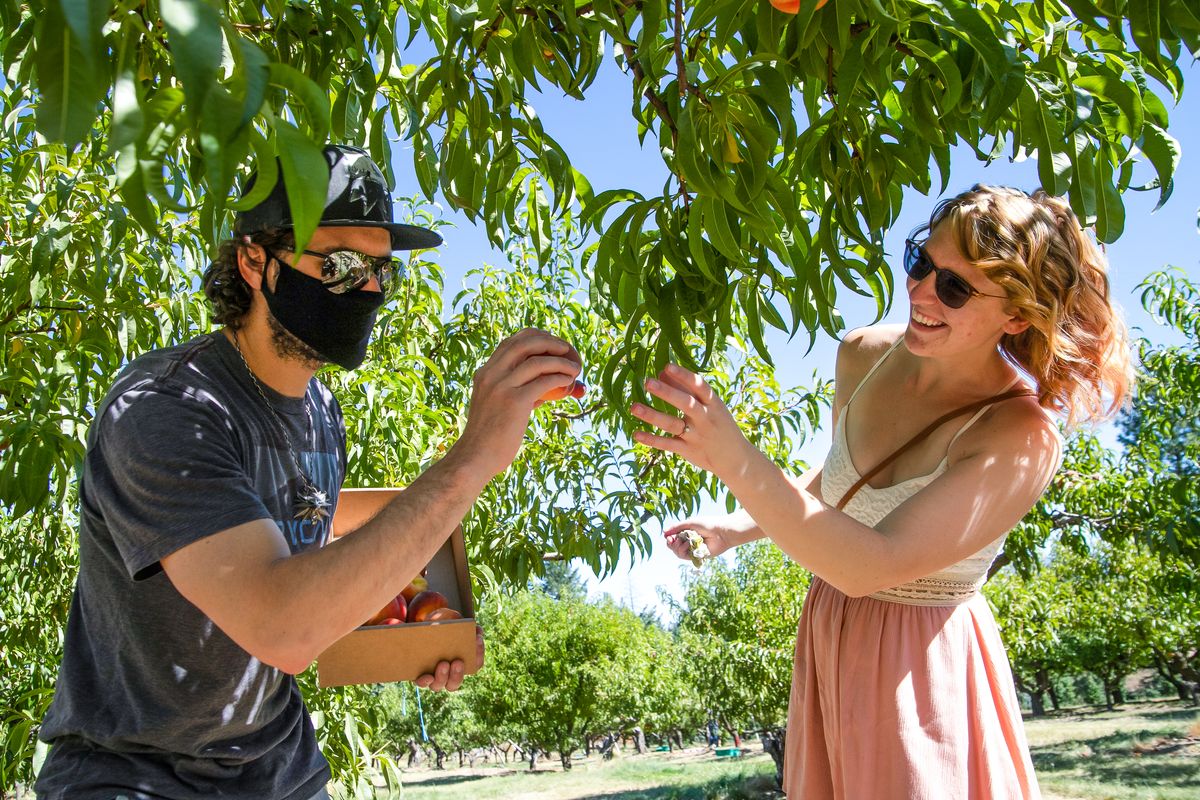 Justus Raymond, left, picks peaches with Chrissy Raymond at Walters' Fruit Ranch at Green Bluff on Sunday in Mead. Walters' offers tractor rides out to U-pick orchards. (Libby Kamrowski/ THE SPOKESMAN-REVIEW)
William Frimage, owner of Sunset Orchard on Green Bluff, said between the eight farmers markets his farm works, along with U-pick on their property, they have stayed busy.
Both men mentioned that though foot traffic is down, people are buying more produce than normal.
"There were less people, but there are more dedicated buyers. Same at the farmers market," Frimage said. "The foot traffic is less than half, but the sales are really close to the same, because the people there are coming to buy."
The hardest part about maintaining the farms has been making sure customers follow the guidelines set out by the state and the farms.
"People think that even though this is an open environment, it needs to be treated like any other place," Frimage said. "We need to not be spreading contaminants, whether it's germs or COVID, it doesn't make a difference. It's really frustrating when people think they can come up here without their gloves and masks because they're out in nature. But they're still touching food."
At Sunset Orchard, all customers and employees must wear gloves and masks while they're in the vegetable garden or picking fruit from the trees.
At Walters' Fruit Ranch, all customers and employees must wear masks. The tractor that transports customers out to the field is sanitized regularly, there is hand sanitizer all over and they are building hand-washing stations in preparation for the much busier fall season to come.
Walters' Fruit Ranch has also taken all seating from the café and moved it outside. Morrell also took out a row of apple trees to make more room for people to sit outside at tables.
"They really are just going above and beyond, which is really nice," said Melissa Bedford, a customer at Walters' Fruit Ranch. "It's also nice to get outside when you've been cooped up and everything.
"Honestly, it doesn't feel all that different. They are doing such a good job with all the precautions and having the signs about masks."
Most people have been responsive and responsible to the guidelines put in place, Morrell said. Only a few people have refused to wear a mask.
"Being outside and having so many acres where you can really social distance and be apart, but still together picking your fruit," said Morgan Morrell, owner and manager at Walters' Fruit Ranch. "I really think that right there is going to help us get through October."
The upcoming fall season is what farmers are more stressed about, because it brings in a large portion of their yearly income.
"We're really uneasy (about the fall) because that's where we can't do what we normally do," Jason Morrell said. "We make 70% of our profit in that one month, and it's very uncertain right now. We don't know what we can do, other than stress about it. We just go day-by-day and hope for the best."
The biggest issue for Morrell is that they can no longer do school tours of the farm, and because of this they'll have to make changes in how they operate.
"We're just going to have to navigate the river as we see it and make changes as we need to," he said. "We're probably going to have to do less staffing and see where we can cut back, so we can get the crop picked and get stuff to people."
This year has brought on many challenges for the farmers, but they have been able to maintain business as usual, or at least as usual as they can right now.
"I get a lot less sleep, and a few of my full-timers get a lot less sleep, because we're spending more time working," Frimage said. "We make all of our money for the whole year in these four months. So, we have to really put it together."
Though the fall is uncertain for the farms they are excited for apple and pumpkin season to arrive. Especially on the tail of a fairly successful spring and summer, all things considered.
"Things are going to be a little different, but it's still going to be the same old farm that you remember," Jason Morrell said.
Local journalism is essential.
Give directly to The Spokesman-Review's Northwest Passages community forums series -- which helps to offset the costs of several reporter and editor positions at the newspaper -- by using the easy options below. Gifts processed in this system are not tax deductible, but are predominately used to help meet the local financial requirements needed to receive national matching-grant funds.
Subscribe now to get breaking news alerts in your email inbox
Get breaking news delivered to your inbox as it happens.
---