News > Business
Net-zero short-term rental, housing development now open in Perry District
Aug. 27, 2020 Updated Thu., Aug. 27, 2020 at 8:11 a.m.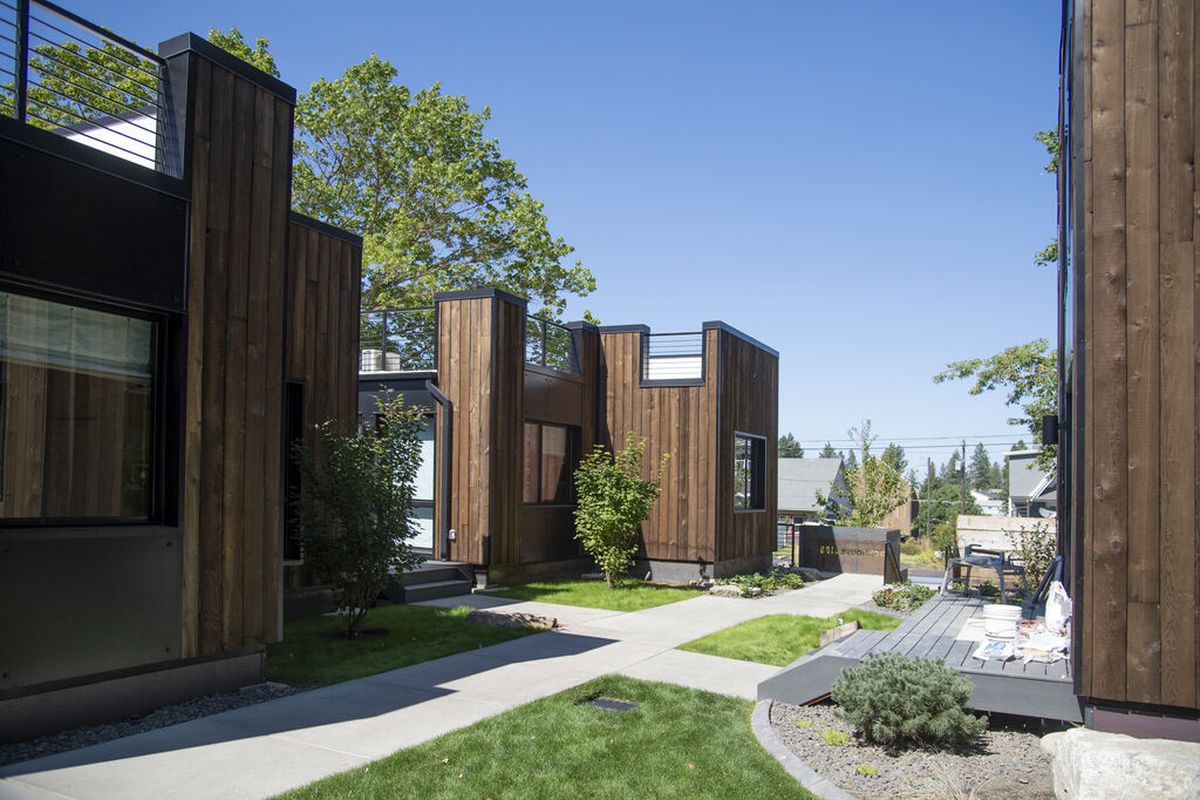 Blockhouse Life is a small village of modular residential units, a mix of studio and multi-bedroom apartments mostly used for short-term rentals. (Jesse Tinsley/THE SPOKESMAN-REVI)
Spokane's first residential development built with cross-laminated timber is now complete in the Perry District.
Blockhouse Life, a $3 million, 14-unit development at 1410 E. Tenth Ave., near South Perry Pizza and Perry Street Brewing, has already experienced strong demand for its short- and long-term rental units since opening earlier this month.
The eco-friendly development, which broke ground last year, includes eight, 240-square-foot micro studios available for short-term nightly, weekly or monthly rentals. The long-term rentals, available in a yearly lease, include a mix of 480-square-foot, 1-bedroom units and 960-square-foot, 3-bedroom units spanning two floors.
The short-term rentals start at $95 a night and the long-term rentals start at $1400 a month. 
"We've been fully booked basically every night in all eight of our (short-term) units," said Jake Tucker, short-term rental property manager at Blockhouse Life. "There's been a lot of demand and inquiries. People are loving it so far."
A team of architects, engineers and builders are behind the Blockhouse Life project, headed by Andy Barrett, co-founder and managing partner of The Toolbox, an innovation center for startups; Don Myers, president and CEO of Berg Manufacturing; and father-and-son duo David and Cody Coombs, owners of DMC Properties and builders of Perry Street Brewing.
Barrett said the group chose to develop Blockhouse Life in the Perry District because of the neighborhood's walkability and proximity to restaurants and retail.
The project, so far, has generated a positive response from the community and guests, Barrett said.
"Our market is people passionate about our environment and about doing something different," he said. "We're here to demonstrate that you can be net-zero and still be super comfortable."
A net-zero building is a structure with zero net energy consumption, meaning greenhouse gas emissions from building operations are offset by carbon-free energy production.
Blockhouse Life was built with cross-laminated timber manufactured by Colville-based Vaagen Timbers. Cross-laminated timber, made by compressing and gluing together lumber boards to form structural panels and beams, is gaining popularity nationwide as an alternative to concrete or steel because of its low environmental impact and design flexibility.
Avista's Catalyst Building in the University District, when complete, will be the first office building in the U.S. constructed with cross-laminated timber, which is manufactured in Katerra's Spokane Valley facility.
"Cross-laminated timber is a fabulous product that promotes healthy forests," said Barrett , adding it can be made from small trees or less-than-desirable pieces of lumber without compromising quality. "Also, from a construction standpoint, buildings (made with cross-laminated timber) go up a lot faster."
Spokane-based Uptic Studios designed the development. Spokane-based Baker Construction & Development Inc. was the project contractor.
Blockhouse Life partnered with Avista Utilities and Perry Street Brewing to place solar panels on the nearby brewery building to supply solar energy to the development.
The development also has a "smart wall" manufactured by Spokane-based Vestis Systems Inc. in each unit that houses plumbing, electrical and mechanical systems to maximize space.
Barrett hopes to develop additional Blockhouse Life projects in the future after obtaining feedback from customers.
"Our vision is to have Blockhouses throughout the West," he said. "We'll definitely do more in the Spokane and Coeur d'Alene markets."
Local journalism is essential.
Give directly to The Spokesman-Review's Northwest Passages community forums series -- which helps to offset the costs of several reporter and editor positions at the newspaper -- by using the easy options below. Gifts processed in this system are not tax deductible, but are predominately used to help meet the local financial requirements needed to receive national matching-grant funds.
Subscribe now to get breaking news alerts in your email inbox
Get breaking news delivered to your inbox as it happens.
---