A new fast-food joint opened Tuesday in Spokane: Southern-born, Southern-styled and Southern-run chicken sandwich restaurant Chick-fil-A opened its doors. What's all the fuss about? Luckily, the writer and designer of your favorite Further Review pages – um, that's me – is from the South and has eaten at Chick-fil-A my whole life. So here's what you need to know:
---
The history
In 1946, S. Truett Cathy and his brother, Ben, opened a 24-hour restaurant in Hapeville, Georgia, near what is now Hartsfield-Jackson Atlanta International Airport. Because the place was so small, he called the place the Dwarf Grill. He later changed the name to the Dwarf House.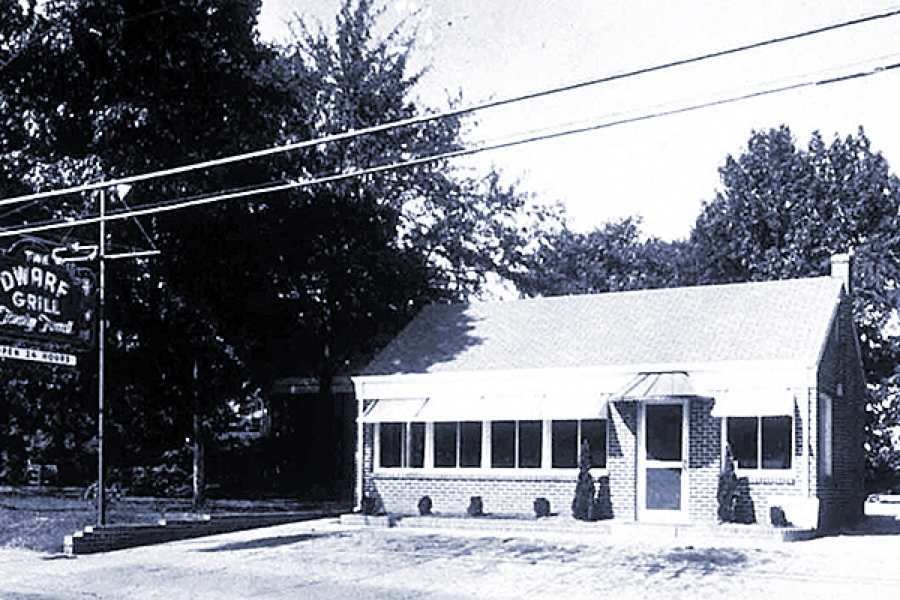 In the early 1960s, Cathy came across a method of quickly frying chicken in a pressure fryer. This meant he could prepare chicken fillet sandwiches on a bun in the same time it would take to cook a hamburger. He ditched most of his menu, changed the name of his company to reflect his new signature dish and, in 1967, opened a restaurant in a nearby shopping mall – this was long before the days of the food court.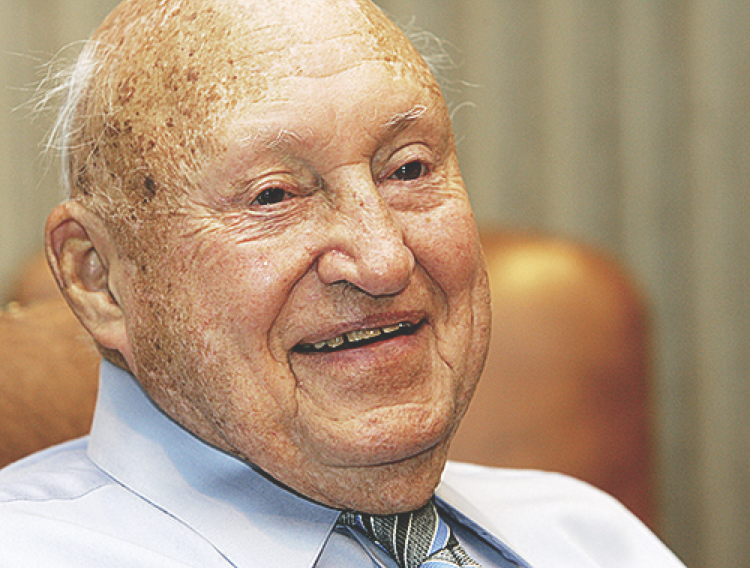 Cathy found the new business model successful, so he opened stores in malls throughout the South. His company switched to the concept of a free-standing restaurant – complete with drive-thru window – in 1986. Cathy died in 2014 at age 93 but his company has continued to expand, has continued to focus on chicken fillet sandwiches and – per his wishes – refuses to do business on Sundays.
---
The grub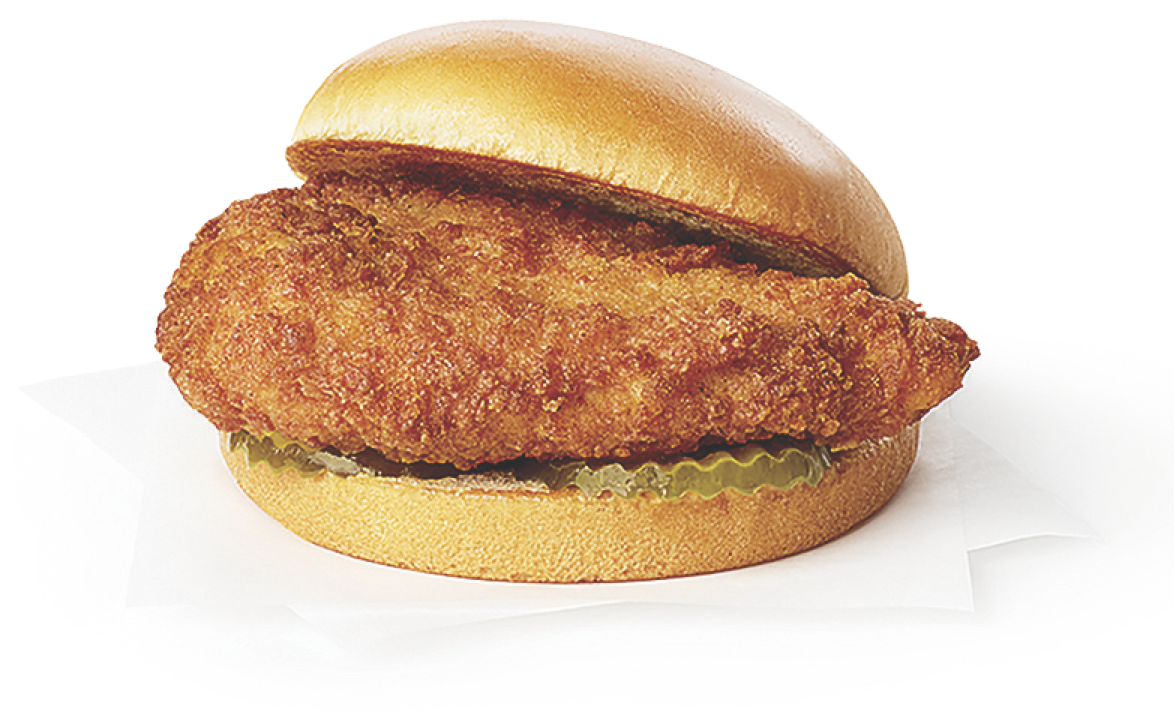 While you'll find things like spicy chicken sandwiches and chicken breakfast biscuits, Chick-fil-A's signature menu item is its chicken fillet sandwich. The fillet is rolled in an egg-and-milk wash, breaded by hand and then pressure-cooked in peanut oil. If, like me, you dislike pickles, take note: You'll find a couple of them lurking beneath the poultry.
You could argue that Chick-fil-A's waffle fries are even better than its chicken. They're sliced to include sides of potatoes and the skin – my wife hates those big chunky bits, which is a huge bonus for me. The fries are then cooked in canola oil and seasoned with sea salt.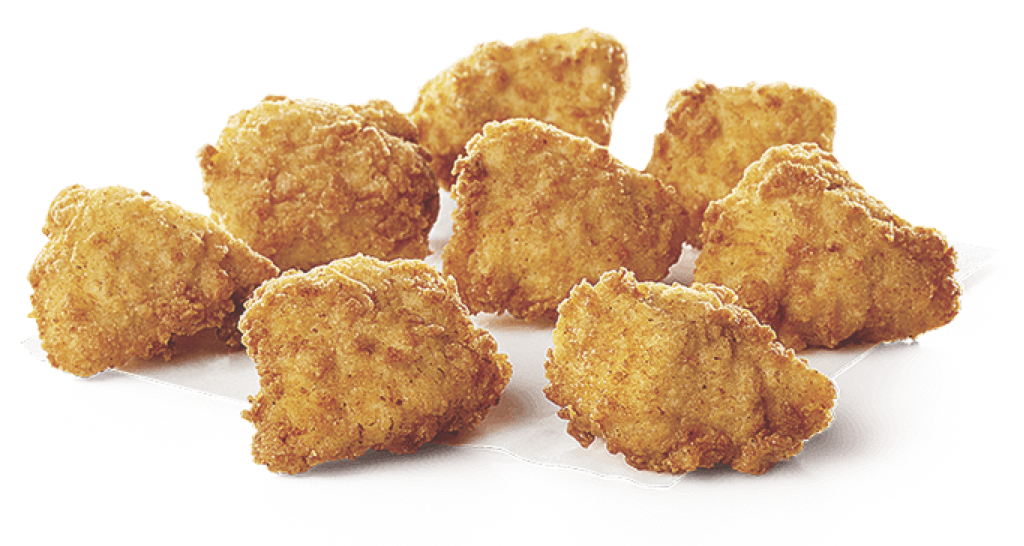 I happen to be diabetic, so I have to watch my carbohydrates. I didn't want to give up my beloved waffle fries, so instead, I gave up the sandwich and switched to just the nuggets. They come in boxes of 12, eight and – for kids – four. Best of all, from my point of view: No pickles!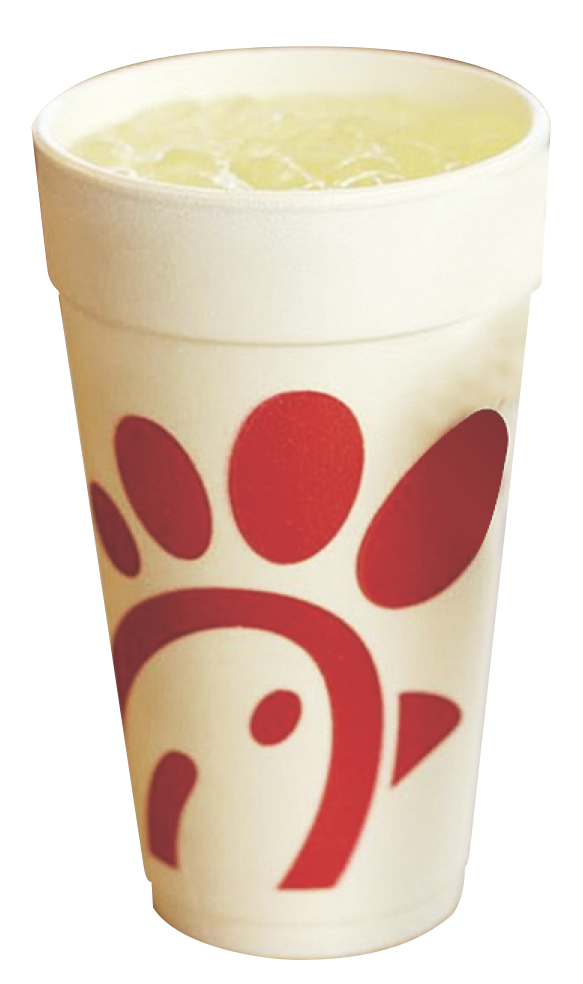 In addition to the usual assortment of soft drink offerings, Chick-fil-A is famous for its lemonade and its iced tea. The former is made of juice squeezed daily in the restaurant from Sunkist lemons and filtered water. In 2015, Chick-fil-A used about 250 million lemons – more than the entire country of Japan. My sister, back in South Carolina, is a huge fan of the sweetened iced tea. You can buy both the lemonade and the tea in gallon jugs.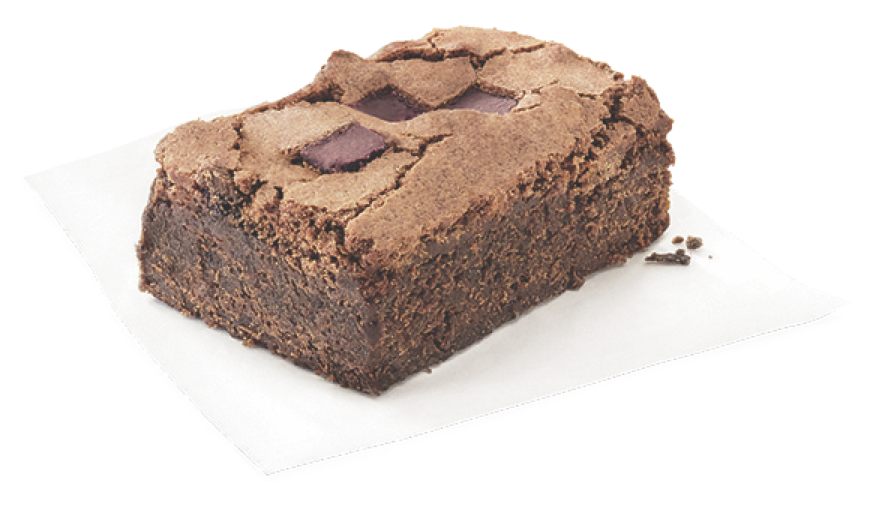 I prefer the "chocolate chunk" cookies but my daughter made me promise to show you her favorite: The chocolate fudge brownie, with bits of chocolate melted into the batter. Most likely, these are the last thing your COVID waistline needs right now, so you know what that means: Order extras to take home.
There are plenty more things on the menu, of course: I've found the selection of salads and the chicken wrap to be pretty decent. When I'm not feeling myself, I'll order the chicken noodle soup. Before I had to cut back, I loved the cookies and cream milkshake. And regulars swear by the frosted lemonade.
Chick-fil-A also offers an assortment of dipping sauces. My wife loves Chick-fil-A sauce. She says it's like salad dressing, with a distinctive taste that touches several bases at once. It's not too spicy, she says.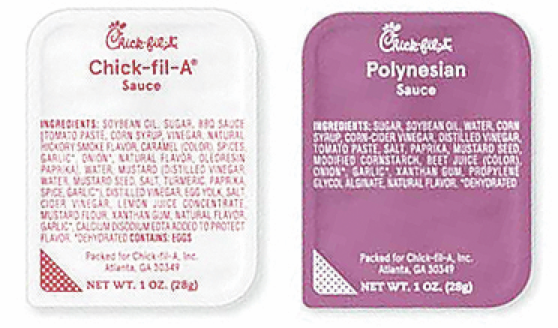 Meanwhile, my daughter prefers the Polynesian sauce, which is a bit like sweet-and-sour sauce. Elizabeth loves to dip her waffle fries in it.
Here in the Atlanta area, Chick-fil-A has begun selling its sauces in bottle form in grocery stores. We've not yet given those a try.
---
The culture
In addition to good food, Chick-fil-A is known for its unparalleled customer service. You'll hear a lot of "please" and "thank you" and the Chick-fil-A favorite: "My pleasure." And then there's the closed-on-Sundays thing. Cathy, a devout Southern Baptist, didn't believe in working on Sundays.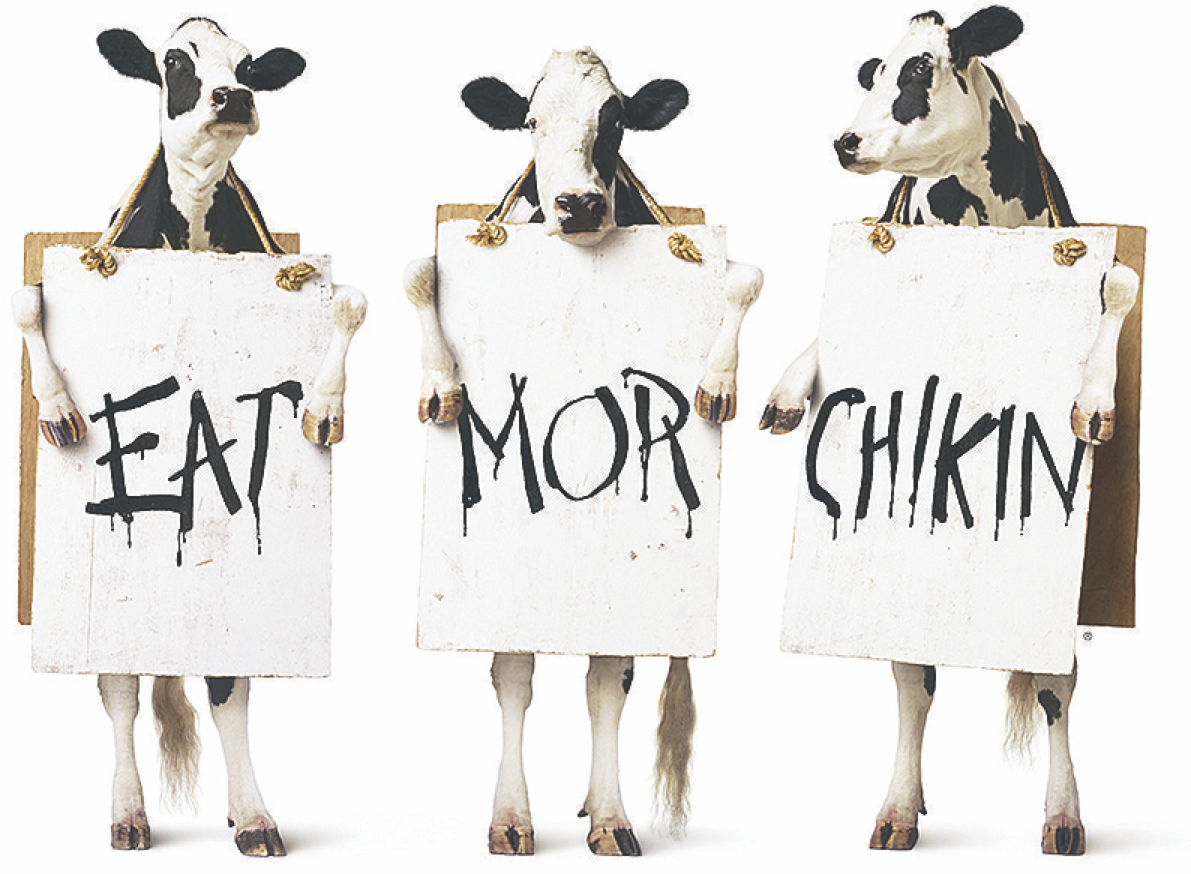 Chick-fil-A introduced its poorly-spelling cow mascots in the summer of 1995. Their gimmick: They'd rather your family eat "chikin" rather than beef. They've appeared in TV commercials, as plush dolls and you may also find someone running around in a cow costume, taking pictures with kids. The chain celebrates each July 14 as "Cow Appreciation Day."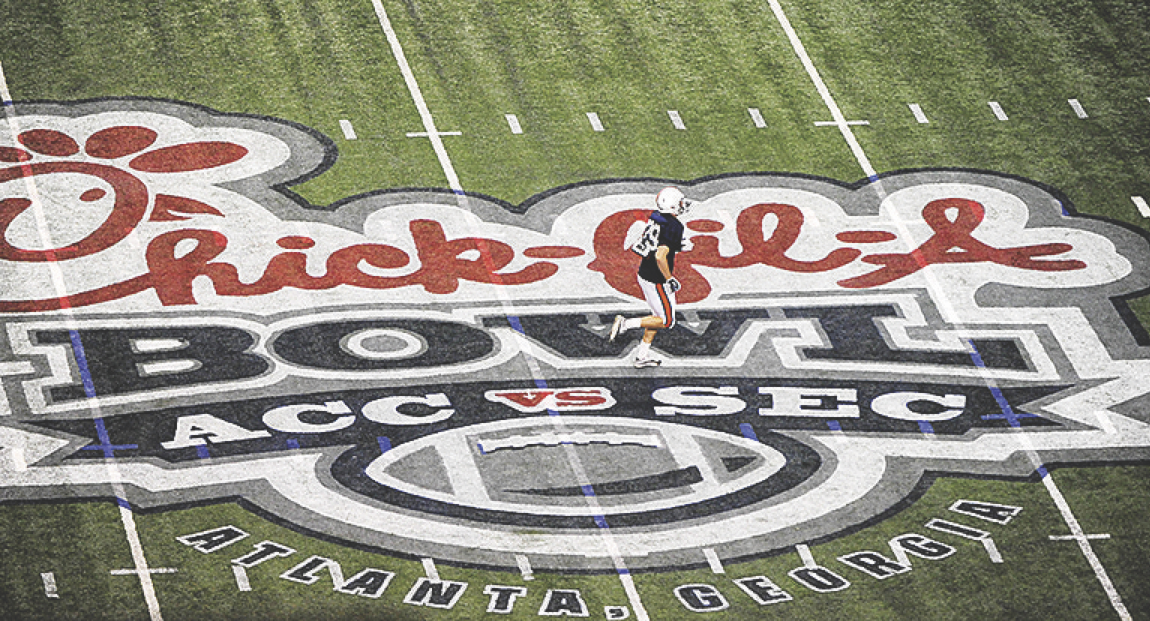 The quintessential Southern restaurant chain has been a huge support of the quintessential Southern sport: college football. Chick-fil-A took over sponsorship of Atlanta's Peach Bowl in 1997. In 2017, it began sponsoring season-opening "Kickoff" games – like the Peach Bowl, also held in Atlanta's Mercedes-Benz Stadium. Chick-fil-A is also a big sponsor of the College Football Hall of Fame, located near CNN Center in downtown Atlanta.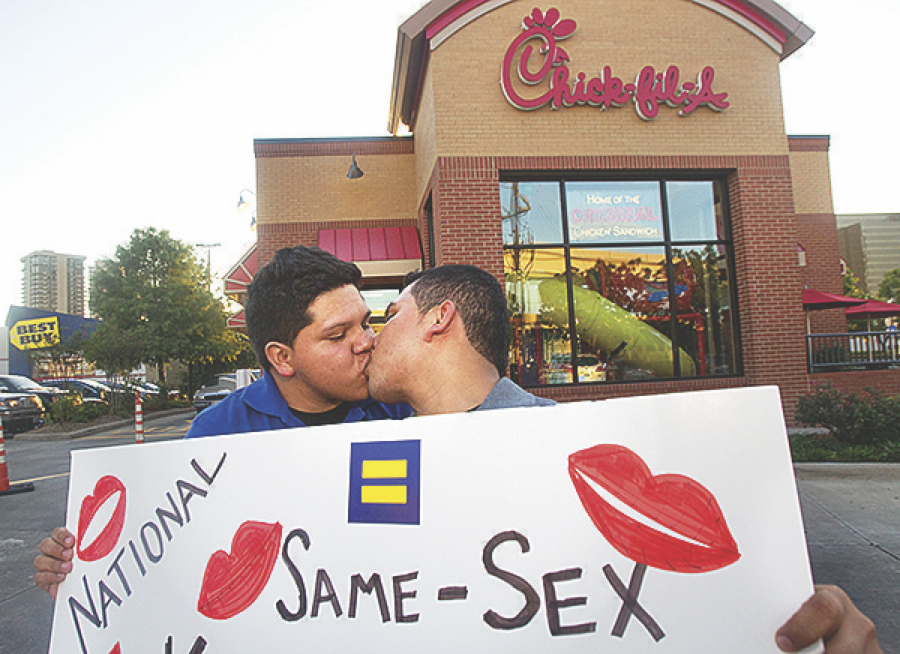 In 2012, Cathy's son and current chief operating officer Dan T. Cathy made public comments about his opposition to gay marriage. The company has been careful to distance its policies from the Cathy family's and has halted donations to organizations that oppose gay marriage. However, protests still happen occasionally.
---
Full disclosure
Just so you know: I first ate Chick-fil-A in the summer of 1978, when I was 16 years old and I've been eating it ever since. During the three years I spent working for the Houston Chronicle, I ate 10 meals a week, most weeks, at my friendly neighborhood Chick-fil-A, hanging out and soaking up the free Wi-Fi.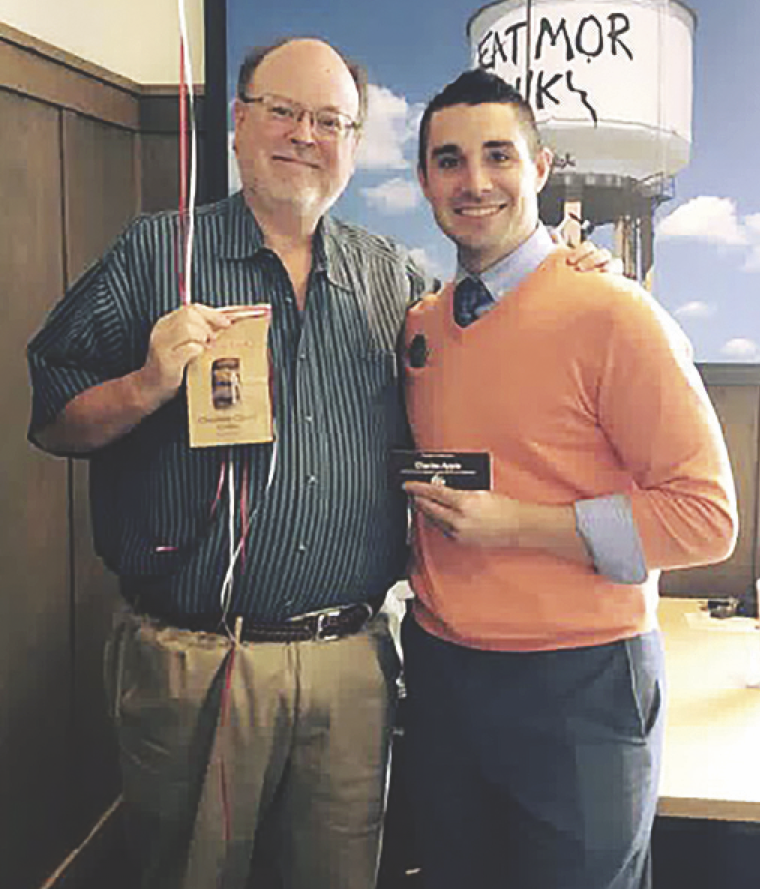 So the operator of that restaurant, Steven Kinney, right, dedicated my favorite table to me.

With an honor like that, who needs a Pulitzer Prize?