LC senior's picture with flag draped across her shoulders rejected for yearbook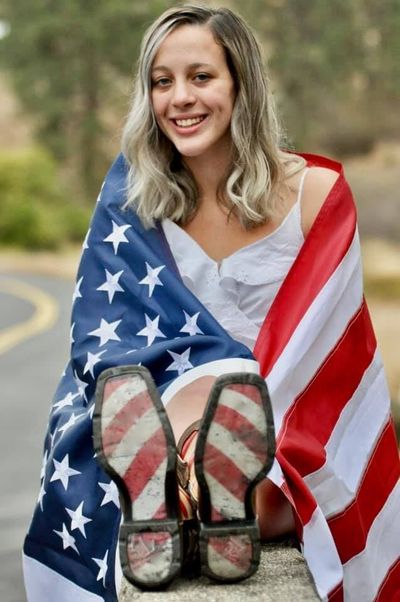 Should a high school student be allowed to appear in a yearbook photo with the American flag? And if so, how should the flag be presented?
At Lewis and Clark High School, that's become more than just a philosophical question after two of senior Sierra Athos' submissions were rejected by the administration.
The first photo – of Athos standing on a highway in front of a pickup truck with an American flag and a "Trump 2020" sign – was rejected, ostensibly because of a new policy prohibiting props in photos.
"That wasn't surprising," said the 17-year-old Athos, who suspected that politics was a factor, but had no problems offering a second photo. It shows her with an American flag draped over her shoulders.
That was also rejected for the same reason, the school informed Athos by email.
Athos carried the issue to social media.
"If everyone keeps claiming that I am using the flag as "clothing" then there's no way that it could be a "prop" therefore making it acceptable in the yearbook," Athos posted Tuesday on Facebook.
Athos said she loves America and was merely trying to convey that in the photo.
"I am sick of the people saying I am the opposite of patriotic for this picture and will not let them spew the lies," Athos added.
The school responded Wednesday morning with a statement from Principal Marybeth Smith, which also appeared on Facebook.
Smith said the picture was rejected not because the flag was a prop, but because it was displayed in fashion not sanctioned by the United States Code.
"We do not and have not banned the American flag from inclusion in photos," Smith said in a statement. "In the past we have celebrated students who have enlisted in the military by using senior photos highlighting their branch of service – students in uniform and U.S. flag displayed behind them.
"It's been an honor to portray our seniors in this way.
"We respect our flag as much as any school in the area and were concerned that in the photo submitted it was being used as a prop in the photo and was not being afforded appropriate regard."
Section 8 of Title 4, of the code, entitled "Respect for flag," states that "the flag should never be used as wearing apparel, bedding or drapery."
One commenter pointed out that "it does expressly violate the U.S. flag code, and this is considered just as bad as burning the flag or stomping on it."
Athos' statement also drew strong praise on her Facebook page.
"Nothing wrong with a teen wanting to show her patriotism for her country," a person wrote in the comments.
Smith met Wednesday afternoon with Athos and her family.
"We had a meeting and I think we're in a really good place," said Smith, who said that because of confidentiality rules, she wasn't allowed to offer any details.
Athos, however, said her photo still will not be allowed.
"I'm not looking for an exception just for me," Athos said. "I just wanted the rules to be enforced fairly."
Athos said she hopes the school will consider revising its rule and allow the flag to be displayed as a prop.
Athos doubts she'll submit another photo, but she tried to be philosophical.
"I've already just gotten so much taken from me in 2020 – it just wouldn't be the full experience without this happening, too," she said.
---