The origin of many of today's newspaper puzzles was a game that was played in China as early as 190 years B.C. Various versions used numbers and symbols and require users to arrange them in a certain order. They called it "Magic Squares."
In the version played in ancient Pompeii, a player was given a group of words — in Latin, of course — and had to arrange them on a grid so that the words would read the same way across and down.
Among early Americans who were fascinated by Magic Squares: Benjamin Franklin, who created one that was first published in 1767.
1783
Swiss mathematician Leonhard Euler devises a game he calls "Latin Squares." He describes it as a "new kind of Magic Squares." It's a grid in which each numeral or symbol can appear only once in each direction. This will evolve into today's Sudoku.
DEC. 21, 1913
The first crossword puzzle — created by Arthur Wynne and called "Word-Cross" — appears in the New York World.
Wynne, a violinist for the Pittsburgh Symphony Orchestra, moved to New York to work for Joseph Pulitzer's New York World — at the time, the world's most visually-oriented newspaper, with pictures, illustrations, infographics and cartoons.
Wynne is asked to come up with a new type of puzzle. He draws inspiration from Magic Squares, turning the game on its ear: He discards the anagram-like aspect and places the words on the page himself — but then hides the words, giving readers clues on how the missing letters are to be filled in.
APRIL 1924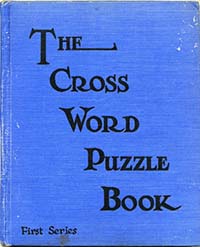 Dick Simon and Lincoln Schuster publish "The Cross Word Puzzle Book" — a collection of puzzles that had run in the New York World and the first-ever book-length collection of crossword puzzles.
By the end of that year, they will have sold more than a million copies — so many that it sets Simon and Schuster on the road to becoming a publishing giant.
NOV. 17, 1924
The New York Times notes the crossword craze overtaking the city and calls them a "primitive sort of mental exercise" and "a sinful waste" of time. "This is not a game at all," the Times writes, "and it can hardly be called a sport; it merely is a new utilization of leisure by those for whom it would otherwise be empty and tedious."
FEB. 3, 1925
The New York Evening World runs a story that tells readers "Cross-word puzzles have captivated and possessed New York completely." It reports that crosswords are a great "brain exercise" and urges readers to give them a try.
The World's First Crossword Puzzle
Dec. 21, 1913 — New York World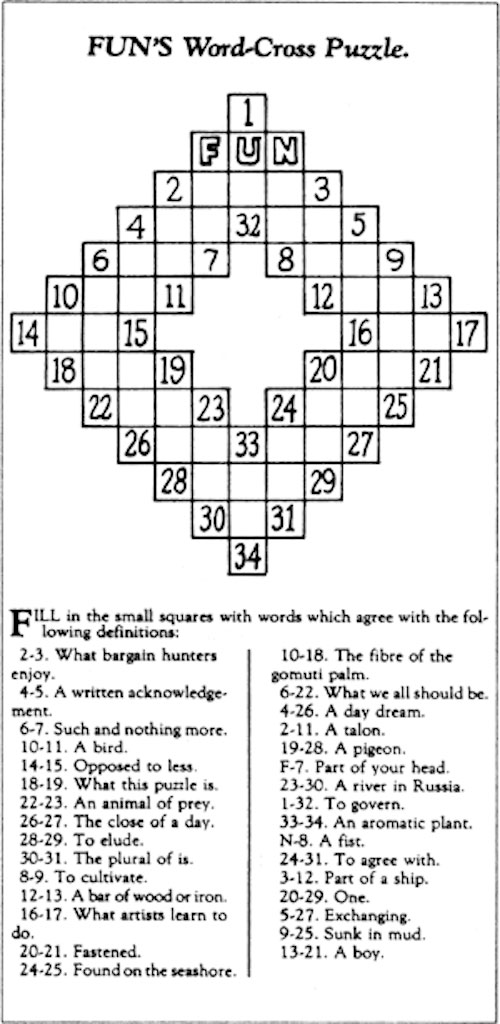 1931
Dell Crossword Puzzles magazine begins publishing crosswords and other puzzles.
FEB. 15, 1942
The New York Times publishes its first crossword puzzle.
NOV. 11, 1950
The New York Times begins publishing a daily crossword puzzle.
1954
Comic book artist Martin Nadel — best known for creating the "golden age" version of the Green Lantern in 1940 — creates the first illustrated "Scramble" puzzle — a series of scrambled words that, when arranged properly, matches a cartoon-illustrated clue.
Nadel would eventually change the feature's name to "Jumble" and, in 1962, hand off to Henri Arnold and Bob Lee, who would write and draw the puzzle for the next 30 years.
Nadel would go to work for the Leo Burnett advertising agency, where he would play a key role in creating the Pillsbury Doughboy.
March 1, 1968
Norman E. Gibat creates and publishes the first Word Search puzzle in his weekly advertising digest, Selenby (say it out loud: "Sell 'n' buy"), in Norman, Oklahoma. That first puzzle contained only 34 words — of locations in Oklahoma.
His switchboard lights up as teachers call, wanting extra copies to use in their classes.
1979
Dell begins running new puzzles it calls "Number Place." It will take them a few years — and a change of name — before they catch on.
1984
Japanese publisher Nikoli takes the Number Place puzzles, makes a few small changes and renames them "Sudoku" — short for the expression "Sūji wa dokushin ni kagiru": "The digits are limited to one occurrence."
Sudoku becomes a big hit in Japan, where the alphabet isn't really suited for crossword puzzles.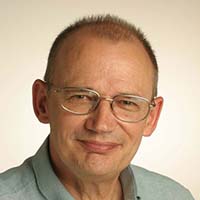 March 1997
New Zealand-born retired judge Wayne Gould visits Tokyo, finds a book of Sudoku puzzles and sees potential in the concept. Over the next six years, he develops a computer program he calls Pappocom Sudoku that automatically generates Sudoku puzzles.
Nov. 12, 2004
Gould's Sudoku puzzle first appear in the Sunday Times of London.
July 2006
Gould publishes his first Sudoku puzzle in the U.S. — in the Daily Sun of Conway, New Hampshire.
Gould's idea for marketing Sudoku in the U.S.: Give the puzzle away for free to newspapers in exchange for plugging his computer applications and books.
By the end of the year, Gould will have sold more than 4 million Sudoku books.