News > Spokane
'They saved my best friend': Clinic offers veterinary care for low-income, homeless pet owners
Feb. 7, 2020 Updated Mon., Feb. 10, 2020 at 3:14 p.m. Tom Deshazo and his bulldog Tank were among the first clients lined up in the waiting room at Donna Hanson Haven on Wednesday morning.
That waiting room is normally an open area for an apartment building. Three Wednesdays a month it serves low-income and homeless pet owners like Deshazo who are seeking affordable veterinary care for pets like Tank, a friendly 12-year-old bulldog with one eye socket stitched shut.
Only a few months ago, that now-stitched eye was swollen and infected, and the infection had started to cause other health issues.
Deshazo said he wanted to take his dog to the vet but is disabled and on a fixed income, so he couldn't afford a major medical procedure.
When he visited the Haven clinic, he thought he was going to have to put his dog down. Instead, he was given a voucher to another clinic where they removed Tank's infected eye, which had a tumor behind it.
Since having his eye removed, Tank has acted like a younger, different dog, and Deshazo said he is grateful he was able to connect with the veterinarians before it was too late.
"They saved my best friend," he said.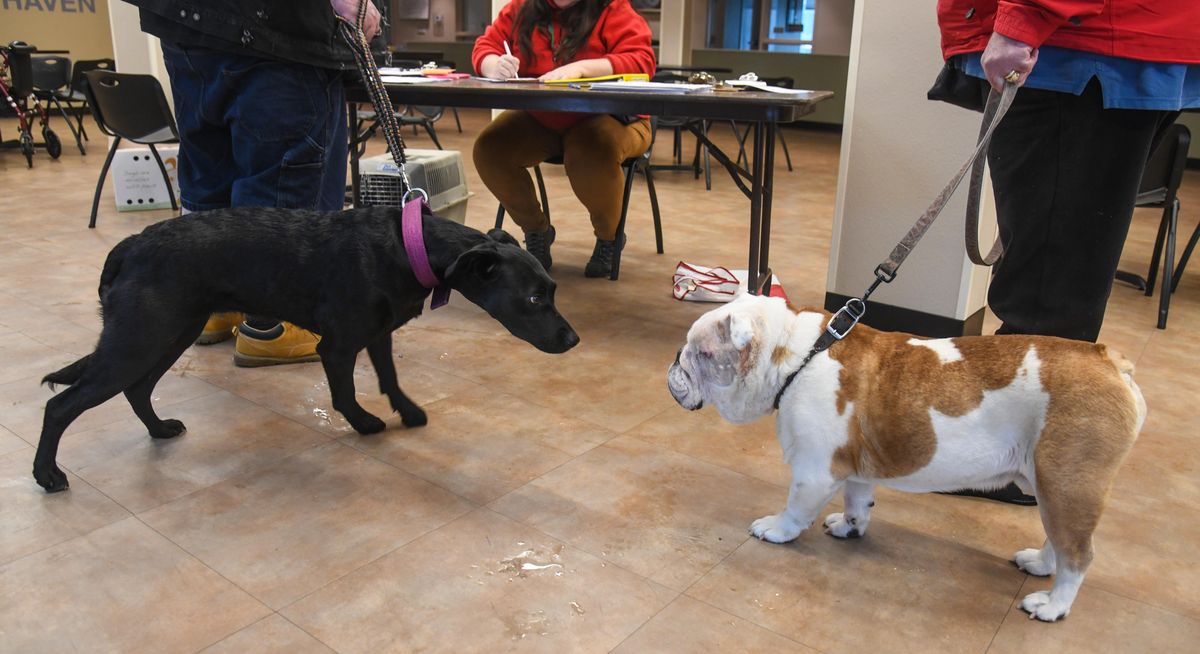 Valkyrie. a lab/healer mix, and Tank, a bulldog wait for a check-ups at the Catholic Charities Eastern Washington Veterinary Clinic at Donna Hanson Haven, Wednesday, Feb. 5, 2020, in Spokane. Tank, owned by Tom DeShazo, had an eye infection and had it removed three weeks ago. Valkyrie is owned by Chris Hartz. (Dan Pelle / The Spokesman-Review)Buy a print of this photo
Dr. Denise Pilgeram, coordinator for the Veterinary Clinic at Donna Hanson Haven, previously ran a smaller clinic outside of the Union Gospel Mission Men's Shelter on Trent Avenue, but had to move to a new location. She's been operating in the first level of Donna Hanson Haven since October.
The UGM location was a compact building that didn't have a bathroom or a waiting area, and most patients used to wait in their vehicles or outside. The new location includes a large waiting room, a bathroom and a much larger work area for Pilgeram and other volunteers.
"It was stressful having to move," she said, "but we made that transition and I'm glad it happened."
Pilgeram said the two biggest groups of clients served are young people who are homeless and older people on a fixed income. For those demographic groups, their pets are often what motivates them to stay on the straight and narrow or get up in the morning, she said. But those clients usually have difficulty affording preventive care, spaying and neutering, or care for common sicknesses.
The clinic suggests clients donate $5 for care if they can afford it. Pilgeram said some clients have come back later to pay far more or have saved up change. Clients are not turned away if they are unable to pay.
She said she's often able to help pet owners with some of the most common ailments animals have, such as skin disease, a frequent issue for pit bulls, or to help them with preventive care.
Pilgeram advocates for neutering and spaying pets because most of her clients can't afford an emergency cesarean section if something goes wrong with their animal's pregnancy. Spaying a dog when it is about 6 months old can reduce the risk of mammary cancer.
In a emailed statement, Sharon Stadelman, Vice President of Crisis Response at Catholic Charities,was thrilled to partner with the clinic because many living in Catholic Charities properties or staying in House of Charity can't afford veterinary care but need their animals.
"We have seen time and time again the huge impact having a therapeutic or service animal has on the lives of the folks we serve – many of whom would self-medicate in harmful ways if they did not have an animal to care for and love," Stadelman said in a statement.
The clinic usually sees around 24 animals a week. Pilgeram said she would like to expand but can't without the help of another veterinarian. She and Dr. Patricia Sledge check all the animals or give clients vouchers to pay for veterinary care at another clinic if the animal needs a complicated procedure. Volunteers keep the clinic organized or assist the vets by holding animals and taking notes.
Other clinics in the area donate animal medications, and some offer special deals for procedures that can't be done in an open, walk-in clinic setting. She has also been working on contacting other veterinarians for help once a month so the clinic can see more animals or open an additional day.
If people are looking to donate, Pilgeram said the clinic is often in need of cat food and dog coats, which are common necessities for homeless clients. She said the clinic is also in need of leashes, collars and other basic pet supplies. Supplies can be donated the first three Wednesdays of the month at the clinic at 24 W. Second Ave. or at the Catholic Charities headquarters at 12 E. Fifth Ave.
But she said the clinic most importantly needs monetary donationsto cover most of the spay and neuter procedures, as well as some supplies and vouchers. People can donate by going to the Veterinary Clinic at Donna Hanson Haven page on the Catholic Charities of Eastern Washington website.
Jamie Reynolds was an early client at the clinic Wednesday, and her cat, Saucy, stayed unusually calm while surrounded by dogs. Reynolds recently found the Persian and tabby mix abandoned in a parking lot and was worried the long amount of time the animal spent in her kennel could have made her sick.
Reynolds, who has autism and also struggles with post-traumatic stress disorder, said having animals has always helped her with anxiety and makes it easier to talk to other people. She is homeless but had a few dollars to donate to the clinic. She said she is hoping to get housing with her sister in the next month but could never afford to go to a veterinary clinic and get her cat examined at full price.
"There's times when I can't (pay)," she said. "But I just want to take care of my baby."
Editor's note: This story was corrected on Feb. 10 to reflect that the emailed statement was from VP of Crisis Response for Catholic Charities Sharon Stadelman.
Local journalism is essential.
Give directly to The Spokesman-Review's Northwest Passages community forums series -- which helps to offset the costs of several reporter and editor positions at the newspaper -- by using the easy options below. Gifts processed in this system are not tax deductible, but are predominately used to help meet the local financial requirements needed to receive national matching-grant funds.
Subscribe now to get breaking news alerts in your email inbox
Get breaking news delivered to your inbox as it happens.
---