News > Spokane
'I saw peace, I saw grace': The Rev. Bernard J. Coughlin, who led Gonzaga's resurgence, dies at 97
Jan. 28, 2020 Updated Wed., Jan. 29, 2020 at 6:15 p.m. The steady, gracious hands of the Rev. Bernard J. Coughlin, Gonzaga University's longest-serving president, led the institution back from near financial death in the 1970s – but they were also famous for grabbing the faces and pinching the cheeks of people he passed during daily walks on campus.
Coughlin, remembered for striking up conversations with people he didn't know and making conversation partners feel like the center of the universe, died Tuesday morning at 97 in Los Gatos, California.
Born and raised in Galveston, Texas, in an Irish American family, Coughlin worked for Santa Fe Railroad before attending St. Louis University and then earning a master's of social work from the University of Southern California. He earned a doctorate at Brandeis University and was ordained at St. Mary's College in Kansas in 1955, 13 years after entering the Society of Jesus.
Coughlin returned to St. Louis University in 1961 as an instructor and later was appointed dean of the school of social service. He served as a Fulbright lecturer at three universities in South America in the early 1970s.
A first-time university president, Coughlin arrived at Gonzaga in 1974, when the university was in deep financial trouble – operating at a budget deficit of more than $1 million in the face of enrollment shortages. But no one told Coughlin that when he interviewed for the job.
At the time, Gonzaga was seen as a backup school by many applicants who hoped to enroll at more prestigious Jesuit schools. The law school was close to losing accreditation from the American Bar Association. And a majority of the university's faculty offices and classrooms were housed under one roof in the administration building now known as College Hall.
So Coughlin rolled up his sleeves and got to work.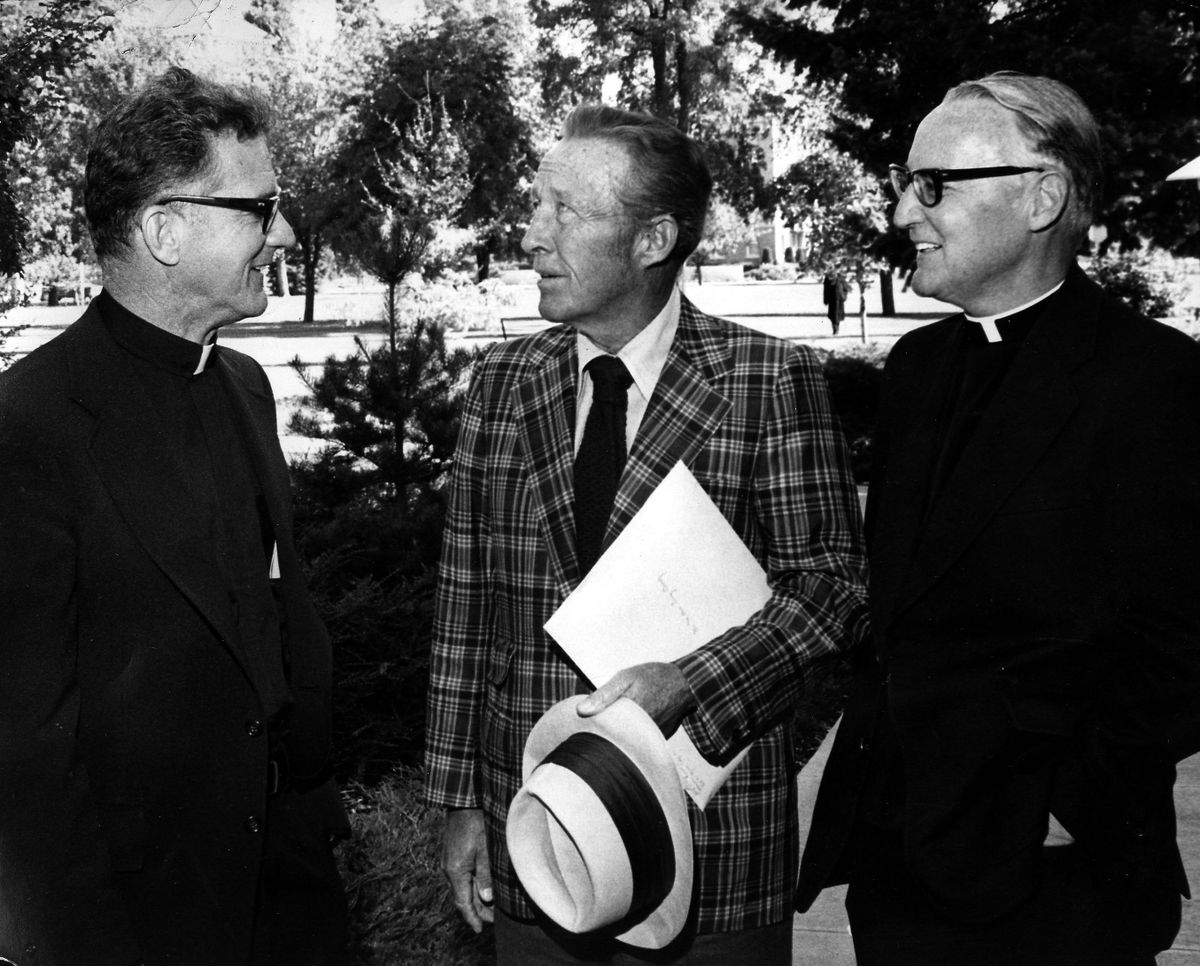 Bing Crosby visits with the Rev. Bernard Coughlin, left, of St. Louis, Mo., and the Rev. Richard E. Twohy. Coughlin succeeded Twohy as president in October 1974.
"He was one of the warmest people you could ever engage with, and at the same time he had an incredible Jesuit mind," said Gonzaga alum and trustee emeritus Tom Tilford, recalling Coughlin's persuasiveness. "And he could be very forceful in ensuring his vision for the university moved forward as he thought it should."
Coughlin inherited the university as its board leadership was moving from primarily Jesuit priests to lay people, and he leveraged their expertise to make forward-thinking decisions.
"He gathered a rather broad range of thought about how the university should position itself in the community and within the realm of higher education," said Tilford.
He also sought out a number of women to serve in a formative role on university boards during his time at the school, said trustee emerita Gerri Craves. She first sat on the board of regents as one of two women out of 30 people in 1999.
Coughlin used his knack for finding points of connection with people to foster relationships with potential benefactors, like the Jepsons, Hemmingsons, Woldsons and many other families whose names are now on buildings across campus.
After a period of program cuts and budget reductions, Gonzaga reached a point in the mid-'80s where the board of trustees had garnered a number of majors gifts and the university could start planning construction projects.
Coughlin oversaw more than $70 million in fundraising that resulted in new academic buildings for the schools of business administration and education, renovations to the engineering center and the construction of the Foley Center Library and Jundt Art Center and Museum. The fundraising campaign also contributed to the Martin Centre for Athletics expansion around Kennedy Pavilion and two new residence halls.
In step with campus construction, Gonzaga improved its program offerings and the credentials of its faculty. He stressed instruction around social responsibility and justice as cornerstones of a Jesuit education.
"He definitely took the university to a new level financially, physically and academically," Tilford said.
But Coughlin didn't just focus on improving Gonzaga, which had previously been an insular institution – he saw the university's responsibility to be a force for good in the greater Spokane community and the university's opportunity to gain the community's support.
"He was a great ambassador for Gonzaga," said Chuck Murphy, a former university vice president for finance and the school's current chief strategy officer. "He was likable and had an endearing personality that people couldn't help but be attracted to him."
Coughlin assumed the role of chairman of Spokane's Chamber of Commerce atop the shoulders of Gonzaga basketball players who carried him into a ceremony in 1988, becoming the first Jesuit priest to hold such a role in the U.S. He went on to advocate for businesses to become involved in social services while supporting community development.
He led a regional citizen advisory committee for the Hanford nuclear site, chaired United Way fundraising campaigns, sat on numerous state and local boards, and frequently accepted keynote speaking roles. He often wrote about faith, Catholicism, higher education and politics in the pages of The Spokesman-Review.
"He could be characterized as the informal chaplain of the city of Spokane and was an adviser to former mayors," said Jack Geraghty, Spokane's mayor from 1994 to 1998.
Geraghty worked with Coughlin to form Spokane's Task Force on Race Relations, around the same time Coughlin created a university task force in response to multiple black law students receiving threatening, racist letters.
"Diversity is an enriching part of our lives, not a threat," Coughlin said in a statement at the time. "This ugliness reminds us anew that we have the responsibility of doing more than caring in our hearts."
Former Spokane City Council and Chamber of Commerce member Roberta Greene said Coughlin was instrumental in making Gonzaga a part of Spokane and supporting downtown revitalization during a time when the city was struggling to attract people to the area.
"I was always just in awe of him," Greene said. "I saw peace, I saw grace. I saw a man who was interested in community and bringing people together. … The Spokane community is better because of the time God allowed him to be here."
As the university grew in stature and influence, Coughlin remained closely connected with his students and faculty.
Colleen McMahon, a longtime Gonzaga public relations professor, was a sophomore at the school in the fall of 1979 when she found a note on her door to call the president's office.
"My immediate reaction was, 'Oh no. Either I'm in trouble or somebody died,' " McMahon said.
When she arrived, Coughlin said, "Come on in, let's have a Coke," and told McMahon the story of how he recently met her parents in Seattle.
"He just wanted to meet me and get to know me," McMahon said. "And that surprised the daylights out of me because I'm just Colleen from Everett."
From then on, whenever Coughlin saw McMahon on campus, he took her face, gently squeezed her cheeks and "made me feel like I was the most important person in the world."
McMahon returned to Gonzaga as a professor in 1986, when Coughlin was still president.
"Sure enough he remembered me," McMahon said. "And I still got those squeezes on the cheeks."
Coughlin made time to attend and officiate at weddings, funerals and baptisms, and he was often one of the first to show up during times of grief, ready to give a hug.
"He was like a fireman," said Craves. "He'd walk right into what was difficult and comfort you."
Coughlin also ensured the university's current president, Thayne McCulloh, remained closely connected to the school when McCulloh was a young professional.
McCulloh quickly became acquainted with Coughlin during his freshman orientation in 1986 because he was the only student from the university president's home state of Texas.
"As somewhat of a unique outlier in the student body of some 600 kids at new student orientation during his address, he asked the student from Texas if they would please stand up," McCulloh remembered.
"He actually really wanted to have an opportunity to meet me and thank me for coming to Gonzaga," said McCulloh. "But he never would have thought of it as an embarrassing thing."
McCulloh went on to work in the university's residence life department and Coughlin offered him an extended leave of absence so he could complete his graduate studies at the University of Oxford.
Coughlin told him, "I guarantee that when you finish and return you'll have a job," McCulloh remembered.
McCulloh came back to a job as director of housing in 1993, and, after holding a number of other roles, officially became the university's first lay president in 2010.
When Coughlin stepped down as president in 1996, the university's endowment was nearly $60 million and enrollment had grown more than 50% to about 4,600 students. He then became the school's first and only chancellor, where he continued to influence relationships with benefactors and worked with McCulloh during the first half of his presidency.
McCulloh said Coughlin had a habit of sensing when the university might be hitting a bump in the road and showing up in his office to lend his support.
"Father Coughlin had this remarkable ability to help people regain perspective and recognize that what we do matters," McCulloh said. "It matters at the specific level of the individual person."
McCulloh said he's missed hearing Coughlin's advice since he left campus in 2016 for the Sacred Heart Jesuit Center in Los Gatos, California, where he died Tuesday.
"He really, truly believed that our mission," McCulloh said, "was to make the world a better place, and that in a sense that we had a responsibility to do that, no matter what our profession."
Before Coughlin left Spokane, the university named Coughlin Hall, a $16 million project that opened to students in 2009, in honor of the former president. Coughlin was reluctant to accept the honor until university officials ensured him it would help with fundraising that would benefit students.
"His heart and his spirit were with our students," McCulloh said.
Coughlin also has a scholarship and faculty position named for him, in addition to the main performance hall at the Woldson Performing Arts Center and the Jundt Museum central display room.
"He was always very generous in terms of attributing the success of the university to others and not himself," Murphy said.
University officials say Gonzaga's resurgence under Coughlin set the stage for the school to later invest in its basketball program, which burst onto the national stage in 1999 with its first Elite Eight appearance, to raise the university's profile. Coughlin saw athletics as a way to connect Spokane, alumni and benefactors with the university but focused on Gonzaga's academics during his tenure.
During his years as university chancellor, amid the men's basketball program rise to prominence, Coughlin often traveled to games on the West Coast with Tilford and others.
"Barney was just an old shoe," said Tilford, adding that half the time people on the train couldn't pick out the priest among them. "He was one of the gang."
Tilford said he can't shake a memory of Coughlin from a trip to California for a basketball game in the mid-2000s. He watched as Coughlin came down to breakfast at their hotel and picked up the Los Angeles Times, which had a front-page story about sexual abuse committed by Catholic priests.
"And the look of sorrow that came over his face – I could just tell this pain he was having to read that because that was not the priesthood as he knew it," Tilford said.
Coughlin sat by himself to read the article and didn't talk about the abuse with Tilford until much later, he said.
"He was shocked and tremendously pained by it," Tilford said.
Among Gonzaga's Jesuit community, Coughlin didn't use his position as president to position himself as more important than other priests, said the Rev. Robert Lyons, who met Coughlin in 1974 while working at Gonzaga Prep. Lyons also served on Gonzaga's board of trustees for 12 years while Coughlin was president.
"He was rather low-keyed but an extrovert – really laid back and good at reaching out to people," Lyons said. "He'd sit down and have a conversation with you forever."
Lyons recalled watching Coughlin approach a man who was leaving a basketball game at the Martin Centre by himself, strike up a conversation and then give him a ride home.
"He'd do that for the chair of the board of trustees and a guy that comes up and asks him for a ride," Lyons said. "That's what I mean by a genuine, caring person."
McCulloh said he's been honored to follow in Coughlin's footsteps as he tries to balance leading the university, engaging the Spokane community and remaining accessible to individuals at Gonzaga.
"It's really the impact that he had individual to individual, and how that translated into the ways he thought about the work and the role university should have in the community," McCulloh said. "There is absolutely no way Gonzaga would be where it is today without Father Coughlin."
Local journalism is essential.
Give directly to The Spokesman-Review's Northwest Passages community forums series -- which helps to offset the costs of several reporter and editor positions at the newspaper -- by using the easy options below. Gifts processed in this system are not tax deductible, but are predominately used to help meet the local financial requirements needed to receive national matching-grant funds.
Subscribe now to get breaking news alerts in your email inbox
Get breaking news delivered to your inbox as it happens.
---