Father of the Zeppelin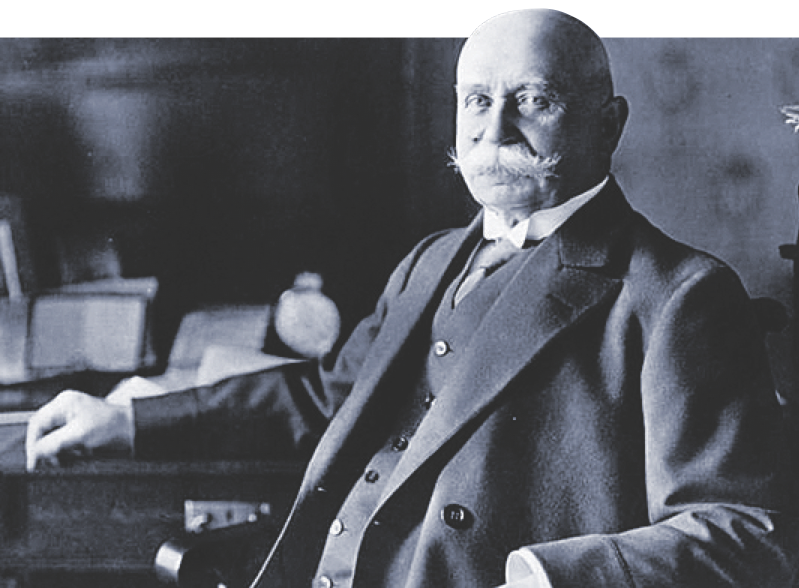 Born into German nobility in 1838, Ferdinand von Zeppelin attended an engineering college and then joined the German army. During the U.S. Civil War, he was sent to Virginia to serve as an observer for the Union Army. Later, he traveled through the Midwest and made his first balloon ascent in St. Paul, Minnesota, which ignited a love of lighter-than-air aircraft.
Upon his return, von Zeppelin served in the Austro-Prussian War and commanded a light cavalry. Upon his retirement as a general in 1891, he returned to the idea of steerable airships that could serve as airliners, cargo carriers and wartime observation posts and bombing platforms. Rather than helium or hot air to provide lift, his airships would work with hydrogen. He planned a rigid aluminum frame to give his airship shape.
Von Zeppelin hired engineer Theodor Kober to refine his idea. In 1895, the two received a patent for a "steerable airship-train" consisting of multiple sections. In 1898, von Zeppelin and several investors began building what would become the first Zeppelin in a floating hangar on Lake Constance in Manzell, Germany, near the Swiss border.
The reason for a floating hangar: It could be repositioned to allow the airship to enter and leave the shed with an assist from the wind.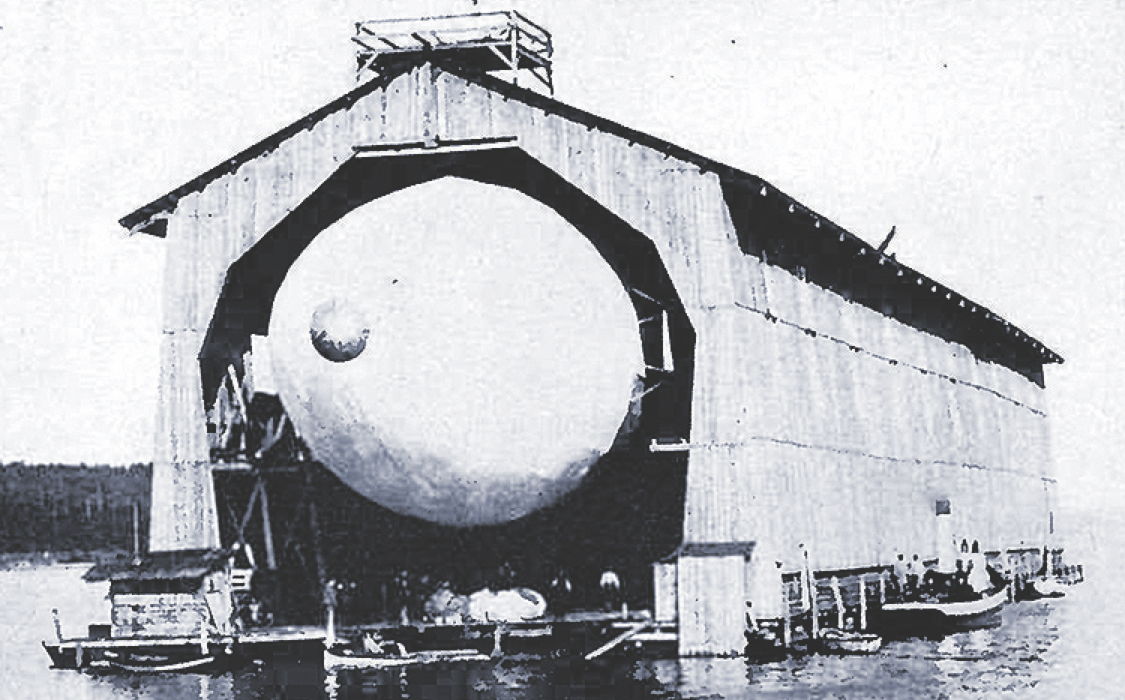 The ship – called Luftschiff Zeppelin 1, or just LZ 1 – was completed in the winter of 1899 but von Zeppelin waited for warmer weather before he filled it with hydrogen gas and took it on its first test flight.
That flight would cover 3½ miles over the lake in 18 minutes. But it also revealed several shortcomings: LZ 1 was overweight and underpowered, which made it difficult to control even in low winds. The frame sagged badly on the front and back ends. The ship had no elevators: To control pitch, a sliding weight suspended under the ship – you can see it in the photograph at the top of this page – was slid back or forth with cables. In addition, one of the two 14-horsepower Daimler gas-powered engines failed.
Zeppelin test-flew LZ 1 twice more – on Oct. 17 and Oct. 24 – but his potential military buyers were unimpressed. Out of money, von Zeppelin broke up his ship for scrap, dissolved his company and searched for a new opportunity to put his ideas into the air.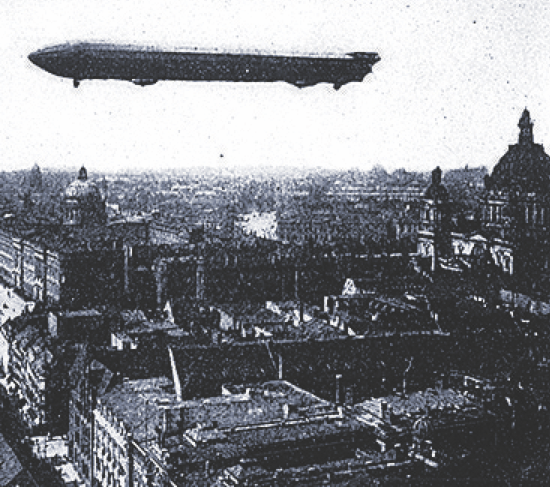 That would happen, but not for several years. Von Zeppelin would eventually build four more prototype airships. LZ 2 would crash after its first test flight in 1906. LZ 4 would break free during a storm and catch fire. The German military would buy LZ 3 in 1908 and LZ 5 a year later.
A history of the Zeppelin
July 2, 1900: Von Zeppelin's first airship, LZ 1, is test flown.
Jan. 17, 1906: On its first test flight, LZ 2 is forced down by an engine failure. A storm that night destroys the ship.
July 1, 1908: Von Zeppelin's fourth ship, LZ 4, travels across Switzerland in 12 hours. This brings public notice to von Zeppelin and his work. Two days later, Kaiser Wilhelm II and his wife insist on riding in the ship.
Aug. 5, 1908: Before the German military will buy von Zeppelin's work, it wants an a 24-hour endurance test. On the second day of that test, a sudden storm forces LZ 4 to make an emergency landing and then rips the ship from its mooring. The ship's hydrogen tanks explode. The German people rally behind von Zeppelin and contribute 6 million marks to help him build a replacement.
Nov. 9, 1908: After it successfully completes a number of test flights, LZ 3 is purchased by the German government. Von Zeppelin is awarded the Order of the Black Eagle.
Nov. 16, 1909: Von Zeppelin and his business partners found DELAG, which will become the world's first commercial airline. Its first aircraft will be LZ 7, first flown in June 1910. It could carry up to 24 passengers.
1914-1918: Germany builds 86 Zeppelins for use during the Great War, using them for reconaissance and for bombing allied military targets and cities.
March 8, 1917: Von Zeppelin dies at age 78.
Sept. 18, 1928: DELAG begins flying its latest and largest airship, LZ 127, better known as Graf Zeppelin. The ship makes its first trans-Atlantic flight a month later, landing at Lakehurst Naval Air Station in New Jersey. On its return trip to Berlin, a stowaway is discovered in the mail cargo room.
Aug. 7-29, 1929: Newspaper publisher William Randolph Hearst pays half the expenses for the Graf Zeppelin to make a highly-publicized trip around the world. Among the passengers were a camera crew and Hearst newspaper reporter Lady Grace Drummond-Hay. Graf Zeppelin makes the 20,651-mile trip in 21 days, 5 hours and 31 minutes.
1931: Graf Zeppelin begins making regular trips between Berlin and Brazil. Over the next six years, the ship will make 64 round trips on what would be the first regular intercontinental commercial air passenger service.
March 1936: After Germany reoccupies the Rhineland – in violation of the Treaty of Versailles that ended World War I – Nazi officials seize control of the Graf Zeppelin and the Hindenburg, add swastikas to their rear fins and tour the country dropping propaganda leaflets in support of a plebiscite to support the occupation.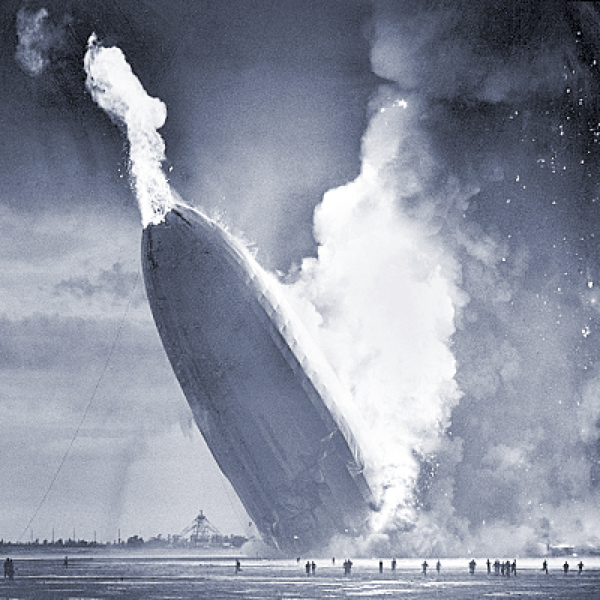 May 6, 1937: While preparing for landing in Lakehurst, New Jersey, the Hindenburg bursts into flames and crashes. Of the 36 passengers and 61 crew aboard, 13 passengers and 22 crew die, as well as one ground crew member. It's suspected that a buildup of static electricity caused the fire, but no definitive cause would be found. A month later, the Graf Zeppelin would be retired. The era of the great zeppelin airship is over.
March 1940: Only a handful of airships still exist in storage in wartime Germany. German Luftwaffe chief Hermann Göring orders the fleet scrapped.