Paraeducator provides extra assistance to West Valley High School students amid pandemic
Wed., July 8, 2020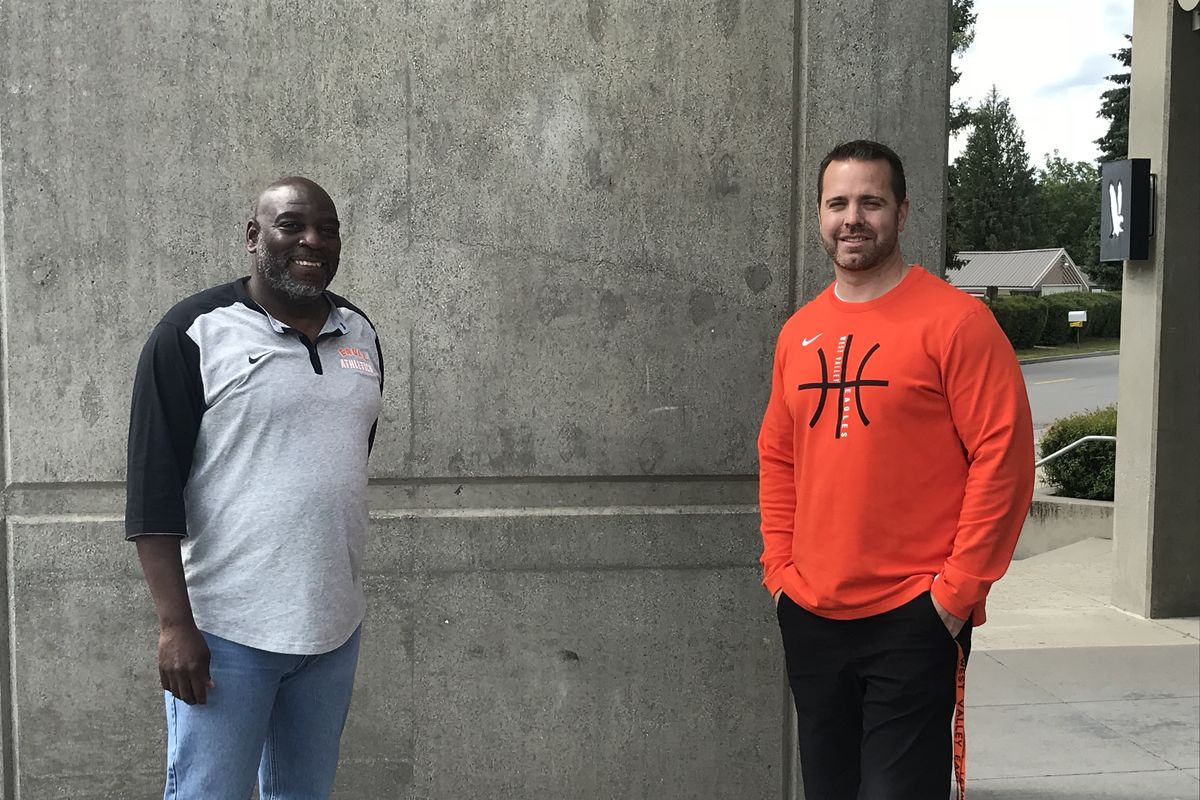 Paraeducator Tyrone Ashley, left, and West Valley High School principal Ryan Mulvey are recently photographed. (Nina Culver/For The Spokesman-Review)
After schools shut down abruptly in March, many schools became meal distribution sites so children in need could still receive breakfast and lunch every day.
West Valley High School was no different, but the school had something other schools did not – paraeducator Tyrone Ashley.
He did more than hand out meals. The popular paraeducator provided a small bit of normalcy in an otherwise chaotic time. He chatted with students and their families. He even sat on the lawn and helped students with their homework.
Recently Principal Ryan Mulvey nominated Ashley for one of the district's highest awards, the Above and Beyond Award. "Tyrone was out there doing this because he wanted to," Mulvey said. "We had kids and families coming just to see Tyrone."
Ashley doesn't think he did anything special.
"To me, it's my job," Ashley said. "I've been a paraeducator for 18 years now. It's what I do."
Ashley moves around the school as he helps students with behavioral issues. He's friendly and talkative and students respond to him, Mulvey said.
"He was hand picked to do that because he's so relational," Mulvey said. "He understands kids make mistakes. If you're at West Valley High School, you know Tyrone."
Ashley has been working at West Valley High School for five years, but his ties to the school go back much further. He previously worked as a paraeducator in Spokane Public Schools, but was a girls basketball coach and track coach at West Valley High School for most of that time. His daughter also attended the school. When a paraeducator job opened up five years ago, he jumped at it.
Ashley has never been one to just put in a day's work and go home, Mulvey said. He attends most games, regardless of which sport it is. He volunteers to run the scoreboard at many of them. "Tyrone is in the hallways before school, after school, during lunch," Mulvey said. "He's at everything. You'd think he had a bed here. He's just always around."
It made sense to nominate him for the Above and Beyond Award, Mulvey said. "Everything he has been doing has been outside of his job," Mulvey said. "He's a positive male role model. In a lot of our kids' cases, he's the only positive male role model they have."
Ashley said he and a couple other paraeducators were helping out where they could by cleaning classrooms and sanitizing Chromebooks that would be distributed to students. He started his work with students by handing out homework packets. "The lunch ladies allowed me to sit in their area," he said.
Soon he was handing out meals as well. He was there every day, rain or shine. And as he handed out homework and meals, he talked. "I chat," he laughed. "A lot of times I might have been holding up the line. I like to talk. It's kind of building relationships."
His goal was to get students to smile. "This was a tough time," he said.
Mulvey said Ashley would call students who were not engaging with the online school work and ask if they needed help. And because it was Ashley asking, a lot of them responded, Mulvey said.
"I had kids come and bring their homework and sit down outside and he would help them with their homework," Mulvey said.
Ashley said if he didn't understand a subject, he would contact one of the teachers and ask for help. "Being a paraeducator, we need to be a little diverse in a lot of different subjects," he said.
Mulvey said he told Ashley he didn't have to be there every day but Ashley replied that the students needed him. "He didn't have to do any of this," Mulvey said. "He just wanted to. He was able to provide structure for some of our kids, he was able to provide smiles for our kids."
When it came time to give Ashley his award, Mulvey told him he was needed at the school to do a video on the changes to the meal program over the summer. "We had to trick him," Mulvey said. "He didn't know he was nominated. He doesn't like attention."
A drive-in ceremony was held in one of the high school's parking lots. In addition to school staff and the superintendent, many students and families came as well. "Everybody else knew," Mulvey said. "Our parking lot was full of people."
Ashley was uncharacteristically at a loss for words during the award ceremony. He's grateful for the award but thinks others should be recognized as well.
"I really want to thank, not just our administration here, but our fellow paraeducators and teachers for allowing me to do our job," he said. "We had two other paraeducators here mostly every day. We had other paraeducators helping in the daycare. For me, this award is for all the paraeducators."
Local journalism is essential.
Give directly to The Spokesman-Review's Northwest Passages community forums series -- which helps to offset the costs of several reporter and editor positions at the newspaper -- by using the easy options below. Gifts processed in this system are not tax deductible, but are predominately used to help meet the local financial requirements needed to receive national matching-grant funds.
Subscribe now to get breaking news alerts in your email inbox
Get breaking news delivered to your inbox as it happens.
---