News > Business
Front & Center: Alisha Benson is leading area economic development efforts at Greater Spokane Incorporated through community, business partnership
Sun., July 26, 2020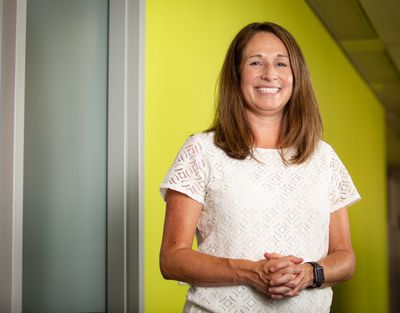 For Alisha Benson, it's been an eventful first year as CEO and president of Greater Spokane Incorporated, the region's chamber of commerce and economic development agency.
Benson, who assumed the role in September after former CEO Todd Mielke resigned, has led the organization's economic development efforts, some of which include advocating for business-friendly policies, fostering small business growth, supporting business retention and connecting people to programs, apprenticeships and certificates to meet workforce demand in the region.
The organization, under Benson's leadership, also launched Advantage Spokane, a website that showcases the region's ability to support business and workforce growth, and the Point 09 campaign, which advocates for expanding a state law that rebates 0.09% of sales and use tax to rural and border counties for economic development. The measure could generate $11 million annually for economic development in Spokane County and allow communities to invest in job growth and support expansion of existing businesses.
When COVID-19 took hold in the state in mid-March, it created a great deal of uncertainty for businesses forced to temporarily close. GSI stepped in to assist local businesses with securing personal protective equipment, administering COVID-19 relief grants and providing resources to sustain operations.
"I am probably at the end of the day most proud of how this organization pivoted to respond to COVID-19 and the regional role that we play in supporting the business community and our community – from our staff to our board to our partners – it's been remarkable, extremely challenging and very rewarding, and the work is far from over," Benson said. "It's why an organization like Greater Spokane Incorporated exists … we are here to really galvanize the business community and the community as a whole. COVID-19 has really shined a light on that critical role that we play."
Community building
Benson grew up in Clancy, Montana, a rural town with a population of fewer than 2,000. She graduated from Washington State University with a bachelor's degree in sports management and marketing. After graduation, she completed a year as a member of AmeriCorps VISTA, which is a national service program designed to alleviate poverty, and worked for the state of Montana's Department of Public Health and Human Services.
After Benson and her husband moved to Spokane, she was hired for a position in GSI's membership department in 2008, following a merger between the Spokane Regional Chamber of Commerce and Spokane Area Economic Development Council to create the organization.
Benson said she was drawn to the community aspect of GSI.
"I love community building, coalition, partnership building and tackling these kind of 'need to solve' things that are complex," she said. "The work that we do in economic development is just that."
Preparing to lead
Benson has had many roles at GSI throughout her 12-year career at the organization, including membership director, vice president of education and workforce/executive director for the Spokane STEM Network, chief operating officer, chief strategy and business development officer. She also served as interim CEO twice during leadership changes at the organization.
Benson said working in various departments within the organization provided her with understanding of both internal and external roles and how they relate to economic development, public policy and advocacy.
"It's also allowed me to work with teams of people in all those different roles, which is really important," she said.
GSI's board of trustees chairman Tom Johnson approached Benson with the opportunity to consider stepping into the CEO role after Mielke announced his resignation in 2019. Benson had been serving alongside Mielke as the chief strategy officer and chief operations officer, roles that familiarized her with what it takes to lead the organization.
"At the time, it was a good opportunity presented and I took it," she said.
Benson became the first woman appointed CEO and president of the organization in its more than 130-year history.
"I'm extremely honored and I don't take that lightly. I believe we have to continue to have more diverse leadership in our communities and organizations, and female leaders are a critical piece of that, and when you have the opportunity to be the first female leader of a longtime organization, 130-plus years, that's a big deal," she said. "As a mom of a young girl, I want her to be able to aspire to those opportunities as well. That's my hope long-term, both for this organization, this community and for our country, is that the vibrancy of communities are going to continue to depend upon having diverse leaders both men, women, people of color, all those things. I'm very aware of that and I carry that with me."
Take risks, seek mentors
Benson said she's had several great mentors in her personal and professional life, most notably her grandmother and GSI's former CEO Rich Hadley, who led the organization for more than 20 years before retiring in 2014.
"And there are many others. There's so many folks in this community I owe thanks and gratitude to and still do, including people like Rich," she said.
Benson advises people to take risks and seek mentors in their professional careers.
"Mentors and coaches come in many shapes and forms, and it's so important to how any of us pursue whatever path we are wanting to pursue in life," she said.
Variety with a constant
Every day is different for Benson, but one constant is her advocacy work for the region. That work involves a variety of discussions with internal staff and partners in the state as well as nationwide.
As the coronavirus pandemic has required most people to work from home, Benson is participating in 10 to 12 Zoom meetings a day. Sometimes the meetings involve discussing a legislative agenda, policy item at the city level or a COVID-19 response campaign for the community.
"We are tackling a variety of issues. No one day is the same," she said. "Right now, the only thing that stays constant is the platform in which we're delivering it."
GSI works with diverse sets of people, multiple municipalities, groups, elected leaders with many different opinions and that can sometimes be a challenge, Benson said.
"The challenge always is finding where that collective goal is and keeping that in front of us as we work through economic development challenges, or how we are going to bring a small business and nonprofit grant program to the community next week," she said. "There's a lot of layers, politics, people and groups you have to work with and that's the kind of work that we do."
Spokane is home
Although Benson has a busy work schedule, she decompresses by taking early morning walks with her dog, doing yoga and spending time with her husband and two children.
Benson enjoys living in Spokane because of its access to a variety of outdoor activities and the growing vibrancy of the city.
"My husband is from a big city and I'm from a rural town, and Spokane is that perfect combination. We love the ability to go to a great restaurant, or in the case of (COVID-19) most of the time we order from a great restaurant, and at the same time be able to be in the mountains and camp for the weekend away from many people," she said. "It's just that combination of things that we love about Spokane and, then, the other thing I'd say is it's the people. The spirit of this community is pretty incredible – the people that are running or working in organizations and their passion and commitment in continuing to build a great Spokane. You don't find that everywhere else in the country."
Focusing on the future
GSI will continue its focus on business and community recovery and stabilization following COVID-19 as well as long-term resiliency, Benson said.
"I believe the role and the work of this organization is more important now than ever, and it's going to be essential as we support our businesses and community and our recovery," Benson said. "We're not there yet because we're still tackling this massive public health pandemic that will continue to have impacts on our economy and our people.
"We've got lots of work to do. But, for me, that's what's motivating. Tiring, but extremely motivating. I'm looking forward to continuing to have the opportunity to lead that work with great people on behalf of this region."
Local journalism is essential.
Give directly to The Spokesman-Review's Northwest Passages community forums series -- which helps to offset the costs of several reporter and editor positions at the newspaper -- by using the easy options below. Gifts processed in this system are not tax deductible, but are predominately used to help meet the local financial requirements needed to receive national matching-grant funds.
Subscribe to the Coronavirus newsletter
Get the day's latest Coronavirus news delivered to your inbox by subscribing to our newsletter.
---