News > Spokane
100 years ago in Spokane: Dream of city's 'favorite son' becoming president dies
UPDATED: Sat., June 13, 2020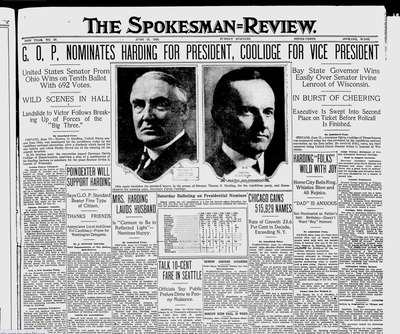 Sen. Warren G. Harding won the nomination as the Republican candidate for president on the 10th ballot, and Sen. Miles Poindexter of Spokane vowed to support him.
"Matters did not develop as I expected, but a good man was nominated and the state of Washington will loyally support him," Poindexter said.
This put to rest Spokane's dream of having its "favorite son" become president. Poindexter received 20 votes on the first ballot, but that dwindled to 15 on the second ballot. On the 10th and final ballot, he received only two votes. He never came within 400 votes of winning.
"Tell 'em I'm not ashamed of our candidate," said Poindexter. "We went down with colors flying."
Poindexter said he "had designs on a genuine vacation," on some "trout streams and haunts of deer in northern Washington."
Calvin Coolidge was nominated as Harding's vice-presidential running mate. Both men were destined to become U.S. presidents.
Harding would go on to win the general election in 1920. He died in 1923 of a heart attack, and Coolidge became president.
From the BB gun beat: A 9-year-old boy had a BB removed from the skin on his stomach, and six other boys were in juvenile detention after a BB gun battle behind the Willard Hotel.
The boys had erected a woodpile barricade and said they were "playing Indian." They apparently shot the 9-year-old as he was walking down the street, but the boys later said they were "pretending to shoot buffalo" and did not not intend to shoot anyone.
When police arrived, "three air guns were visible over the parapet of the woodpile, and six boys were hauled from its intricacies" after police "stormed the place."
The BB only partially perforated the 9-year-old's skin, and was removed by his mother.
Local journalism is essential.
Give directly to The Spokesman-Review's Northwest Passages community forums series -- which helps to offset the costs of several reporter and editor positions at the newspaper -- by using the easy options below. Gifts processed in this system are not tax deductible, but are predominately used to help meet the local financial requirements needed to receive national matching-grant funds.
Subscribe to the Coronavirus newsletter
Get the day's latest Coronavirus news delivered to your inbox by subscribing to our newsletter.
---