A&E
Dorothy Dean presents: Wingin' it – Crispy, grilled chicken recipe is effortless to make and delicious
UPDATED: Tue., June 23, 2020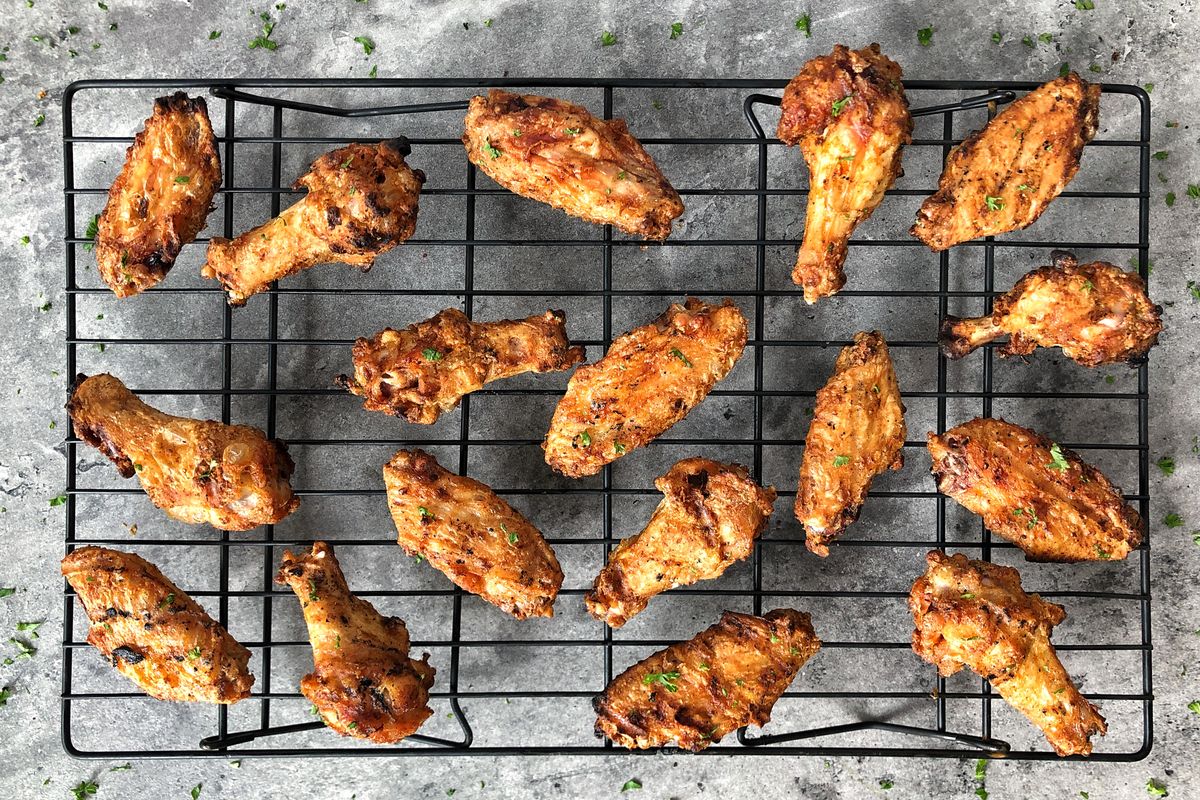 Corn starch in this chicken wing recipe absorbs excess moisture while locking in flavor. (Audrey Alfaro/For The Spokesman-Review)
If there's one thing my family loves, it's chicken wings. It's right up there with my fried chicken obsession and a notch above French dips, and if there's a wing-eating challenge, my husband's entering.
Even our daughter, at the ripe age of 9, is already a notorious wing-slaying machine (she's pretty proud of her 16-wing record).
We love them any style: battered, naked, fried or baked. However, they must be crispy. No fans of soggy, chewy wings here.
While we usually turn to the deep fryer when it comes to ultra-crisp wings, I discovered the grill could produce wings just as good, if not better, thanks to a simple secret ingredient: corn starch.
Corn starch absorbs excess moisture while locking in flavor, yielding wings so crisp you'd think they were fried.
I'm telling you, these wings are a must try (plus, it's grilling season, so you have no excuse).
With the texture on point and seasonings like garlic powder, paprika, lemon pepper and salt, they're utterly delicious and effortless to make.
The wings are patted dry and tossed with olive oil before being tossed with the corn starch and seasonings. They're then ready for the grill.
That's it. I mean, some turning is involved, but I think you can handle that.
They cook for about 40 minutes, and you'll want to turn them every 10 minutes or so to ensure that all sides are getting browned and crisp.
You can serve them directly off the grill or toss them in your favorite wing sauce.
This recipe doubles easily to feed a crowd, and the seasonings can be altered to suit your tastes.
For those of you who don't have a grill, these also can be made in the oven.
Just place the wings on a wire rack on a rimmed baking sheet and bake at 425 degrees for 40-50 minutes or until crisp and golden.
Crispy Grilled Wings
2 pounds chicken wings, sectioned to flats and drumettes
1 tablespoon olive oil
2 tablespoons corn starch
1 ½ teaspoons kosher salt
½ teaspoon pepper
½ teaspoon garlic powder
½ teaspoon paprika
½ teaspoon lemon pepper
Preheat an outdoor grill to medium high heat (about 375 degrees) and lightly oil or spray it with nonstick cooking spray.
Pat dry the wings and place them into a large bowl. Add olive oil and toss to coat. Add in corn starch and seasonings and toss again until evenly coated.
Place the wings on the heated grill and cook for about 35-40 minutes with the lid down,
flipping the wings as needed until the outside is brown and crisp.
Serve immediately.
Audrey Alfaro can be reached at spoonandswallow@yahoo.com.
Local journalism is essential.
Give directly to The Spokesman-Review's Northwest Passages community forums series -- which helps to offset the costs of several reporter and editor positions at the newspaper -- by using the easy options below. Gifts processed in this system are not tax deductible, but are predominately used to help meet the local financial requirements needed to receive national matching-grant funds.
Subscribe to the Spokane7 email newsletter
Get the day's top entertainment headlines delivered to your inbox every morning.
---