Sports
A Grip on Sports: We have to wait until August this year but that doesn't mean we can't remember Hoopfest today
Sat., June 27, 2020 A GRIP ON SPORTS • Of all the sadness associated with lost sports and the pandemic, today may be the day that moves the meter the most. Around here at least. Sure, the cancellation of the NCAA basketball tournament is right up there, as is baseball's postponement. But the final weekend of June has been associated with one event for so long in Spokane, it was hard to get out of bed today with the realization Hoopfest is not going on.
•••••••
• OK, Hoopfest, the world's largest – and best – 3-on-3 basketball tournament, hasn't been canceled. It's been put off until late August, when, hopefully, our nation will have finally joined the rest of the industrialized world in beating back the scourge of COVID-19.
Still, that doesn't mean we can't mourn a bit this Saturday morning. After all, this has been Hoopfest Saturday in Spokane every year since 1989. That's a long time. And a whole bunch of memories. Here are my five favorites: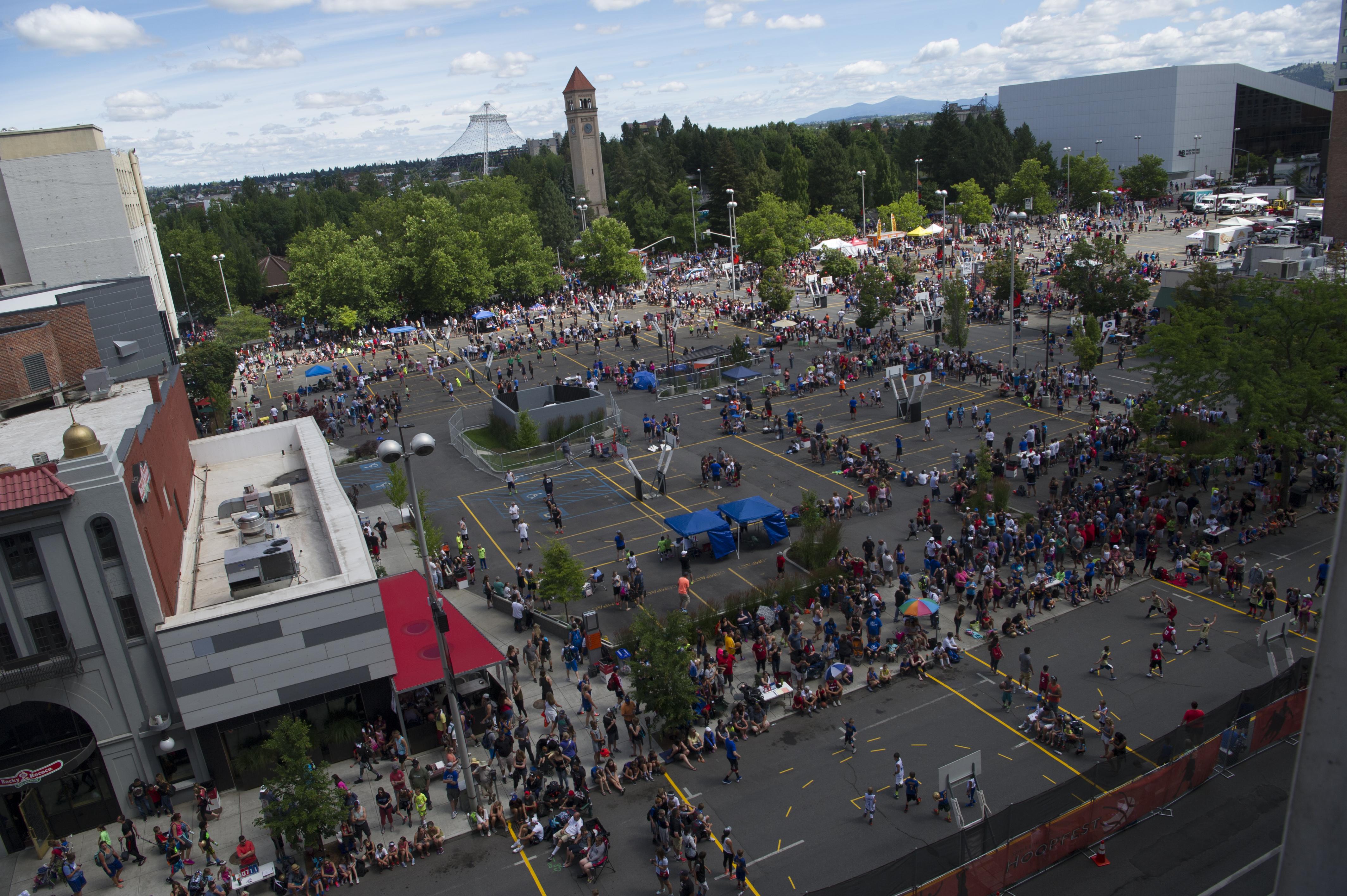 5. Believe it or not, the Hoopfest media division used to be something of a big deal. The main purpose? The pretty boys (and girls) of KREM and KHQ and KXLY had to be taught their place in the journalistic hierarchy, even if that meant hiring a ringer or two in the newspaper's art department. Not that I would have ever done anything like that. But I wasn't above (or below) standing up for my co-workers if it came down to it. And in one of the early years, it came down to it. There were two S-R squads, one with the young guys (current middle-aged sports editor Ralph Walter was the heart, soul and stomach of that group) and people of my advanced years made up the other. One of those was my boss, assistant managing editor Scott Sines, who had fought his way up through the photography ranks to management. He was, how should I say it … feisty. We were playing a squad from KREM, which included a so-called videographer who seemed to spend all of his on-duty hours lifting dumbbells. Heck, his muscles had muscles. Built, quite possibly, with the help of chemistry, as his acne was only rivaled by his testosterone-fueled physicality. Yep, on a hot Saturday afternoon, a "good-natured" media-division game ended with a brawl. My boss and Mr. Muscles started to square off, I jumped on Muscles' back, Scott used the opportunity to get one good punch in and Muscles flung me about 15 feet, where I landed with a thud. I don't remember anything after that. Good times.
4. Another media-division game. Another year. Scored tied. Game on the line. I had the ball down low, faked, and a different KREM guy bit. He went up, came down on me and knocked me over as I shot. Foul. To the line I went. Make it, we win. As I stood there, my opponent began to talk trash. He mentioned pressure. Missing. Humiliation. I looked at him quizzically. And laughed. It's only Hoopfest, I said, or something to that effect. I made the free throw.
3. The first Hoopfest came around while I was playing fastpitch. There was no doubt my friend Steve Larson, a Cheney High basketball coach, and I would team up. We teamed up for just about everything. But we needed two other guys. Steve found one, a Cheney assistant football coach named Dave Ward, who would win a State title at Oak Harbor down the road. But we needed another player. Preferably someone tall. "I'll play," said another softball teammate who was 6-foot-5. Bingo. We were set. Practice? Why? It was for fun, right? We showed up for our first game. Everyone on the other team looked as if they had played at least two years in the NBA. Uh oh. To be honest, I'm not sure we scored. The biggest upset that year? We won a game, allowing us to lose late Saturday evening and not have to play on Sunday. It became a tradition. For the first handful of Hoopfests, we never played on Sunday. It became our name, actually. "Never on Sunday." Until we lost twice in a row one year, then won the Loser King T-shirt the next day. Good times.
2. It was the Wednesday before Hoopfest, 2002. I was in my 40s (late 40s to be precise) and was looking forward to watching another weekend of street ball from the sidelines. The operative word here is "watching." See, I had unofficially retired from the game. Then my friend Tommy Engdahl called. He had a team. A pretty good team. But their fourth guy had bailed. Would I fill in? "Tommy," I said, "I would love to help but I'm fat, slow, out-of-shape and haven't played in months." "That's OK," he answered. "We have three guys who are in great shape. All you have to do is fill in a couple minutes each game and give us a rest." I believed him. He lied. Not on purpose, mind you, but in our first game, which we lost, one of those three-guys-in-great-shape blew out his Achilles. I had to play. Every minute of every ensuing game. Turns out Tommy and his other friend were really good. We kept winning. I kept dragging my sorry … well, I kept showing up, screening, rebounding, standing in the middle of the key hoping someone would trip over me. I was pitiful. The other two were great. So great we made it all the way to the finals. Through the loser's bracket. It took like 38 games or something. The finals were double elimination – if we won the first one. We did. We had to play again. It's not that we hit a wall. It fell on us. The runners-up T-shirt still has a special place in my closet.
1. One year Hoopfest decided to have an overnight tournament. Not sure why, but there were games going on after dark Saturday. No big deal. Those of who worked at the S-R and played had gathered at the Red Lion for barbecue and adult beverages. Refilling our empty tanks, so to speak. The main subject of conversation? Dan Weaver's health. Our then-sports columnist had taken a ball to the right middle finger in his last game and had left to get it X-rayed. We were worried about him. The bad news was passed around. It was broken. It had to be put in a splint. He was out for the rest of the weekend. Sadly, we returned to our carbo-reloading and wondered how we could show our solidarity for our fallen co-worker. Someone came up with an inspired idea. When Dan walked through the door with his wife, a large group of slightly inebriated "friends" rose as one, yelled his name and saluted him with our right middle fingers raised. It was the least we could do. Oh, that and pay for his carbs.
•••
Gonzaga: The top recruit in the 2021 class, as ranked by ESPN, has included GU in his final seven schools. Chet Holmgren, high school teammate of incoming freshman Jalen Suggs, announced his choices Friday. (He's on the far right in the picture taken during a visit last basketball season.) Want to read the tea-leaves? In his announcement visual posted on social media platforms, Gonzaga's jersey is dead center among the schools, right over Holmgren's left shoulder. It's an omen. Jim Meehan has a much-more thoughtful story about the 7-foot recruit. … Elsewhere in the WCC, BYU officially welcomed a recruit who was originally headed to Utah. Freshman-to-be Caleb Lohner will play this upcoming season.
WSU: Speaking of recruiting, the Cougars announced another one yesterday. But he's not for 2021. Jaylen Watson, who once signed with USC before spending two seasons at Ventura College in California, will join the Cougs this fall. Theo Lawson has more on the highly sought after cornerback. … Around the Pac-12 and college sports, Washington announced a series of cost-saving measures and monetary gifts yesterday, aimed at balancing the athletic department budget. … Oregon and Oregon State agreed to drop the Civil War nickname from their annual game, with OSU President Ed Ray saying it "represents a connection to a war fought to perpetuate slavery." A new name is needed. … John Canzano has some thoughts on Oregon's coronavirus reporting. … One USC athlete has tested positive. … Colorado is making cuts to its staff but did fill its open basketball assistant position.
EWU and Idaho: Around the Big Sky, Montana State needs to develop its quarterbacks. … In basketball news, a member of the Montana State staff left for another position. … With Northern Colorado dropping tennis, the school's players are left without a place to compete.
Mariners: Seattle Times beat writer Ryan Divish took a look at the M's roster for the season, wondering who will be on the 40-man group and who might be ticketed to the 20-man taxi squad. … Larry Weir spoke with Divish about the upcoming season and more on the latest Press Box pod. … The M's announced the signing of two more draft picks, leaving just one unsigned.
Golf: Phil Mickelson turned 50 recently. That hasn't slowed him all that much. He leads the Travelers Championship after two rounds. I'm only mentioning this because I root for the over-50 crowd.
•••
• Looking back at my favorite Hoopfest memories, I was struck with how little in the way of success I had in the many Hoopfests in which I participated. Won-loss success. By all other measures, such as fun, it's always been a success. Even the years the sun shone down so severely every inch of my skin turned red. One thing I do remember, however. The Mondays after at work. Getting out of the office chair was a chore many of those days, let me tell you. Especially the handful of years I played on two teams. Until later …
Subscribe to the sports newsletter
Get the day's top sports headlines and breaking news delivered to your inbox by subscribing here.
---