What made Gutenberg's printing press so special?
The printing press that Gutenberg developed in 1439 did four things that were fairly new in the world of printing:
1
Movable type: Before Gutenberg, printing was mostly done with wooden blocks. Gutenberg's idea was to create separate letters, which could be moved around and then reused.
2
Molten lead casting: If Gutenberg's plan was to work, he'd need a LOT of those letters. So he came up with a system of creating them in brass and then using those letters to create molds that allowed him to cast more with molten lead.
3
Oil-based ink: Gutenberg developed his own type of ink – oil-based, rather than water-based – that would stick to metal better than to wood.
4
A better paper-flattener: Gutenberg used a press that was typically used to press grapes for wine and olives for oil. That's the big screw-shaped object you see at the left of the illustration above.
The result of all this was that Gutenberg could print books in a fraction of the time it would take to copy them by hand – which was the way it was typically done at the time. He would print 180 copies of a 1,300-page edition of the Bible by 1454, to great acclaim.
But despite its importance to us today, his venture into printing wasn't financially successful. By 1459, Gutenberg was bankrupt.
---
A history of printing and publishing
105 BC: Paper is first created by Ts'ai Lun of China.
794 AD: The first paper mill is built in Baghdad, in what is now Iraq.
932: Chinese printers begin using wood block printing to create books: Words and drawings are carved in reverse on wood blocks, which are then smeared with ink and pressed against paper.
1041: Movable type made of baked clay is invented, also in China. This allows printers to set up a page to be printed and then reuse those elements to build more pages.
1439: Johannes Gutenberg of Mainz, Germany, develops his printing press. In 1452, he'll begin printing 180 copies of the entire Bible.
1473: William Caxton prints the first book in English. Three years later, he'll set up his own print shop in England.
1476: Intaglio printing – in which ink is held in a sunken area on a printing plate, rather than on a raised area – is first used for book illustrations.
1495: Etching – in which sunken areas for intaglio printing are created by acid or some other chemical process – is first used.
1501: Italic type is introduced by Aldus Manutius in Venice, Italy.
1529: Geoffroy Tory in Paris publishes "Chamfleury," which promotes grammar, punctuation and greater care in the choice of letterforms – what we today call typography.
1538: Juan Pablos becomes the first printer in North America when he begins operating in Mexico City.
1563: Printing in France without permission of the king is outlawed, under penalty of death.
1569: Gerardus Mercator publishes a map of the world. This becomes important in the age of discovery.
1584: The Cambridge University Press begins operating. Today, it's the world's oldest printing and publishing house.
1604: The first newspaper is published in Strasbourg, Germany: Relation aller Fürnemmen und gedenckwürdigen Historien.
1611: The first edition of the King James Bible is published.
1623: William Shakespeare's "Comedies, Histories & Tragedies" is published.
1639: "The Bay Psalm Book" becomes the first book to be printed in the American colonies, in Cambridge, Mass.
1690: The first newspaper is published in the American colonies, in Boston: Publick Occurrences, Both Foreign and Domestick.
1698: The first public library in the American colonies opens in Charleston, S.C.
1725: Jacob Chritoph Le Blon first describes a three-color (red-yellow-blue) printing process.
1733: Benjamin Franklin of Philadelphia begins publishing Poor Richard's Almanack.
1735: New York publisher John Peter Zenger is acquitted of libel by a colonial court, setting legal standards for libel.
1755: "A Dictionary of the English Language" is published by Samuel Johnson.
1780: A system for measuring the size of typography using "points" – based on a pre-metric French inch – is developed by Francois-Ambrose Didot.
1790: William Nicholson of London patents the cylindrical printing press.
1814: The first steampowered cylindrical printing press, built by Frederick Koenig and Conrad Bauer, is installed at The Times of London.
1827: The New York Sun becomes the first mass-produced newspaper. The era of "the penny press" begins.
1828: Darius Wells introduces a new method of cutting type out of wood and publishes the first catalogue of wood typography.
1841: The first paperback books are published by Tauchnitz Verlag in Germany.
1856: The first paper folding machine is introduced.
1879: The first color images are printed in newspapers using a process known as Benday – adding color in small dots to form shades or tints.
1880: The first halftone photo – created by breaking up a photograph into small dots, which can be easily printed – is printed in the New York Daily Graphic. That paper today is known as the New York Daily News.
1886: The first linotype – an automatic typesetting machine – is developed. The New York Tribune becomes the first newspaper to use one.
1892: The four-color rotary press is developed. Modern printing presses work the same basic way.
1902: While trying to develop a way to dehumidify the paper storage area for a New York printer, Willis Carrier accidentally invents air conditioning.
1921: A way of transmitting photographs over telegraph wire is developed.
1949: Phototypesetting – using light, rather than hot metal or wood to create typography for printing – is developed.
1984: The Apple Macintosh computer using a graphical interface – and laserprinters, which had come out in the 1960s – introduce a new era of "desktop publishing."
---
What is offset printing?
Offset is how most modern books, magazines and newspapers are printed.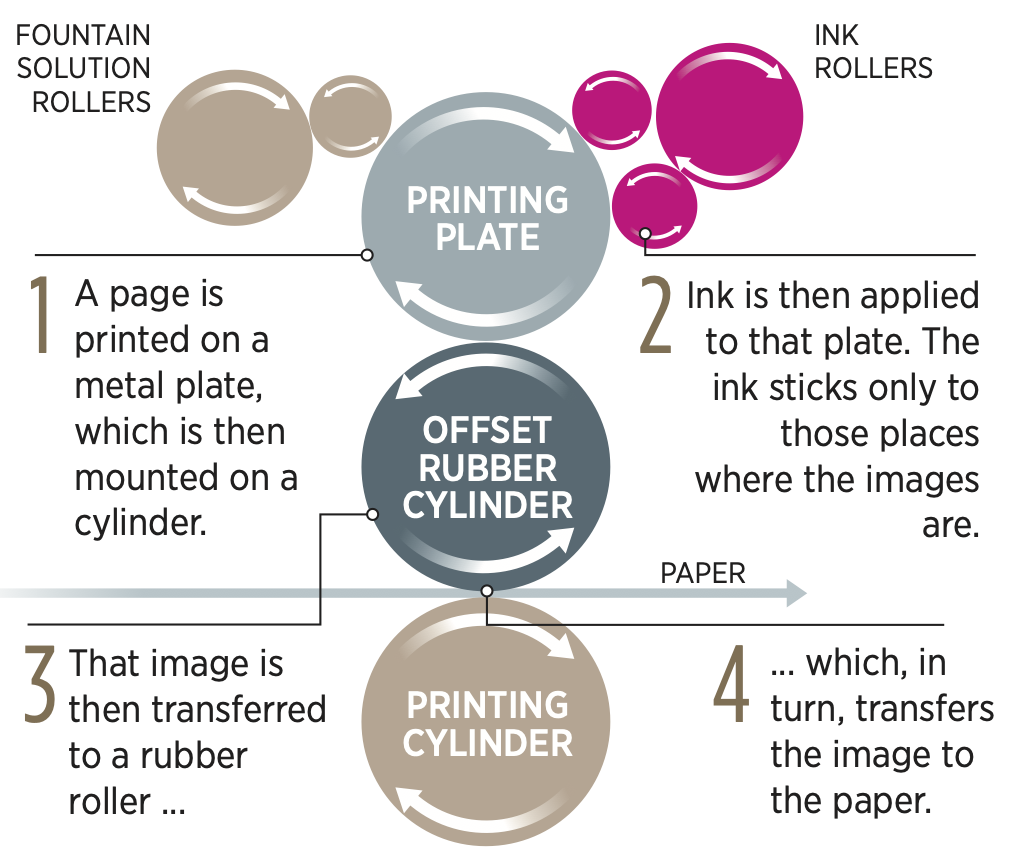 ---
How do you print color and photos?
Printing is fairly straightforward for words, letters, numbers and drawings. But for pictures or for color illustrations, it can be a bit tougher.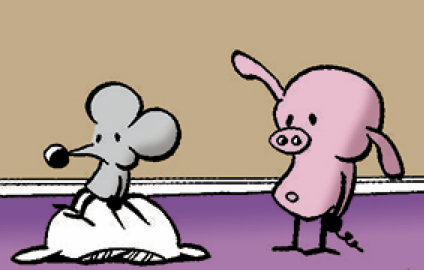 The first thing we do is use computer software to turn a photo or, say, a color comic strip, into little dots. We call this a halftone image.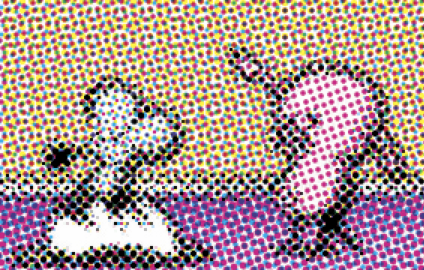 And then we print the page four times, each with a different color of ink:

Everything you see in newspapers and magazines is made of these four inks – in some places, printed on top of each other to make other colors.
If you look at a page under a magnifying glass, you can see the little colored dots. But you don't really notice them when you're reading the newspaper.
The Spokesman-Review's new presses will allow for more accurate placement of these dots, meaning color in your newspaper should be brighter and crisper.