News > Spokane
Then and Now: The Spokane Falls Review tower
Mon., March 2, 2020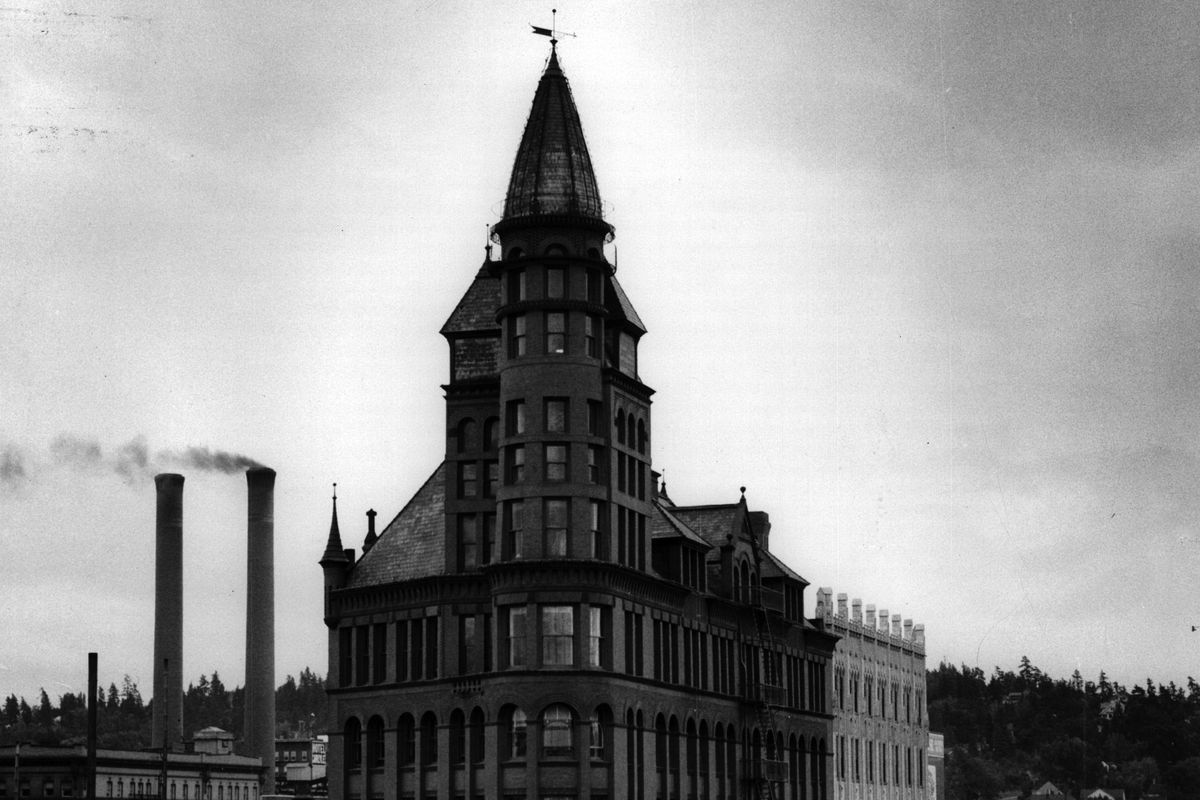 The 1891 Review Tower, designed by architect Chauncey Seaton and seen here in a 1954 photo, was built by the Spokane Falls Review's owners Harvey W. Scott and Henry L. Pittock, both Oregon newspapermen, and Spokane businessman Anthony M. Cannon. It is flanked on the left by the 1888 Crescent building and on the right by the 1927 Chronicle building. (SR)
Frank Dallam, born in Missouri in 1849, grew up in a newspaper family. He learned to set type at the age of 9, moving on through various jobs before becoming publisher of the Warsaw (Ill.) Bulletin in 1868.
In 1875, Dallam moved west to California, hoping to start his own paper. After scouting Los Angeles and San Diego, Dallam accompanied a friend on a trip to Cheney and Spokane, Washington, in 1883. He returned to California, bought a simple hand press and shipped it to Spokane.
The first edition of the weekly Spokane Falls Review appeared May 19, 1883. Historian Nelson Durham wrote that the paper "caught the free, hospitable and optimistic spirit of the town."
The young publisher turned paper, ink, a simple one-page press and hard work into a modest living. Dallam started publishing daily, but to expand, he needed capital, so he sold one third of his business to H.T. Brown and a third to H.W. Greenberg in 1886. The two bought out Dallam in 1887.
The Review's new owners sold the company a year later to a partnership, which formed The Review Publishing Company. In October 1888, that group sold it to Harvey W. Scott and Henry L. Pittock, editor and manager of the Portland Oregonian newspaper, and Spokane businessman A.M. Cannon.
The new owners erected a striking 10-story, 146-foot tower at Riverside Avenue and Monroe Street that towered over the dusty street. While an orchestra played on the sidewalk, 8,000 people toured the building when it opened in October of 1891.
William H. Cowles, the 24-year-old son of an executive at the Chicago Tribune, arrived to check on the family's investment in the rival Spokesman paper, which was losing money, as was the Review. With the Review's finances depleted by the tower's construction costs and both papers losing money, the Review owners and Cowles and agreed to a merger in 1893, making Cowles the publisher.
The unified Spokesman-Review debuted in June of 1894.
Dallam took over the Lincoln County Times in Davenport and later ran weekly papers in Okanogan County. He helped write the state constitution in 1889. When the pioneer newspaperman died in 1928, he was running the newspaper in Kelso, Washington.
Local journalism is essential.
Give directly to The Spokesman-Review's Northwest Passages community forums series -- which helps to offset the costs of several reporter and editor positions at the newspaper -- by using the easy options below. Gifts processed in this system are not tax deductible, but are predominately used to help meet the local financial requirements needed to receive national matching-grant funds.
Subscribe now to get breaking news alerts in your email inbox
Get breaking news delivered to your inbox as it happens.
---