News > Business
Crimson Hearth restaurant latest venture of former Old European owner
March 3, 2020 Updated Tue., March 3, 2020 at 2:41 p.m.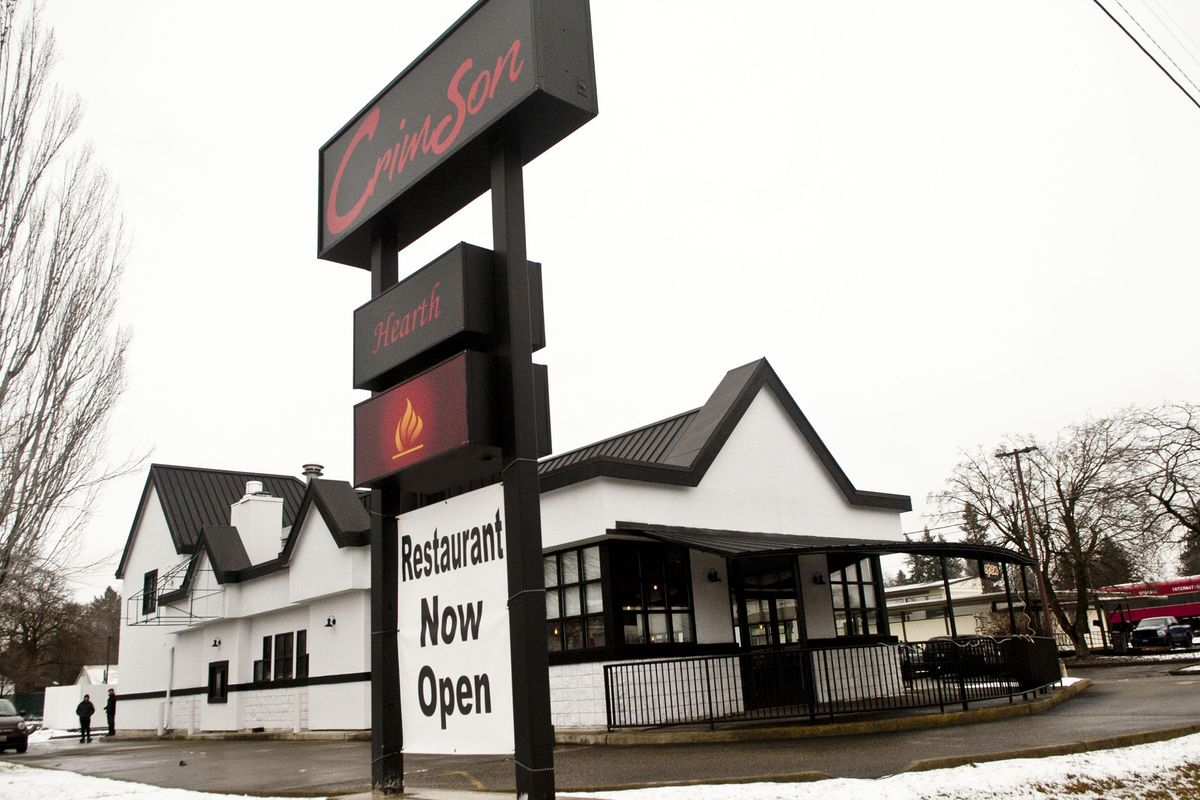 Crimson Hearth, at 11003 E. Sprague Ave. in Spokane Valley, is shown Thursday, Feb. 6, 2020. (Kathy Plonka / The Spokesman-Review)
Despite a quiet grand opening in Spokane Valley three months ago, business has been steady at Crimson Hearth with many customers discovering the restaurant's beignets and Danish-style aebleskivers through social media and word-of-mouth.
Rick Pedersen, a former owner of the Old European Restaurant chain, his wife Shelley and their son, Kaston, opened Crimson Hearth at 11003 E. Sprague Ave. in a space formerly occupied by the Prime Time Bar & Grill.
"We want to run this as a family-owned business," Kaston Pedersen said. "We didn't want to be an Old European 2.0. We wanted to do something kind of different."
Crimson Hearth features open-hearth, oven-cooked meals, some of which are made using recipes from Rick Pedersen's grandmother.
Crimson Hearth's breakfast menu features items such as tarteflette (cheesy potatoes), crepes, eggs Benedict and fresh-squeezed orange juice. The restaurant's lunch and dinner menus offer steaks, sandwiches, burgers, pastas and a variety of hearth-oven baked pizzas, among other dishes.
The restaurant's executive chef is George Turner.
"With our menu, it's not all just the kind of food you can get anywhere. Some items are unique," Kaston Pedersen said. "We want to really put out food that is made from scratch and have high-quality food."
The Pedersens spent two years remodeling the building on Sprague Avenue to make way for Crimson Hearth, which has a bar and two dining areas, one of which is on the upper floor and can be converted into banquet space.
Rick Pedersen said plans include creating an outside patio and converting a former espresso window into a drive-thru for customers to pick up to-go orders.
"It means a lot to watch this place as we open it, knowing we put two years into building this place," Kaston Pedersen said. "My father has done his rodeo of restaurants, and having his experience has been super helpful."
Rick Pedersen, along with other investors, founded the Old European Restaurant in 1989. The restaurant's menu was inspired by family members who brought their old recipes with them when they arrived in America from Europe.
The Old European Restaurant had locations in Post Falls, Pullman, Spokane and Spokane Valley.
Pedersen filed for bankruptcy protection on the Old European Breakfast House in Spokane Valley in 2006, according to a Spokesman-Review article.
Pedersen, who sold his ownership stake in Old European and closed the Spokane Valley location in 2008, said the bankruptcy filing stemmed from an embezzlement and unpaid taxes by a former business partner.
"That affected everybody involved in the restaurant. We came out of it and the restaurants are still going," he said. "That right there, kind of says it all. If we were bankrupt and lost everything, we wouldn't be in existence."
Rick Pedersen said the family didn't consider any other location besides Spokane Valley for Crimson Hearth.
"We started in the Valley with Old European. I just love the Valley. There's a lot of people here that I know," he said. "We just had such a great experience – 19 years we were here – and, to me, it's just a blessing to be here."
Rick Pedersen said it's been rewarding to work with Kaston on building the restaurant from the ground up.
"He has the same passion for this as I do. I would not have probably done this without him because, unfortunately, we get older, but he's got a great palate," Rick Pedersen said. "He loves people and he's just a great fit for this."
Crimson Hearth aims to be an inviting place where people can be with their families and friends, Pedersen said.
"You come to a restaurant and what do you want to do? You want to break bread. You want to be able to have great service and enjoy it immensely without feeling like you spent your whole life savings on this experience," he said.
Local journalism is essential.
Give directly to The Spokesman-Review's Northwest Passages community forums series -- which helps to offset the costs of several reporter and editor positions at the newspaper -- by using the easy options below. Gifts processed in this system are not tax deductible, but are predominately used to help meet the local financial requirements needed to receive national matching-grant funds.
Subscribe now to get breaking news alerts in your email inbox
Get breaking news delivered to your inbox as it happens.
---