News > Spokane
Despite COVID-19 travel bans, stem cells arrive from Poland in time to treat Spokane leukemia patient
UPDATED: Thu., March 19, 2020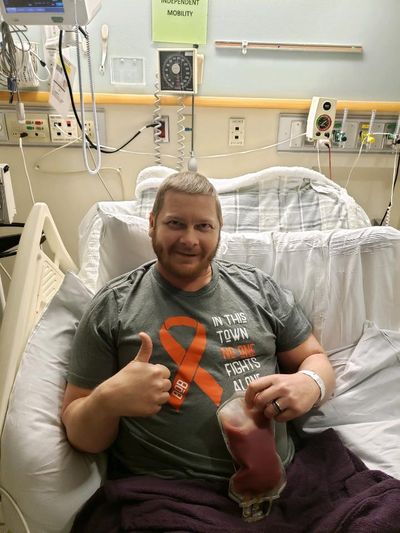 Spokane resident Janet Terpko spent most of the past weekend making calls to federal and foreign officials, trying to track down the delivery status of life-saving donor stem cells from Poland for her husband.
She was worried they might not arrive as a result of a ban President Donald Trump placed on flights from Europe to United States.
But while reports of snags lingered into Monday, the material arrived in time from a 38-year-old female donor for her husband Jared Weeks' stem cell transplant for leukemia on Tuesday night.
The arrival of the stem cells and the smooth completion of the procedure was a relief for Weeks' blended family with seven children, which initially worried about the timing of his transplant procedure amid reports the medical transport was being held up in Europe.
"Last week, when Trump announced some travel bans, we reached out to the charge nurse at the University of Washington Medical Center," Terpko said. "My red flag went up that I needed to make sure."
Weeks, 42, was diagnosed with acute myeloid leukemia in October. On March 10, he entered the University of Washington Medical Center as a patient of Seattle Cancer Care Alliance to do a myeloablative chemo regimen.
Terpko had returned to Spokane and expected to go back for his transplant this week, but hospital restrictions on visitors have kept her home.
After multiple calls to officials, Terpko said she started working with an assistant in Sen. Maria Cantwell's office, as well as with someone working for Rep. Cathy McMorris Rodgers.
Terpko said her husband's brother, Sean Weeks, had remained on standby in Seattle, where the procedure took place, as a backup donor. She said the family knew from testing that his sibling wasn't the most ideal match.
"Three months ago, when they started running a search for a blood donor for Jared, they did test Jared's brother Sean Weeks to see if he was a match," Terpko said. "We were told that there is a one in four chance that he would be. Turned out that he was not and so because of that, the SCCA continued their search for finding a donor."
Eventually, they found the donor in Poland, she said.
"The peripheral cells are extracted from the donor via their blood, rather than a procedure extracting bone marrow," she said. "This donor matched much better with my husband and that's the one in Poland that we were desperate to get."
"I was told that once the blood products were in U.S. airspace that Sean would be released, and we would not need his cells as a back-up plan," Terpko added on Monday. "Once they receive the cells from Poland, they want to test the viability of them to make sure they are still good to transplant into Jared."
Time was of the essence, but the blood material did prove viable and was used for the procedure, she said.
Local journalism is essential.
Give directly to The Spokesman-Review's Northwest Passages community forums series -- which helps to offset the costs of several reporter and editor positions at the newspaper -- by using the easy options below. Gifts processed in this system are not tax deductible, but are predominately used to help meet the local financial requirements needed to receive national matching-grant funds.
Subscribe now to get breaking news alerts in your email inbox
Get breaking news delivered to your inbox as it happens.
---