Particles of swirling ash generated lightning – which in turn created forest fires. About 540 million tons of ash spewed out of Mount St. Helens that day – about the equivalent of a football field, piled 150 miles high. The photo above is one of a series that won a Pulitzer Prize for general news photography in 1981.
---
Why Mount St. Helens erupted
The Cascades mountain range – including Mount St. Helens – were formed by two sections of the Earth's surface running into each other.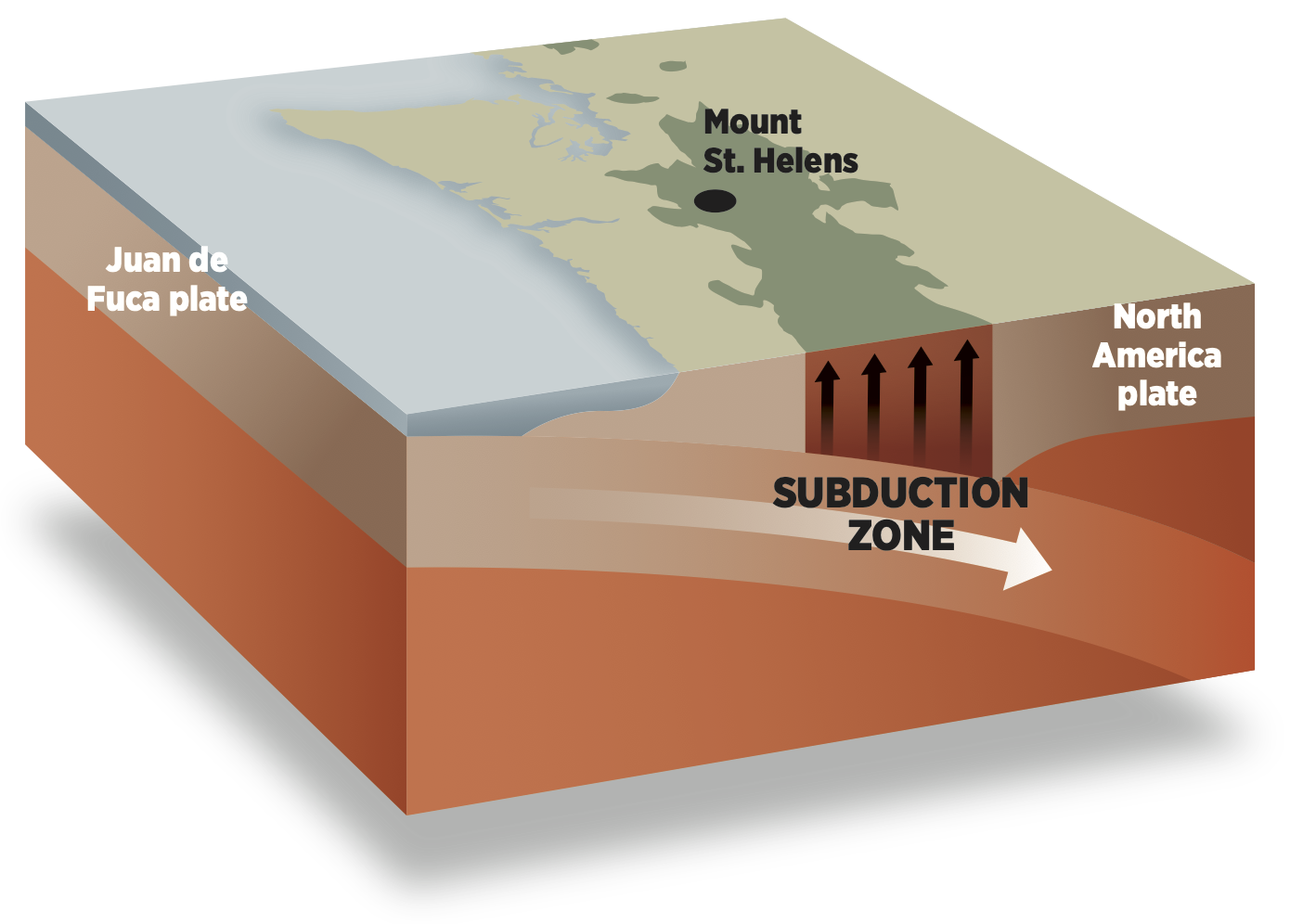 These sections, called tectonic plates, float on a sea of molten lava deep within the Earth. The Juan de Fuca plate is shoved beneath the North America plate creating high pressure and hot temperatures.
This pressure and these hot temperatures force molten rock to the surface, creating a chain of volcanoes.
Mount St. Helens had erupted several times over the centuries – most notably in 1800 – but had been relatively quiet since 1857.
---
A 'stone wind'
The explosion ripped 1,300 feet off the top of Mount St. Helens and moved outward at speeds up to 200 miles per hour.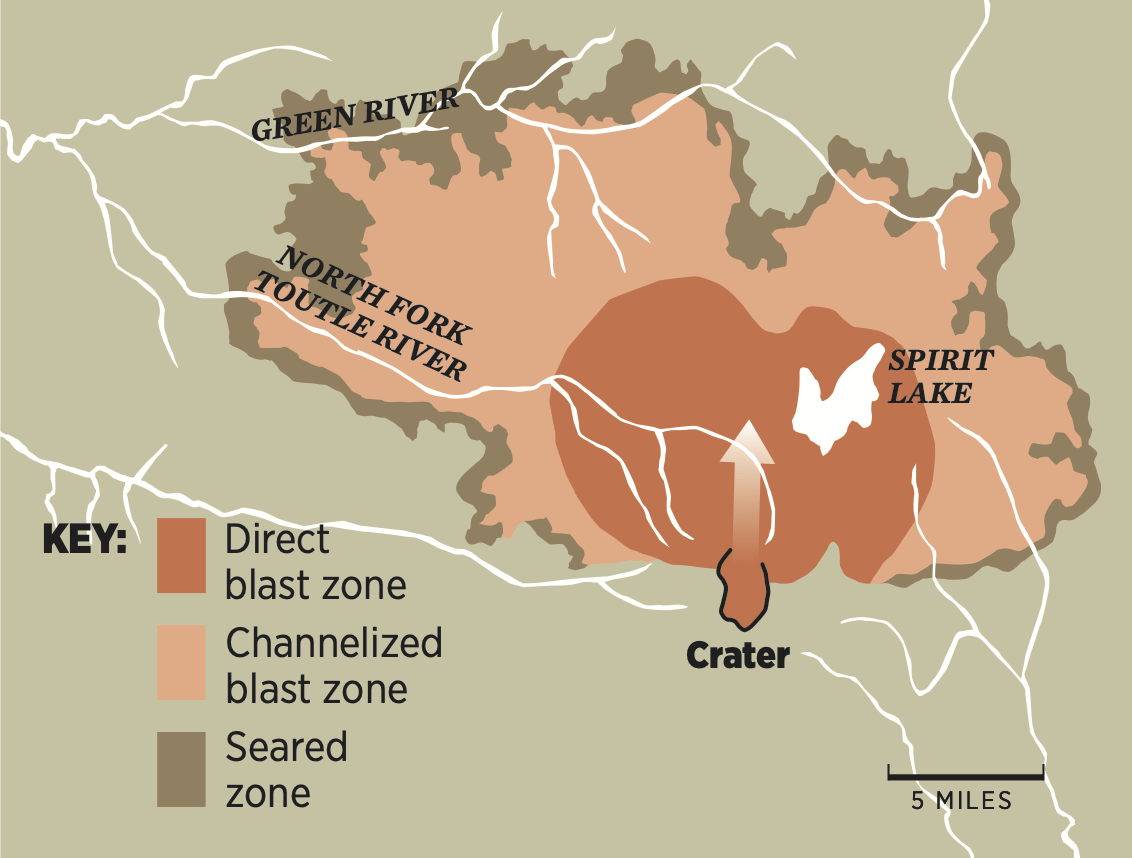 About 150 miles of forest – much of it 180-foot-tall fir trees – was cut down, uprooted or sawed in half by rocks of all sizes moving at tremendous speeds. Rock, dirt and ash forced the water out of Spirit Lake and the rivers around Mount St. Helens. The silt would clog the Columbia River, about 40 miles or so downstream, reducing navigability from 39 feet to only 13 feet deep.
The material that belched out of the mountain was a superheated 1,000 degrees. Two weeks later, some of the pumice covering the mountain still measured 780 degrees.
---
Airborne ash
540 million tons of thick volcanic ash was thrown 15 miles into the air, where winds carried it hundreds of miles away.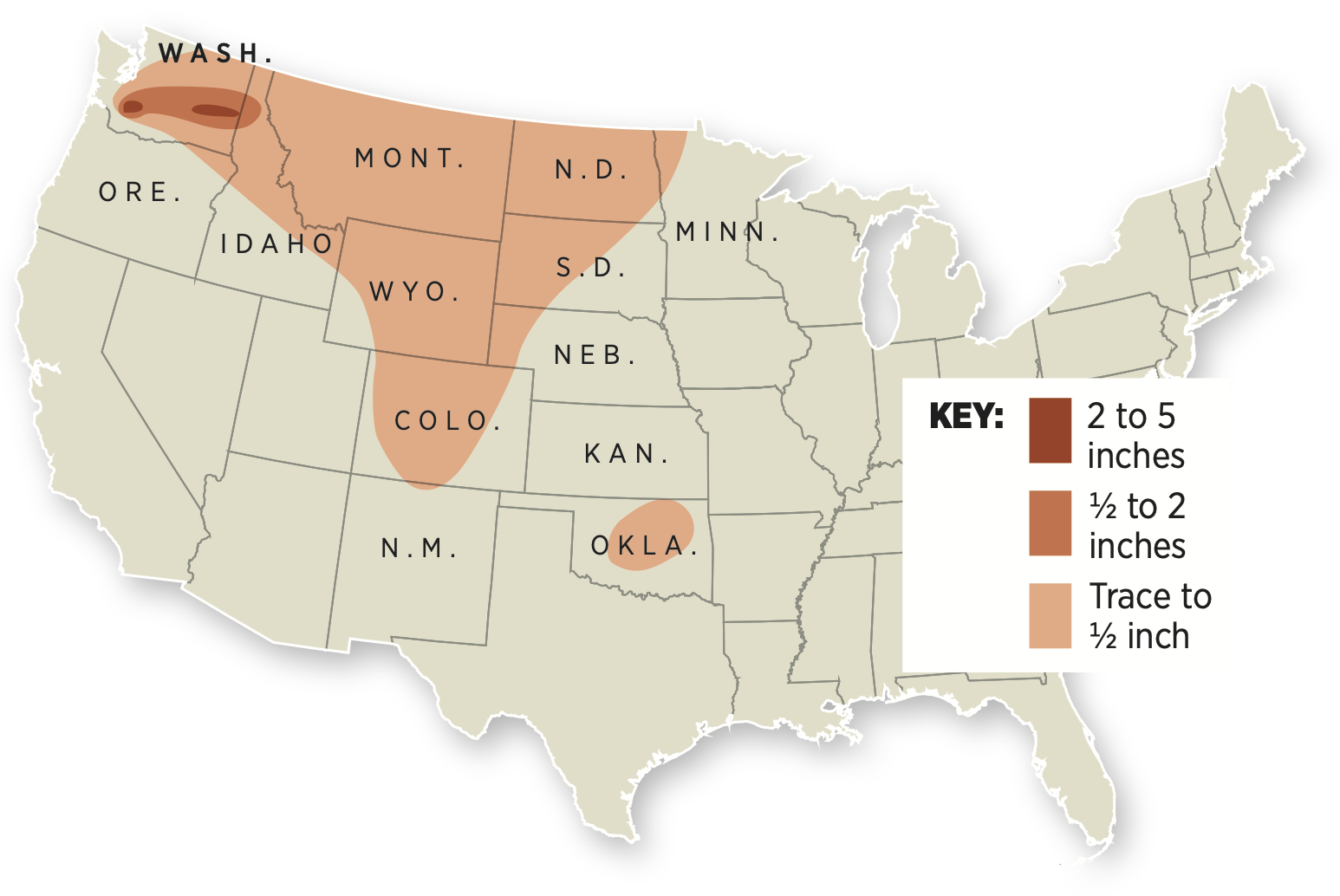 The eruption continued for about nine hours. Over that time, thick layers of ash were spread across Washington and into Idaho and smaller amounts began to rain down on the Northwest and Midwest, over an area of more than 22,000 square miles.
The estimated toll for Mount St. Helens eruption:
◼ 57 dead
◼ More than 200 homes and cabins
◼ 185 miles of roads
◼ 15 miles of railroad
◼ More than 4 billion board feet of saleable timber
◼ Nearly 7,000 big game animals
◼ A total of about $1.1 billion in damage