News > Business
Motley Fool: Big Pharma dividends
Sun., May 17, 2020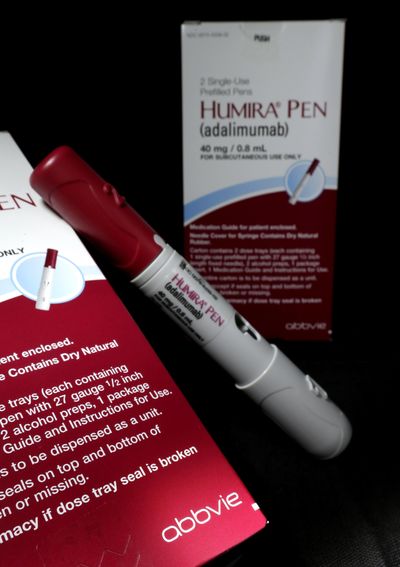 The recent stock market meltdown has presented a lot of bargains for those with some cash to invest. Consider, for example, large-cap pharmaceutical concern AbbVie (NYSE: ABBV), spun off from Abbott Laboratories in 2013. Its shares recently traded at a forward-looking price-to-earnings (P/E) ratio of less than 9. That kind of low valuation might make sense for a company likely to experience an earnings decline, but that's not the case for AbbVie.
Granted, AbbVie faces some headwinds for its top-selling drug, Humira. Rival biosimilar drugs are already eating into the blockbuster drug's market share in Europe and will do the same in the U.S. beginning in 2023. However, AbbVie has been planning for this eventuality for years and isn't as dependent on Humira as it used to be, thanks in large part to fast-rising sales for cancer drugs Imbruvica and Venclexta.
Its pipeline has also been fruitful with new immunology drugs Rinvoq and Skyrizi likely to rake in billions of dollars in sales annually over the next decade. And AbbVie's pending acquisition of Botox maker Allergan will further reduce its reliance on Humira.
Even with the challenges to Humira, Wall Street analysts expect AbbVie's earnings will increase by an average of close to 5% annually over the next five years. With the company's dividend recently yielding 5.6%, AbbVie looks likely to deliver attractive total returns for a long time to come.
Ask the Fool
Q: This is a good time to buy stocks now, right, because the stock market is down? – R.Y., Charleston, South Carolina
A: Right! When the overall market tanks, even the stocks of great and growing businesses can fall – often below their intrinsic value. But do your research first and make sure any company you invest in is built to last. This pandemic is dealing harsh and sometimes fatal blows to lots of businesses.
Dig deeply into any company you're considering investing in since you'll essentially be buying a piece of it – and its future. Study its annual and quarterly reports; assess its cash and debt loads, its profit margins, cash flow, and the growth rates and trends for such measures.
Warren Buffett recommends asking the following questions when evaluating stocks: 1) Can I understand the company? 2) Does it have sustainable competitive advantages? 3) Is the management honest and competent? 4) Is the price attractive?
Q: Can you explain how Uber apparently only raised $8.1 billion when it went public last year when the company was valued at about $75.5 billion? Why didn't the initial public offering (IPO) raise $75.5 billion? – T.M., Spokane, Washington
A: If Uber had offered all of its shares to the public market in its IPO, it would have collected about $75 billion. But as companies typically do, it offered only some of its shares for sale to the public, with insiders maintaining majority ownership – and control.
If a company needs more cash later, it can always sell more of its shares on the market via "secondary offering." Companies can also change their number of shares over time by issuing more shares or by buying back shares.
My dumbest investment
My dumbest mistake was dumping what was at the time 100% of my money into shares of Advanced Micro Devices about 3 1/2 years ago. I failed on both the buying and selling. I was completely undiversified, which was stupidly risky, and even though it all worked out, I didn't hold on to the shares like a good Fool would, and I didn't realize all the gains I could have. The stock rose sharply after I sold. – Gregory S., online
The Fool responds: It's always risky to put all – or most – of your eggs in one basket. Even the most well-known and well-regarded companies can end up in big trouble or out of business. Blockbuster, Chrysler, Delta Air Lines, General Motors, Lehman Brothers, Pan American World Airways, RadioShack, Texaco, Toys R Us, Washington Mutual and F.W. Woolworth and are just a few examples. Distribute your money across 10 to 20 companies – and then keep up with their progress. Or opt for a simpler way to profit from the stock market – investing in one or more low-fee, broad-market index funds.
Also, as you noted, think twice before selling, as great businesses – and the U.S. economy – are likely to keep growing over the long run. Shares of microprocessor and computer graphics chipmaker Advanced Micro Devices advanced by double and triple digits in 2018 and 2019, respectively.
Local journalism is essential.
Give directly to The Spokesman-Review's Northwest Passages community forums series -- which helps to offset the costs of several reporter and editor positions at the newspaper -- by using the easy options below. Gifts processed in this system are not tax deductible, but are predominately used to help meet the local financial requirements needed to receive national matching-grant funds.
Subscribe to the Coronavirus newsletter
Get the day's latest Coronavirus news delivered to your inbox by subscribing to our newsletter.
---