News > Spokane
Citizen Journal: Former Fort Wright home brings back childhood memories
Thu., May 21, 2020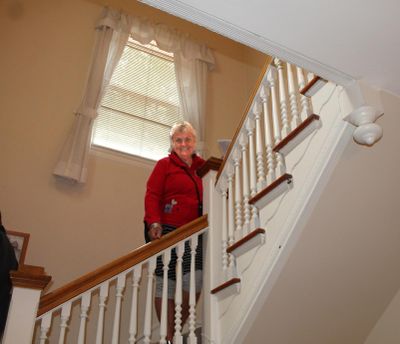 In 1955, Donna Potter was 12 years old as she and her brothers David and Douglas walked up the steps to their new home. The magnificent three-story brick houses on Fort Wright were Fairchild Air Force Base auxiliary housing at that time. It didn't matter that Francis Potter was then just a lieutenant; the Potter family randomly drew what is now the Nellie Garry Guest House as their home for the next three years. Set high above the Spokane River, near acres of pine woods and close to the Fort Wright Military Cemetery, the family was delighted with its new home.
The house was unlike any other they had occupied; it was large and beautiful, a full three stories, plus basement, with rooms on the main floor large enough for receptions, dining and entertaining, and bedrooms enough for each sibling to have their own room.
Donna remembers her bedroom, which covered the entire front of the second floor. She recalls that her mom, June, would host Cub Scout meetings on the third floor. She tells about roaming the immense grounds and riding a blue Air Force bus to Washington Grade School in Browne's Addition. She describes the 1955 views from each window.
The whole family has always wondered about the two marble statues that stood in the grassy area in front of the big house. Her brothers named them "the nudies" because of the lack of clothing on the upper portions of their bodies. Their origin and meaning were a mystery.
The Mukogawa Institute's students are not in residence at this time due to the pandemic, and Donna Potter Phillips had a rare opportunity to revisit "Her House." Accompanied by a couple of kind and knowledgeable guides, she was able to enter her childhood home again.
Donna is my wife's friend. I am a Spokane history buff and I was able to whimper and pout my way into an invitation to join them.
Inside the front door, a formal staircase winds up to the second level. It is a long way from the front of the house to the back where another winding staircase rises up to the third floor. Fancy corner posts, matching spindles and thick wooden handrails are everywhere. Folks in our group were using words like balustrade, banister and parapet.
I wanted to ask the difference, but did not want to reveal my tacky origins; I was raised in a house where a handrail consisted of a galvanized pipe.
Elegant fireplaces are part of every room of significant size (and there are several). Ornate radiators still stand in each room and above the radiator in the dining room is the original bun-warmer oven complete with iron doors. (See photo)
I could see Donna's personal clock turning back as she charged up the winding staircases in the old house. She would stop on the landings and look back down to tell of some long ago family event that had occurred there. She opened every closet door inspecting the original flooring that she found. Each corner brought back fond memories. It was a wonderful day of reminiscing.
But a mystery remains: The marble statues; the "nudies."
Why had they been placed there? And by whom? They were there in 1957. They are not there in 2020.
Were the statues the property of the U.S. Army? Or of some previous resident of the house?
Where did they go? Where are the "nudies" now?
Fort George Wright was built in the late 1890s as a Regimental Calvary Post and was occupied by Mounted Infantry Units from 1899 until 1940.
From 1947 to 1958, Fort George Wright was used for NCO and Officer's housing for Fairchild Air Force Base.
In 1960, The Sisters of The Holy Names purchased 76 acres and opened Fort Wright College. In 1990, the grounds and the buildings became a branch of Japan's Mukogawa Women's University.
It is now called Mukogawa Fort Wright Institute: A Center for International Learning and Cultural Exchange.
Local journalism is essential.
Give directly to The Spokesman-Review's Northwest Passages community forums series -- which helps to offset the costs of several reporter and editor positions at the newspaper -- by using the easy options below. Gifts processed in this system are not tax deductible, but are predominately used to help meet the local financial requirements needed to receive national matching-grant funds.
Subscribe to the Coronavirus newsletter
Get the day's latest Coronavirus news delivered to your inbox by subscribing to our newsletter.
---