News > Nation/World
Spokane Valley Fire roundup: Blaze razes barn on North Murray Road; likely accidental
Thu., Nov. 5, 2020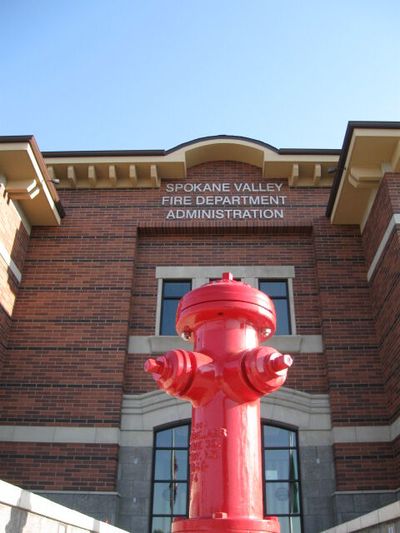 The Spokane Valley Fire Department recently responded to a barn fire recently in the 4100 block of North Murray Road that resulted in the total loss of the building.
A call came in to 911 at 1:38 a.m. on Oct. 26 reporting a barn on fire. Multiple crews arrived to fight the fire and portable lights were set up to help with visibility. Metal siding was torn off the structure as firefighters tried to stop the blaze, but the building couldn't be saved. The cause of the fire was accidental, possibly due to a heating appliance, department spokeswoman Julie Happy said.
The burn ban that was in effect for most of the summer has been lifted, but certain things like burning yard waste and garbage are still prohibited. The department was called to a possible illegal fire in the South 100 block of Bell Street at 9:28 p.m. on Oct. 27 to find a large pile of burning garbage, construction material and tires. A gas can was found nearby. A neighbor told crews that the homeowner had run out of the home as firefighters were arriving. The fire was put out.
Other calls Oct. 26 to Nov. 1
Oct. 26: A Rescue Task Force medic team was deployed to assist the Spokane County Sheriff's Office for a high-risk SWAT warrant in the 200 block of North McDonald Road at 5:38 a.m. The team was not needed. A vehicle hitting a deer was reported in the 15500 block of East Wellesley Avenue at 7:51 p.m.
Oct. 27: A small fire was reported south of 24th Avenue near Vera Crest Drive at 11:32 a.m. The 10-by-10-foot fire was burning in mostly pine needles when firefighters arrived. No one was seen in the area. A column of smoke was spotted in the East 4900 block of Ninth Avenue at 4:48 p.m. The homeowner was burning yard debris from the recent windstorm. The owner was informed yard waste fires are illegal, and the fire was put out.
Oct. 28: A fire was reported in the East 16100 block of Broadway Avenue at 10:25 a.m. The resident said a flower pot was hot and smoking after a cigarette had been put out in it. A car fire was reported in the East 6200 block of Desmet Avenue at 1:06 p.m. The driver said he saw smoke coming from his engine and used snow and a fire extinguisher borrowed from a nearby business to put out the fire before crews arrived.
Oct. 29: Apartment residents in the North 700 block of McDonald Road reported an ammonia smell in two different apartments at 9:15 p.m., prompting a hazardous materials response. An investigation turned up possible black mold in both bathrooms, which could be responsible for the smell.
Oct. 30: Smoke was reported in the North 400 block of Progress Road at 5:58 p.m. Crews investigated and found the smoke coming from a smoke machine in the front yard.
Oct. 31 A small fire was reported in some leaves in the East 11900 block of Mansfield Avenue at 5:05 p.m. A neighbor said she saw two small boys run away from the fire. A lighter was found on the ground near the area. The boys, estimated to be 6-8 years old, were identified and they and their parents spoke to firefighters about the danger of playing with lighters.
By the numbers: Crews responded to 373 calls from Oct. 26 to Nov. 1, including 299 calls for emergency medical services. The responses also included 11 car crashes, a wheelchair owner whose wheelchair became stuck on a refrigerator door handle, a man who lit a large for-sale sign on fire in the East 9200 block of Sprague Avenue and a concerned neighbor who called in a beeping smoke detector in an empty apartment that led firefighters to a burning pot of food left on the stove by the resident.
Local journalism is essential.
Give directly to The Spokesman-Review's Northwest Passages community forums series -- which helps to offset the costs of several reporter and editor positions at the newspaper -- by using the easy options below. Gifts processed in this system are not tax deductible, but are predominately used to help meet the local financial requirements needed to receive national matching-grant funds.
Subscribe to the Coronavirus newsletter
Get the day's latest Coronavirus news delivered to your inbox by subscribing to our newsletter.
---