Spokane County certifies election despite pushback and unverified voter fraud claims
Nov. 25, 2020 Updated Wed., Nov. 25, 2020 at 10:34 a.m.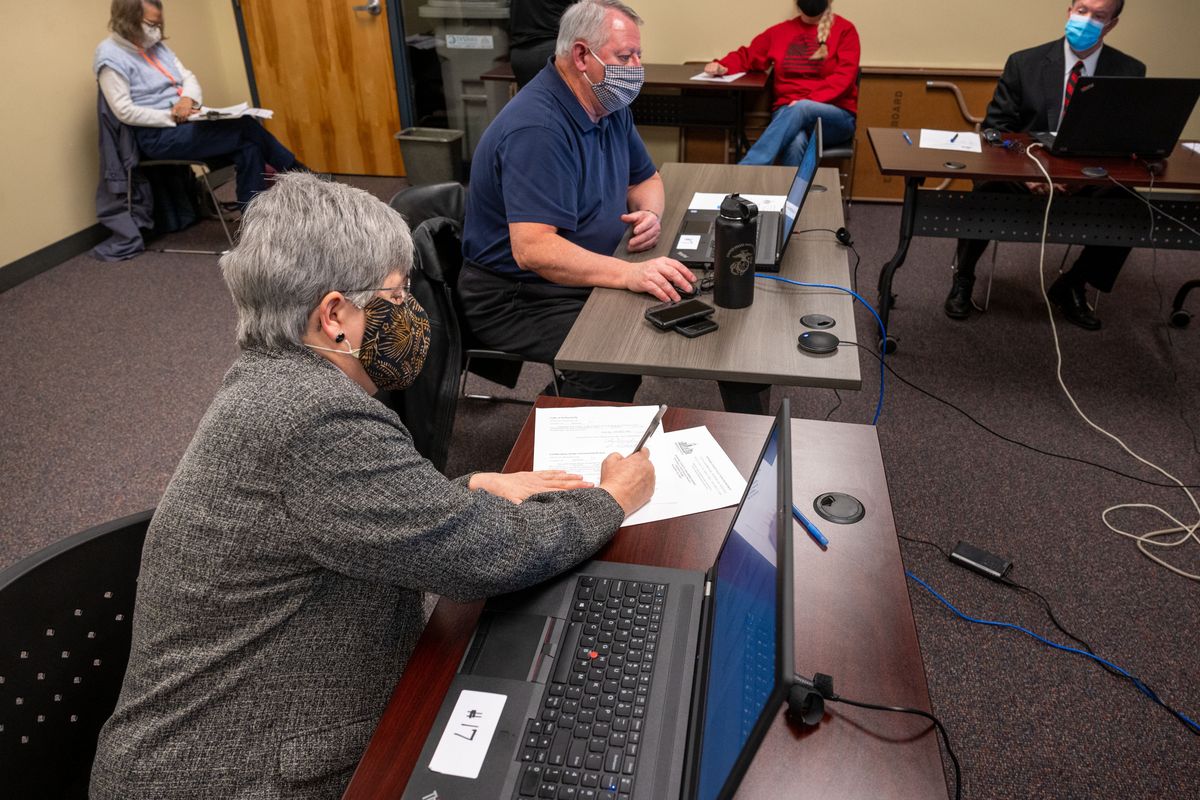 During a canvassing board meeting, Spokane County Auditor Vicky Dalton, Spokane County Commissioner Al French and Spokane County Prosecuting Attorney Larry Haskell sign a document certifying this year's election results Tuesday at the Elections Office. (Colin Mulvany/THE SPOKESMAN-REVIEW)
Despite pushback from a few voices who showed up unexpectedly in hopes of stopping election certification at the Spokane County Canvassing Board meeting, Spokane County's election results were certified along with the rest of the state's Tuesday.
In Washington, local elections are certified by a three-member board, which includes the county prosecutor, the chair of the legislative authority in the county and the county auditor. On Tuesday, Spokane County Commissioner Al French, a Republican; Spokane County Prosecutor Larry Haskell, a Republican; and Spokane County Auditor Vicky Dalton, a Democrat, unanimously voted to certify the election, which they are required to do under state law 21 days after election day.
Just before elected leaders certified the results, Spokane County and Chelan County received a last-minute flood of emails alleging election fraud and urging officials to not certify the results. Several people showed up to both counties' election offices to express fears about the security of the election and urge local officials to avoid certifying the results. Auditors for both counties said they had heard that other counties did receive emails, but most did not receive in-person visits by people who were concerned about improper voting or fraud.
Dalton said normally only one person shows up to watch election certification board meetings, but around 10 showed up on Tuesday. Election Canvassing Boards are not required to hold public comment or hear from the public in any way before certifying the election, and the three board members unanimously certified the election and discussed their decision with the public afterward.
Cyndi Darling, a Spokane resident who attended the meeting to urge elected officials to not certify the results, urged French to defy state law, saying current procedures set out by the state Legislature are not secure enough to be valid, and could allow undocumented immigrants to vote.
"If the board stops certifying, the Legislature would start to pay attention really fast," she said. "You guys have the power."
French responded to her question immediately, saying no elected official can or should try to stop an election.
"No, we don't," he said. "The courts have the power. We don't have the power to stop an election. That's why you see across the country candidates going through courts."
He urged attendees to bring their concerns to their state legislators instead of the canvassing board, which can only check signatures, resolve some registration disputes and certify elections.
"If you don't like the laws that are on the books, you take it to the Legislature to change it," he said. "We don't have that power here."
Several attendees brought information they obtained online from Washington Election Integrity Coalition United, which claims to be a bipartisan nonprofit, but has spread several debunked claims about voter fraud. Those include claims that thousands of dead people are voting in Washington and that the number of registered voters increasing after the general election is evidence of fraud.
Communications Director for the Washington State Secretary of State's office Kylee Zabel said several of the claims were outright false and others lacked evidence.
"Despite many of the claims made in the press release, neither the Office of the Secretary of State, nor county election officials have been provided the evidence needed to investigate these purported instances further," she said. "We continue to encourage anyone who has information or evidence about fraudulent voting to share those details with the Secretary of State's Office or their county election official."
She said one person who sent in a concern about voter fraud did provide a phone number of someone who could allegedly back up the claim, but said she has not had the chance to call the person to verify their case.
Chelan County Auditor Skip Moore said his office had four people show up to the meeting claiming ballots were cast improperly, and his office also received a report Tuesday morning claiming hundreds of people had moved out of state and were mailed ballots improperly, and that 90 ballots belonging to dead people had been counted. He said he looked over the list he was provided as evidence of the claim, and at least three of the people that were marked as dead, he spoke to in the past week.
"It's hard for me to see any validity in this when three of the people are walking and breathing," he said.
He also gave the list of suspected out-of-state voters a cursory glance, and said he already knew several of those people, and they did not live out of state.
He said he will review the information he was provided and if there is a suspected case of fraud, he will report it to law enforcement.
He said several of the people he had spoken to had seen election certification controversies online from across the country, or were angry about the results or processes in other states, and contacted their local auditor, or tried to attend election meetings in an attempt get involved.
"I think it's in response to national issues," he said. "But a lot of times, (other states') processes are apples and oranges with our processes."
One attendee, Kim Chaffin, a Loren Culp supporter who brought two other women with concerns about fraud and improper voting, told officials she didn't trust the election because voter rolls are checked against driver's license data from the Department of Licensing, which does not require proof of citizenship to obtain a regular license.
"There's no check and balance that we don't have a bunch of people who are here illegally voting in the state of Washington," she said.
Dalton noted that every voter is required to sign an oath that they are legally allowed to vote in the state to be able to cast a ballot, and people are able to challenge a registration if they do think that someone has voted improperly.
Several of those who attended the meeting appeared to be gubernatorial candidate Culp supporters, though no official members of his campaign appeared to have attended the Spokane County or Chelan County canvassing board meeting.
Culp, who lost the election by about 545,000 votes, has not conceded. In a statement provided Tuesday night, his campaign denied any involvement or coordination with supporters or others to go to election offices and dispute the results.
All counties were required to certify their election results by Tuesday , and Secretary of State Kim Wyman is scheduled to certify the results on Dec. 1.
Local journalism is essential.
Give directly to The Spokesman-Review's Northwest Passages community forums series -- which helps to offset the costs of several reporter and editor positions at the newspaper -- by using the easy options below. Gifts processed in this system are not tax deductible, but are predominately used to help meet the local financial requirements needed to receive national matching-grant funds.
Subscribe now to get breaking news alerts in your email inbox
Get breaking news delivered to your inbox as it happens.
---