News > Spokane
Spokane Valley Fire roundup: Illegal backyard fires reported; officials urge residents to research before burning
Thu., Nov. 26, 2020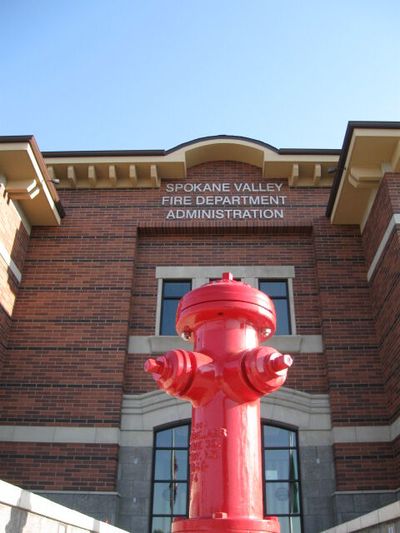 With the arrival of cooler weather and the lifting of the burn ban, more residents are taking the opportunities to have backyard fires. However, many people are not using the proper burning materials. Fires should be in fire pits and use only clean, dry firewood so as to minimize smoke. Burning items like yard debris, leaves, trash and construction materials is prohibited year-round.
One resident on East Mission Avenue was discovered burning yard debris on Nov. 17. A homeowner in the 20100 block of East Nora Avenue was found burning sticks and leaves on Nov. 20. The resident had recently moved to the area and didn't know yard debris burning was not allowed. Another illegal fire was reported in the 8600 block of East Mission Avenue on Nov. 21. Later that same day, another resident was found burning leaves in the 9600 block of East Mission Avenue.
Sometimes neighbors call in concerns about backyard fires and those concerns turn out to be unfounded. Fire crews responded to several reports this week that turned out to be legal fires burning approved firewood. Anyone with questions about what is and is not allowed in terms of outdoor burning is encouraged to contact the fire department at (509) 928-1700 or visit spokanevalleyfire.com.
Other calls from Nov. 16-22
Nov. 16: A broken fire hydrant was reported in the 9600 block of East Empire Way at 11:08 a.m. Water was coming from the hydrant, but there was a test in progress. A possible illegal fire was reported in the 200 block of South Bell Street at 10:35 p.m. Firefighters discovered a 4-foot-high pile of burning garbage in the backyard with another unburned pile next to it. No one answered the door and firefighters put the fire out. The Sheriff's Office was asked to respond if there was another reported illegal fire at the address.
Nov. 17: A fire was reported in a travel trailer at a business in the 14000 block of East Sprague Avenue. Crews arrived to find a soot stained trailer with evidence that a dry chemical extinguisher had been used. Employees said that the trailer had been brought in to have the stereo looked at but were told the battery was dead. They plugged the trailer in, and the fire began near the batteries. No smoke or flames were visible to crews.
Nov. 19: A small fire was reported in the 3400 block of East Tschirley Road at 6:14 p.m. An employee at a nearby business reported seeing a man near the fire who left on foot. Two small fires were located and put out.
Nov. 20: An audible alarm was reported coming from Building 3 in the 3000 block of North Flora Road at 11:38 a.m. No fire was found. A leaking water pipe was causing a water flow alert.
Nov. 21: A fire was reported at Honeywell Manufacturing at 6:23 a.m. When crews arrived, they found smoke, but no fire. An employee had used a dry chemical extinguisher on a fire in the dust-collecting ductwork. A kitchen fire was reported in an apartment the 16600 block of East Indiana Avenue at 10:58 a.m. The residents said there was a grease fire, and they used a dry chemical extinguisher to put it out. The nearby cabinets were scorched, but the fire was out. A two-car crash was reported on eastbound Interstate 90 near the Sprague exit. Two lanes were blocked and two patients were taken to a local hospital for treatment.
Nov. 22: A crew rescued a dog who was accidentally locked inside a running vehicle in the 11000 block of East Fourth Avenue at 1:38 p.m. The swift water rescue team was called to assist the Spokane County Sheriff's Office with a search for a missing person in the Spokane River near the 26700 block of East Appleway Boulevard at 2:16 p.m. A body was found and removed from the river. A technical rescue call came in for a report of a car balanced on the top of a cliff in the 400 block of South Eastern Road at 4:23 p.m. The driver had accidentally accelerated through a fence from the parking lot, and the car was sideways on the edge of the slope, making it unsafe for the occupants to get out. The car was stabilized, and the occupants were able to get out.
By the numbers: Crews responded to 362 calls the week of Nov. 16-22, including 290 responses for emergency medical services. Other responses included 11 car crashes, an oven fire that started when the resident put the stove on a clean cycle, an elderly man who was accidentally locked outside of his house and an alarm clock sounding that was reported as a fire alarm.
— Nina Culver can be reached at nculver47@gmail.com
Local journalism is essential.
Give directly to The Spokesman-Review's Northwest Passages community forums series -- which helps to offset the costs of several reporter and editor positions at the newspaper -- by using the easy options below. Gifts processed in this system are not tax deductible, but are predominately used to help meet the local financial requirements needed to receive national matching-grant funds.
Subscribe to the Coronavirus newsletter
Get the day's latest Coronavirus news delivered to your inbox by subscribing to our newsletter.
---