News > Spokane
100 years ago in Spokane: Letter threatens damage to two downtown buildings
Mon., Oct. 5, 2020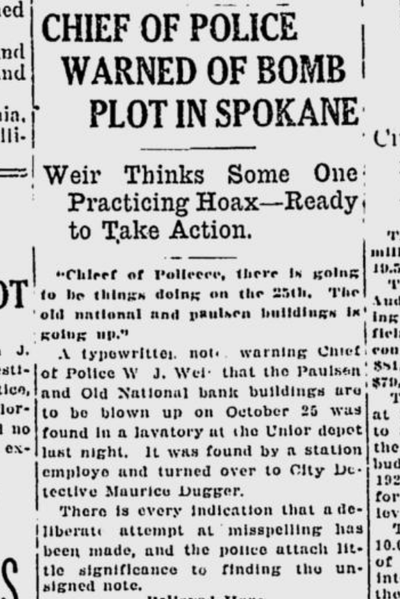 SSomeone left a note in the lavatory of Spokane's Union Depot reading, "Chief of Polieece, there is going to be things doing on the 25th. The old national and paulsen buildings is going up."
A station employee found the note and turned it over to police.
Police Chief W.J. Weir was unimpressed with the letter containing misspellings.
"This is undoubtedly a hoax," said the chief. "Why a note for me should be left in a lavatory at the Union station is more than I can see. It is unsigned and I believe it is the work of some practical joker. If anyone were to stage something of this kind it seems unreasonable to believe they would send a warning like this so that we can render their plans impossible."
Nevertheless, Weir said he would be "prepared for any emergency" on the stated day.
There was legitimate concern nationwide about bomb plots, because anarchists had set off a bomb earlier in the year on Wall Street in New York.
From the high school beat: The Lewis and Clark High School girl's athletic union was preparing to pass a resolution vowing that the girls would no longer invite football players out to parties.
In fact, they would "declare against any activity which would tend to weaken the morale of the football squad."
"The girls of the school form the background of football success," said the president of the girls' athletic union. "And it is up to them to see that none of the boys are invited out to parties during the football season."
Local journalism is essential.
Give directly to The Spokesman-Review's Northwest Passages community forums series -- which helps to offset the costs of several reporter and editor positions at the newspaper -- by using the easy options below. Gifts processed in this system are not tax deductible, but are predominately used to help meet the local financial requirements needed to receive national matching-grant funds.
Subscribe to the Coronavirus newsletter
Get the day's latest Coronavirus news delivered to your inbox by subscribing to our newsletter.
---