---
vs. Zbigniew Pietrzykowski
Rome Olympics
SEPT. 5, 1960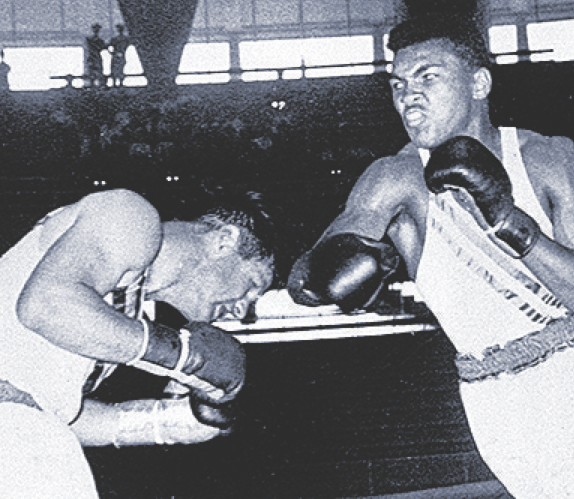 Just six years after he began studying the sport, 18-year-old Cassius Clay defeats a Polish champion to win the light-heavyweight Olympic gold medal in Rome. Upon his return to the U.S., Clay turns professional. He signs on with boxing trainer Angelo Dundee and buys a pink Cadillac for his mother in Louisville, Kentucky.
---
vs. Sonny Liston
Miami
FEB. 24, 1964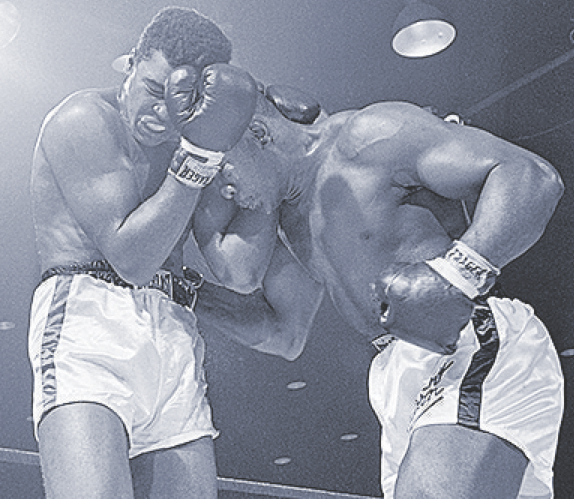 Clay defeats heavyweight champion Sonny Liston at the Miami Convention Center to become world champion at age 22. The next day, Clay announces he's now a member of the Nation of Islam. He casts off his "slave name" and becomes Cassius X. A week later, he announces he will now be known as Muhammad Ali.
---
vs. Joe Frazier
Madison Square Garden, N.Y.
MARCH 8, 1971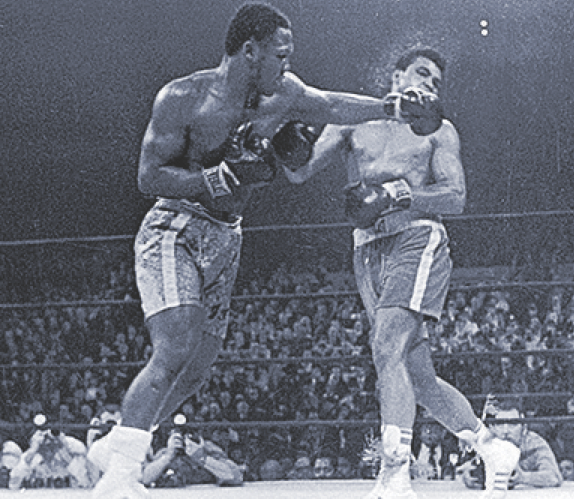 Finally able to box again, Ali fights champion Joe Frazier in what is billed as the "Fight of the Century." Artist LeRoy Neiman paints the match as it happens. Frazier defeats Ali in a unanimous decision after 15 rounds. It's the first loss of Ali's professional career.
---
vs. Ken Norton
San Diego
MARCH 31, 1973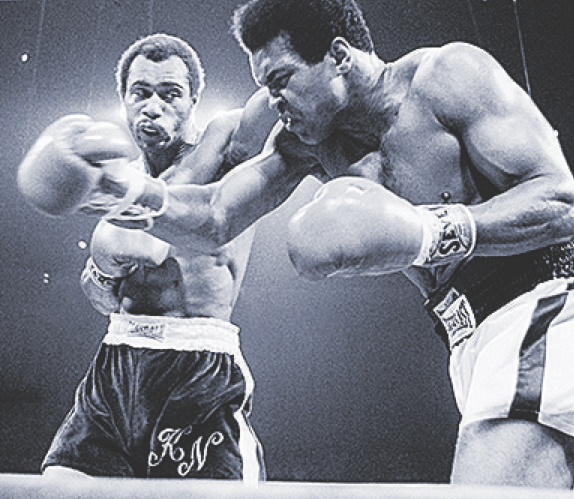 Ali suffers the second loss of his professional career when Ken Norton beats him in a split decision. Afterwards, it's discovered Ali suffered a broken jaw. Initially, Ali says he'll retire from boxing. After reflection, however, Ali accepts an offer of a rematch on Sept. 10. Ali wins that bout in a controversial split decision.
---
vs. George Foreman
Kinshasa, Zaire
OCT. 30, 1974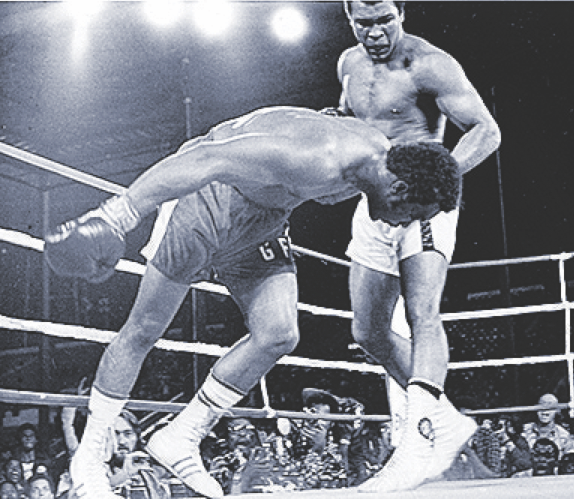 Ali's strategy against unbeaten champion George Foreman in the humid heat Zaire: "rope-a-dope." Ali allows Foreman to punch him almost at will and taunts him repeatedly. After Foreman exhausts himself, Ali knocks him out in the eighth round, becoming only the second fighter to earn the heavyweight title a second time.
---
vs. Joe Frazier
Manila, the Philippines
OCT. 1, 1975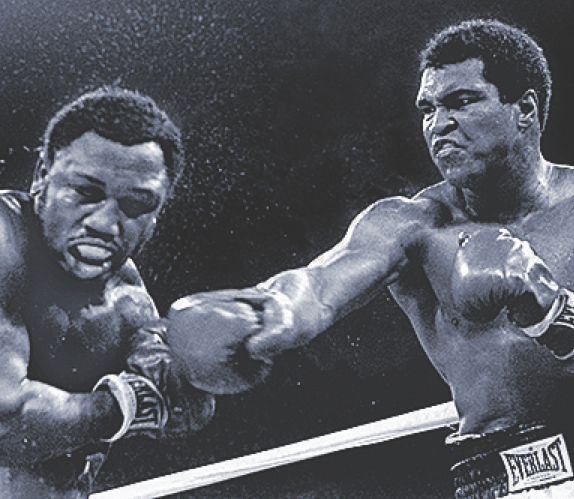 Ali gives Frazier a rematch – this time, in the Philippines. Analysts calculate Frazier lands 440 punches, yet Ali's counterpunches cause Frazier's eyelids to swell so badly he can hardly see. Frazier's trainer refuses to allow him to answer the bell for the 15th round. Ali would tell friends later this was the closest he had ever come to dying.
---
vs. Leon Spinks
Las Vegas
FEB. 15, 1978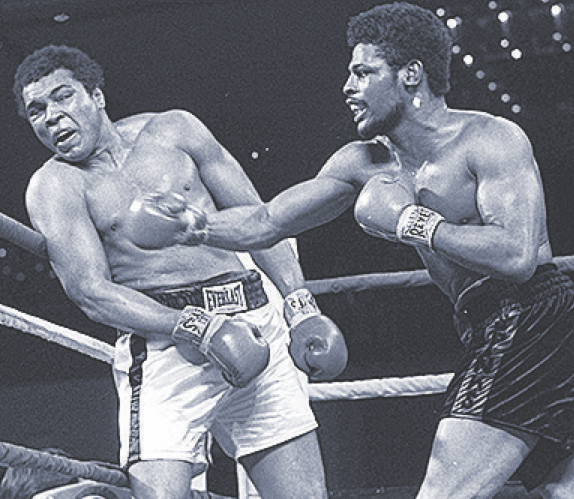 Twenty-four-year-old Leon Spinks – who had won a gold medal in the 1976 Olympic Games in Montreal but has fought only seven times as a professional – defeats an out-of-shape and underprepared champion in a 15-round decision in Las Vegas. Spinks becomes the only fighter to take a title from Ali in the ring.
---
vs. Leon Spinks
The Superdome, New Orleans
SEPT. 15, 1978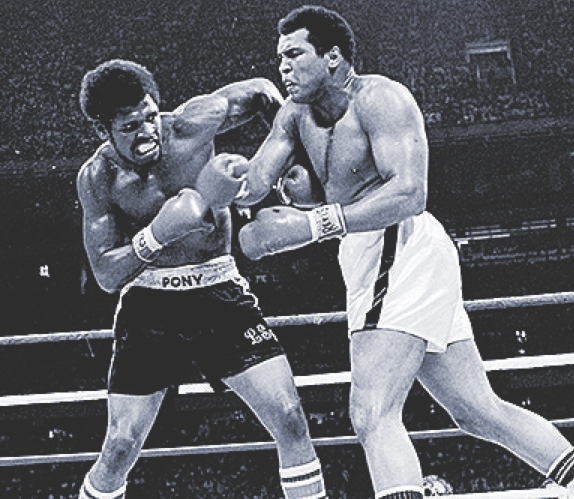 Spinks grants Ali a rematch at the Superdome in New Orleans. Before a crowd of 64,000 – the largest crowd to watch a boxing match – Ali wins a 15-round decision and becomes the first fighter to win the heavyweight title three times. Ali announces his retirement a few months later but then returns to fight two more times in the 1980s.
---
---
ALI IN RETIREMENT
1984
Ali announces he's been diagnosed with Parkinson's disease.
March 31, 1985
Ali serves as a guest referee at WrestleMania I in New York's Madison Square Garden.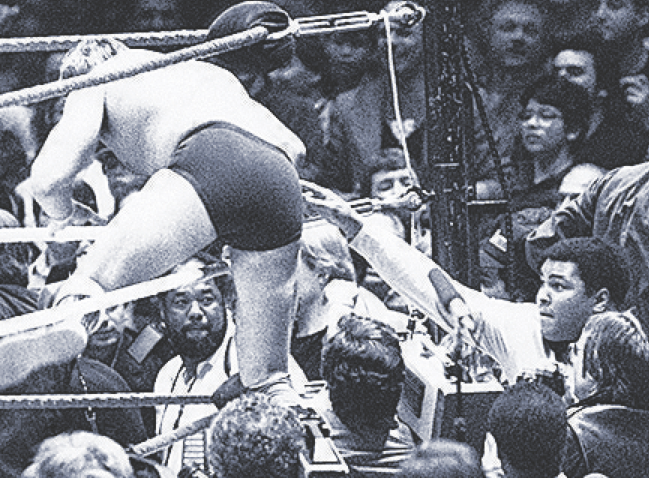 Nov. 27, 1990
Ali meets with Saddam Hussein and successfully negotiates the release of 14 U.S. hostages from Iraq.
July 19, 1996
His hands shaking from Parkinson's and with a worldwide audience watching on TV, Ali lights the flame at the Opening Ceremony for the Olympic Games in Atlanta while 3.5 billion viewers around the world watch on live TV.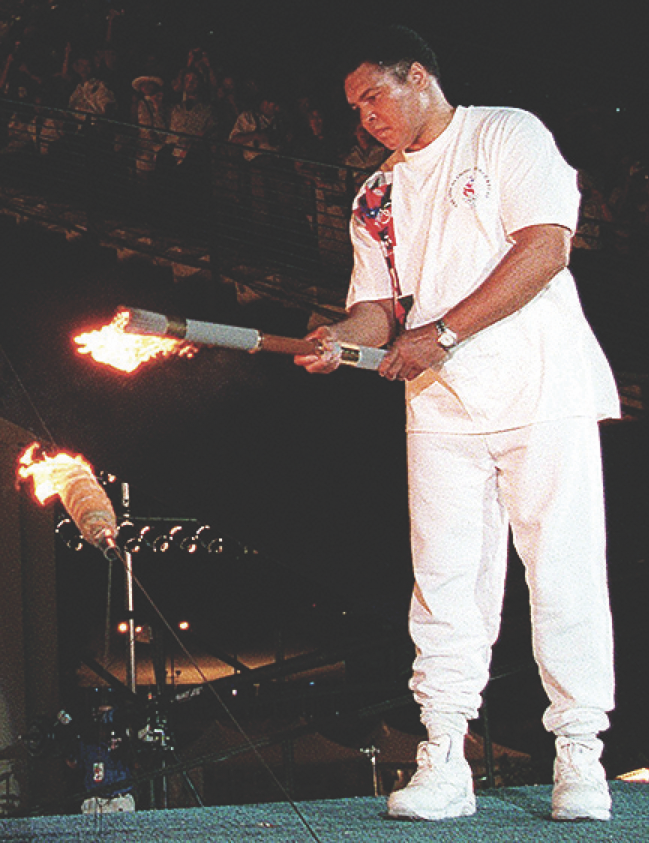 1999
Ali is named sportsman of the century by Sports Illustrated, sports personality of the century by the BBC and one of the 100 most important people of the century by Time magazine.
2002
Along with fellow Parkinson's patient Michael J. Fox, Ali makes an appearance before Congress to raise awareness of the disease and to advocate for funding for research.
Nov. 9, 2005
Ali is awarded the Presidential Medal of Freedom by President George W. Bush, who calls Ali "an inspirational figure to millions of people around the world."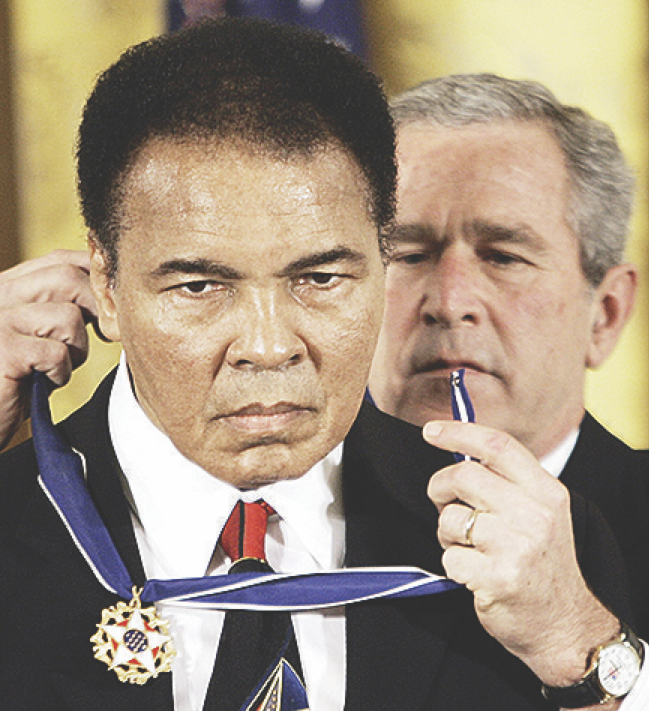 June 3, 2016
Ali dies of septic shock a day after being hospitalized in Scottsdale, Arizona, with a respiratory illness. He was 74.