News > Pacific NW
'Kindness, respect and compassion': Longtime state legislator Lois Stratton dies at 93
Sept. 15, 2020 Updated Wed., Sept. 16, 2020 at 5:59 p.m.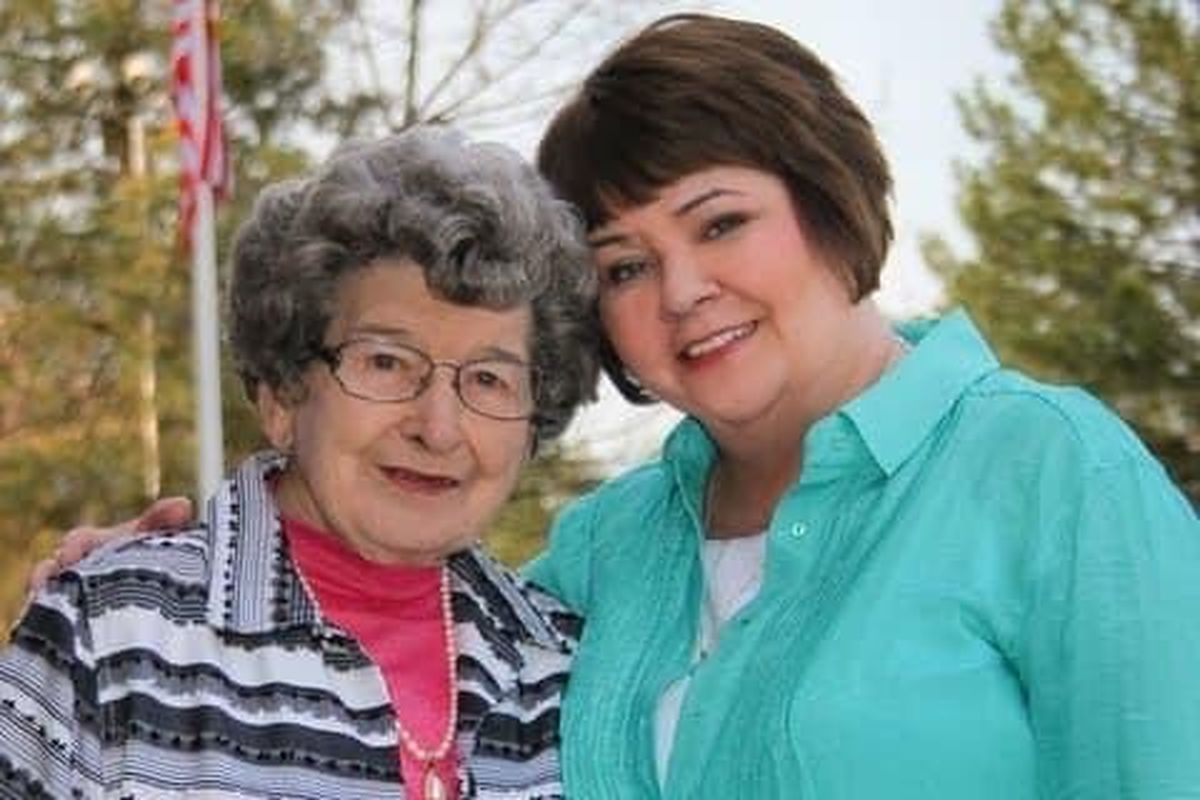 Lois and Karen Stratton pictured in 2015. (Emma Epperly / The Spokesman-Review)
Former Washington state legislator Lois Stratton wasn't scared to cross party lines and show off her independent streak if that meant representing her constituents.
Stratton once told The Spokesman-Review "Legislative Democrats … are starting to get the message. They are not over there (in Olympia) for a popularity contest. They're over there to represent their districts.'"
After years in retirement spent with family and friends, Stratton, 93, died Friday of heart failure.
She was born in 1927 on the Spokane Indian Reservation. Her mother was a member of the Spokane Tribe and her father was white. The couple lived on a small farm in Ford with their 12 children.
"She had her bits of feeling like she didn't belong anywhere," said her youngest daughter, Spokane City Councilwoman Karen Stratton.
The family may have been poor, Stratton said, but her mother never felt it because her parents took such good care of their children.
"She had a real compassion for people, and she had a compassion for people making sure that everybody had an equal opportunity or a chance to make it," Karen Stratton said. "I think that was just embedded so deeply in her. It didn't matter if you were born on the South Hill or an Indian reservation, we were all equal and we should all have the same opportunity."
Lois Stratton graduated from high school in 1944 and then attended Kinman Business University in Spokane. In 1946, she married Allen Stratton. They had five children together.
Stratton later became the first woman of the Spokane Tribe elected to the Legislature.
She and her husband were active with the Democratic Party and in 1965, Allen Stratton was appointed to the Spokane City Council.
While Allen served on city council, Lois worked full time as a secretary at Kaiser Aluminum. She also served as a democratic precinct committee member.
Ahead of Expo '74, Lois Stratton served as executive secretary to King Cole, "father" and mastermind behind the Expo. Allen was one of four city council members to vote for the business and operations tax to fund the fair.
In 1979, Lois was appointed to the Washington State House of Representatives to fill a vacancy left when Margaret Hurley was elected to the senate.
"I've held all the party offices. I've been involved in every area of the political scene, but this, actually holding public office," Lois said in a Spokesman-Review article following her appointment, "I'm very excited. But I also know I've got an awful lot to learn."
During her time in the Legislature, Stratton was known as a "conservative maverick" often bucking party lines and working with Republicans.
Sen. Mike Padden, a Republican, remembers working with Stratton when they both served in the house from 1981 to 1984.
"We were a fairly tight-knit group in the house," Padden said. "She was pretty, oh I guess in my view, level-headed. In those days folks from Spokane, whether Republican or Democrat, were definitely more conservative than those in Seattle."
Padden said he admired Stratton's willingness to look at issues independently.
"She was kind of open-minded on that," Padden said.
"I could see her as a mom of five kids. She had a certain warmth and kindness to her," Padden said. "She was very social and she cared about people."
The pair worked on a variety of anti-abortion legislation together. In 1981, they proposed language that would prohibit the use of state funds in abortions.
However, according to her daughter Karen, her views changed later in life.
"We were born and raised Catholic and, at the time, I believe spiritually and religiously she did not feel like abortion was the right thing to do," Stratton said of her mother. "She did feel like young women who found themselves pregnant and alone needed programs, needed support."
In her later years, Karen said her mother moved more toward the idea that abortion should really be a woman's choice.
Stratton was no stranger to controversy. In 1984, she voted along with seven other Democratic legislators who joined Republicans in support of a reduction in the state's timber tax.
The state Democratic Party called the vote a litmus test of party beliefs. Stratton was known as a fiscal conservative and took pride in never voting for a tax increase.
In 1984, Stratton was elected to the Washington state Senate, again filling a vacancy left by Hurley.
Stratton was known for her connection to the community. Once she spent a night sleeping on the streets of downtown Spokane with a homeless teen and her baby, "because she wanted to know what it felt like," Karen Stratton recalled.
Longtime Democratic Party activist Sally Jackson remembered Stratton winning elections by big margins.
"She was just a pillar in the Democratic Party," Jackson said.
However, the pair often disagreed when Stratton took a different stance than the Democratic Party as a whole.
After two terms in the Senate, Stratton took an appointment to the Spokane City Council in 1993.
In 1993, she ran for mayor but didn't make it out of the primary. She left the council in 1994.
Longtime friend Heather Foley remembers finding a letter from Lois after her husband, former Speaker of the U.S. House Tom Foley, died.
"I looked her up after my husband died because she had written such a nice letter about working for Tom," Foley said.
The pair went to lunch, and Stratton offered for Foley to come stay at her home whenever she was in town. Foley took her up on it.
Stratton also looked out for other women in the Spokane community, especially those in politics.
Former state legislator and current director of the Washington State Department of Commerce Lisa Brown said she learned from Stratton.
"I really cherished Lois," Brown said. "It's a big loss for our community. She was a real leader a community and a woman leader."
Brown said if not for Stratton, she might not have been elected to the Legislature in the first place. Stratton kept her decision not to run for re-election in the Senate very quiet, resulting in two house members filing for the position. Brown decided to run for one of their house seats "at the last possible second," resulting in her 1993 election to the house.
"I guess some of my favorite memories would be being at her house with Heather and they would start telling these stories and giving me advice," Brown said. "She was somebody who would speak out and it wasn't that she was necessarily looking to do what was popular, I think it was that independent streak. She would call it the way she saw it when she came to issues."
As she grew older, Stratton was involved with her 10 grandchildren and 18 great-grandchildren.
Stratton was a matriarch in every sense of the word, said grandson Zach Stratton, 32.
As Zach grew up, he slowly began to realize the impact his grandmother had on the Spokane community.
"It's funny to us she was always just grandma but when you go out with her in Spokane it was just crazy to see the respect and admiration people had for her," Zach said.
The Stratton family has yet to plan a memorial service. She is survived by four of her children, Kathleen, Mark, Scott and Karen. One of her children, Allen Jr., preceded her in death.
Stratton' contributions to Spokane were recognized by the City Council ahead of their meeting Monday.
The lessons the people of Spokane learned from Stratton are the same she taught her grandchildren and something Zach said he hopes to pass along to his children one day.
"No matter what you do, do it with kindness, do it with respect, do it with compassion."
Local journalism is essential.
Give directly to The Spokesman-Review's Northwest Passages community forums series -- which helps to offset the costs of several reporter and editor positions at the newspaper -- by using the easy options below. Gifts processed in this system are not tax deductible, but are predominately used to help meet the local financial requirements needed to receive national matching-grant funds.
Subscribe now to get breaking news alerts in your email inbox
Get breaking news delivered to your inbox as it happens.
---