News > Business
The Catalyst Building now open in the University District
Fri., Sept. 18, 2020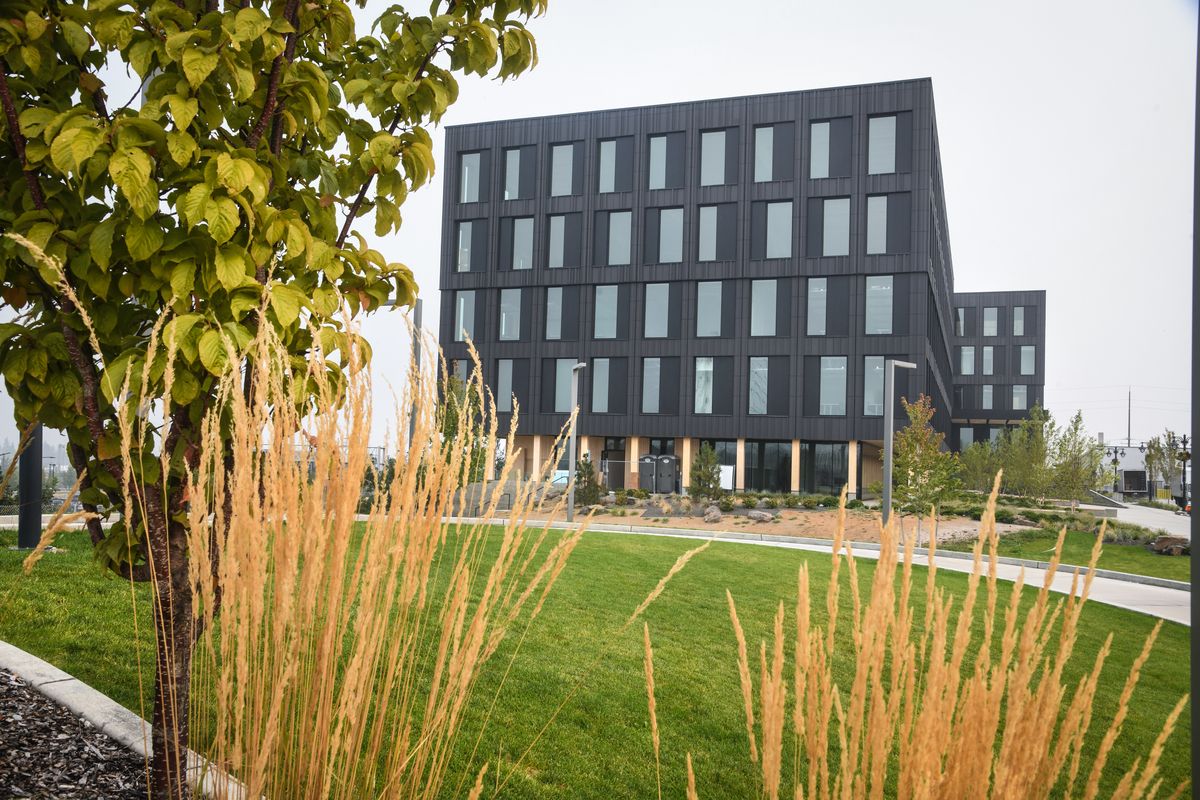 The Catalyst Building is built with cross-laminated timber produced by Katerra. (Dan Pelle/The Spokesman-Review)
After more than two years of construction, the first net-zero commercial building made of cross-laminated timber in the state is now complete.
The five-story, 159,000-square-foot Catalyst Building opened Thursday at 601 E. Riverside Ave. in the University District, making it one of the first zero-carbon buildings certified by Seattle-based International Living Future Institute and the anchor of the South Landing eco-district at the base of the University District Gateway Bridge.
Avista Development and McKinstry developed the $60 million project in collaboration with California-based Katerra and Eastern Washington University.
" With the foundation for the five smartest blocks in the world now in place, Catalyst and the South Landing eco-district prove what is possible when industry leaders work together to think big and test bold ideas," Scott Morris, chairman and former CEO of Avista, said in a statement. "What we have created is so transformative and innovative, it will serve as a new model for collaboration across industries. Together, we are re-imagining the future of energy and sustainable development. ."
The South Landing neighborhood and the Catalyst Building began with Morris' vision to create "the five smartest blocks in the world," where buildings integrated with the power grid can digitally "talk" to each other in real-time to manage electric demand, generation and storage during peak loads.
The Catalyst Building and the adjacent 40,000-square-foot Scott Morris Center for Energy Innovation are the first structures in the eco-district to demonstrate the shared-energy model.
The Morris Center features a centralized energy plant that supplies power to the two buildings and is also home to an innovation laboratory where Avista and McKinstry engineers will collaborate, conduct research and test ideas.
"Catalyst and the South Landing eco-district are more than just another smart building project, they are the cornerstones of a fully integrated neighborhood that will serve as a living laboratory for new sustainability technologies, materials, construction techniques and operational practices," Dean Allen, CEO of construction and energy services firm McKinstry, said in a statement. "Catalyst demonstrates how the built environment can be constructed and operated for our partners, our clients, our communities and our planet to deliver sustainability and impact, not just physical space."
Eastern Washington University's College of Science, Technology, Engineering and Mathematics is relocating its electrical and computer engineering, computer science and design programs to the Catalyst Building.
The building will also house EWU's graduate creative writing program, the College of Business, and several programs for the College of Health Science and Public Health.
EWU's relocation to the Catalyst Building will allow more than 1,000 students and faculty to work alongside private industry tenants to gain practical, hands-on learning experience.
The Catalyst Building, designed by Michael Green Architecture and Katerra, is able achieve net-zero energy consumption through solar power, gray water recovery and Internet of Things sensors to optimize operation, among other features.
Net-zero energy consumption is when green house gas emissions from building operations are offset by carbon-free energy production.
Katerra manufactured 4,000 cubic meters of cross-laminated timber in its Spokane Valley facility to construct the Catalyst Building, according to a news release.
Cross-laminated timber, made by compressing and gluing together lumber boards to form structural panels and beams, is gaining nationwide attention as an alternative to traditional concrete and steel building materials because of its low environmental impact and design flexibility. Cross-laminated timber can be made from small diameter trees to create a strong but lightweight building material.
The Catalyst Building was a significant milestone for Katerra because it's the first project the firm managed from inception to completion.
It also demonstrates the potential to use cross-laminated timber in combination with renewable energy to create net-zero projects in the future, said Craig Curtis, Katerra's head of architecture.
"It is significant for us because mass timber in the United States is a relatively new way to build and there are not very many examples out there," Curtis said. "So, having a building this significant to be able to take customers to is really important, not only for us, but really, for the entire mass timber movement.
"We need more Catalysts out there so that people can go and talk to the people who are working in, learning and living in these buildings, and see what the advantages truly are."
Local journalism is essential.
Give directly to The Spokesman-Review's Northwest Passages community forums series -- which helps to offset the costs of several reporter and editor positions at the newspaper -- by using the easy options below. Gifts processed in this system are not tax deductible, but are predominately used to help meet the local financial requirements needed to receive national matching-grant funds.
Subscribe now to get breaking news alerts in your email inbox
Get breaking news delivered to your inbox as it happens.
---