Special Interest Group: Bunko group keeps rolling along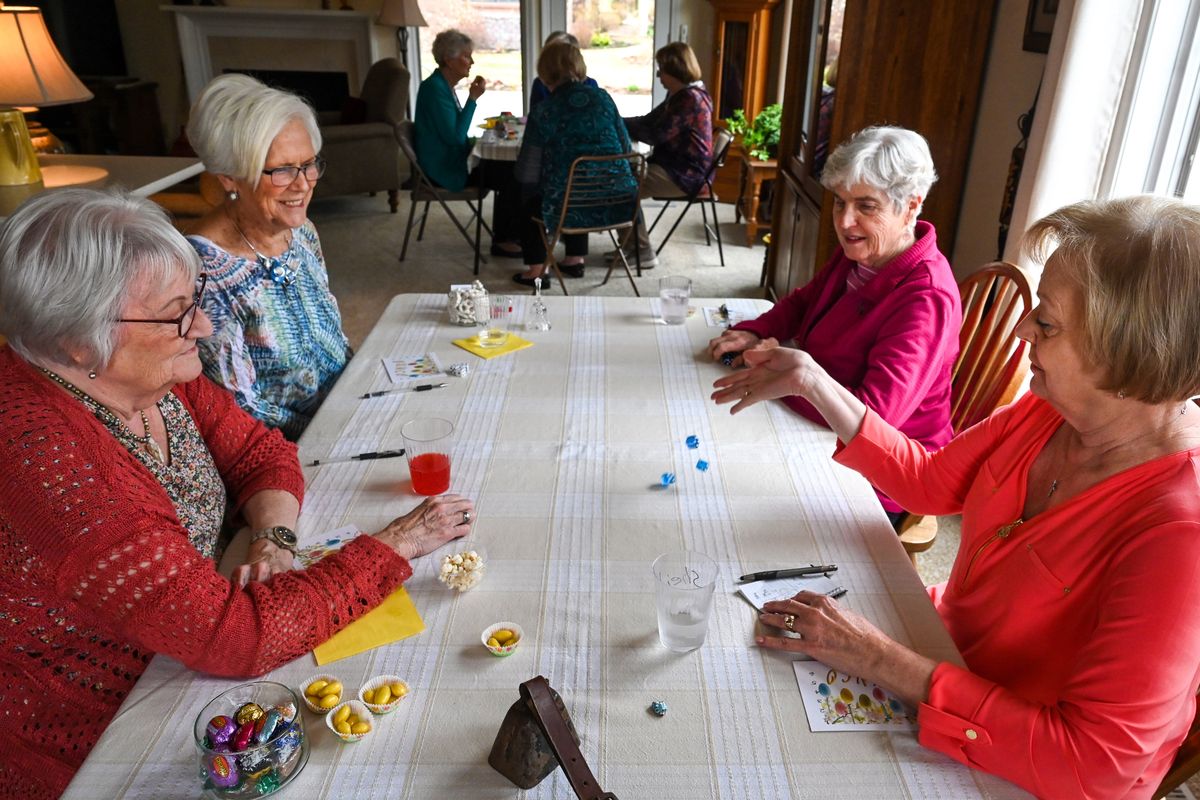 Special interests groups In this series, we celebrate special interest groups. Whether you get together to play tennis, board games, take long walks, eat lunch, create art, connect with your neighbors or gather with friends, nothing is too small to celebrate. Please share your story with us by emailing Cindy Hval at dchval@juno.com or call Kimberly Lusk at (509) 459-5457.
In 1997, Carolyn Wilson gathered a group of friends to play the dice game bunko.
"We played on Monday evenings 'cause all the guys had Monday Night Football and she wanted us to have our own game night," Sylvia Bumgarner said.
Twenty-seven years later, the group still meets monthly to roll the dice, share snacks and catch up with each other.
Wilson died of cancer just a year after launching the group, but her name is mentioned often by her friends who've carried on her fun-loving legacy.
"We call ourselves bunko sisters because many of us don't have sisters," Bumgarner said.
Bunko is generally played with 12 or more players, divided into groups of four, trying to score points while taking turns rolling three dice in a series of six rounds. A bunko is achieved when a person rolls a three-of-a-kind and all three numbers match the round number.
"It's a fun, mindless game, and we don't have to think," Jan George said.
Bumgarner laughed.
"We can't always keep score, but we share everything."
Much has changed over the past two decades. The group meets on the second Monday of the month but during the day.
"We're happy we're still doing this," said Carol Walker.
Diane Phillips nodded.
"We've lost two members to cancer, a couple of children, and some husbands, but through it all we've been a family," she said.
Lynda Hutchins echoed that sentiment. She joined the group 20 years ago.
"My husband had died a few years before," she said. "I had no family in Spokane, so they became my family."
Judy Lux appreciates the ongoing support the group offers.
"When you're having issues, they are there for you," she said.
Lux is currently on a winning streak, having won the last six times they met.
They used to play four sets of six games for prizes, now they play two sets for the cash in the kitty. Everyone antes $5 when they arrive and the members take turns hosting.
Traveling from hostess to hostess is a bunko bag containing dice, pens, score cards and silly bunko hats the winners of each round wear .
COVID curtailed their games for a while and when they started meeting again in 2021, they wore masks and had sanitized dice and pens that the players carried from table to table.
Many of the women originally met at Northview Bible Church in north Spokane.
"We've all prayed for one another," Cheryl Nelson said. "Our faith is as important as our friendship."
Spouses are welcome once each year at their annual June potluck. In December, they forgo the game and meet at a restaurant for lunch and a gift exchange.
"I live in a retirement community, so I can't host," Ginny Gambill said. "I've taken on organizing the December luncheon."
Among the bunko members, they have 36 kids, 39 grandchildren and 18 great-grandchildren.
"When we met, most of our kids were in elementary school," Walker said.
"We used to talk about our kids," Sharon Jones said. "Now we talk about our grandkids and great-grandkids. We've nurtured each other. Several of us are cancer survivors."
Some relationships go back even further than bunko days.
"Betty and I went to college together at Whitworth," George said.
Betty Leinweber served as this month's hostess. She's also the caretaker of the group's history, recording special moments and memories in their bunko scrapbook. If that's not enough, she's usually tasked with figuring out the day's winner.
"She's the best at math," Bumgarner said.
Sometimes, a neighborhood connection prompted an invitation to join. That's what happened to Sheila Miller.
"Betty and Mary were my neighbors," she said. "I started subbing and my sister, Sandy, joined, too."
In addition to being neighbors, Mary Caruso said Betty's husband was their vet and took care of their dogs.
"So many memories of wonderful things," she said.
Knowing they can count on each other means even more as the years go by.
"Today, our laughter is a little more robust because it comes from women who've experienced life together," Bumgarner said. "This group brings us joy!"
---