Paul Hamilton, known as 'sheriff of Hillyard' and booster of neglected Spokane neighborhood, dies at 66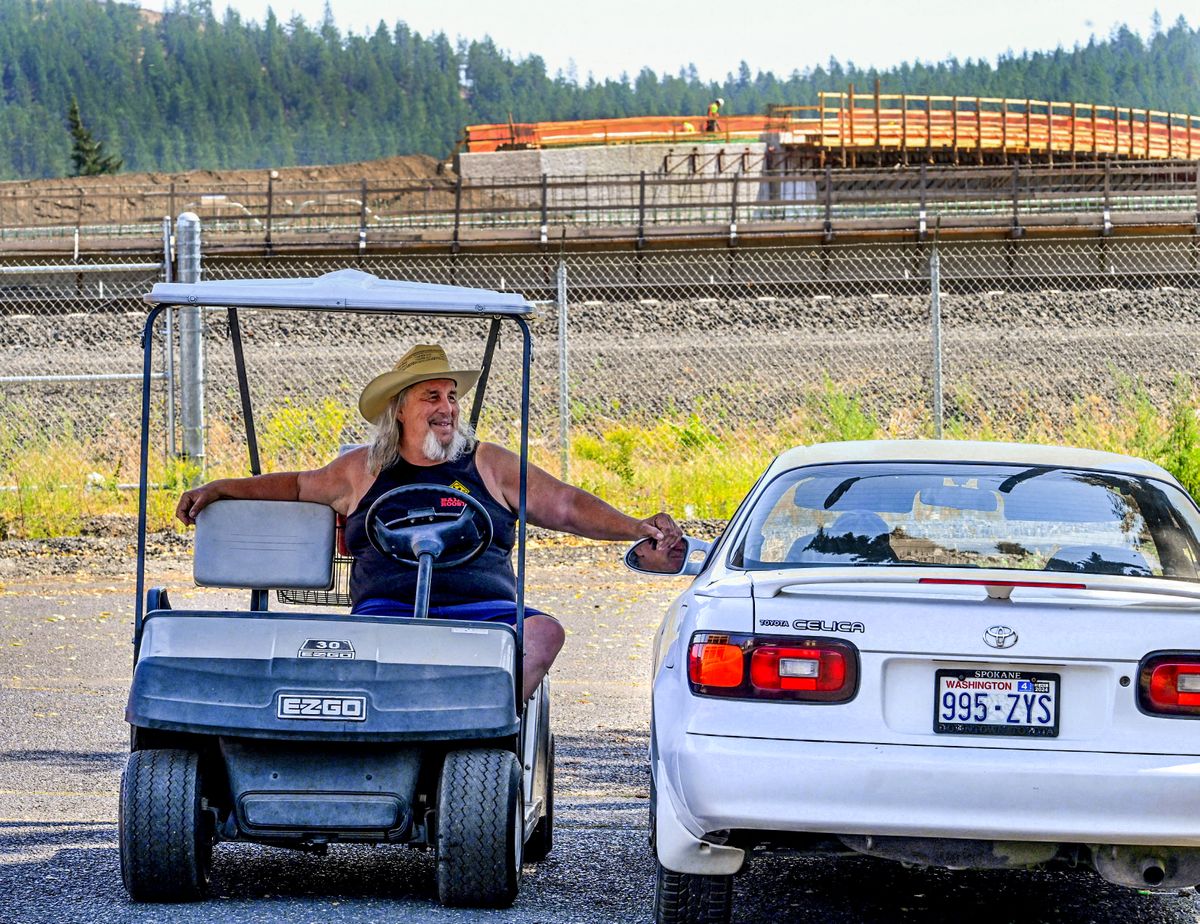 Paul Hamilton sold insurance out of his office on the main drag of Hillyard, but it wasn't the main commodity he offered.
"He had more people sitting in his Allstate office, asking him about life, than asking him about insurance," said Chauncy Welliver, the Hillyard-born championship heavyweight boxer and longtime friend of Hamilton's.
Hamilton, an accomplished wrestler at Rogers High School and North Idaho College who became a successful business owner and booster of the Hillyard neighborhood, died Monday after being rushed to the hospital. He was 66.
Friends and family totaling about 300 people gathered in Hillyard on Tuesday evening after news of his death spread through the neighborhood, known for its historic ties to the railroads. The crowd included Welliver and City Councilman Michael Cathcart, who said during his own campaign for office he became more closely acquainted with Hamilton, the former neighborhood council chair who held court every year at Hillyard's summer festival.
"He was the heart and soul of Hillyard," Cathcart said. "If you'd have been at the vigil, you would have felt how much pain there is throughout the community."
Hamilton, who was born Sept. 13, 1956, was a standout grappler at Rogers High School, where then-coach Ken Pelo described Hamilton "as fine an athlete and as fine a kid as you'll find in the state" in a Dec. 31, 1974, story in The Spokesman-Review. After high school, Hamliton would meet with other wrestlers at the community center in Hillyard for practices that included Shawn Fissette, who was tagging along with his older brother.
"He had the keys to the community center back then that had a wrestling mat," said Fissette, now president of the Hillyard Festival. "I was 6, and these guys were in high school, and just out of high school."
After college, Hamilton worked for a family trucking business in Alaska, said Dwight Hamilton, his younger brother. He also owned a video company before starting his insurance business off Market Street.
"He just loved Rogers and the community," Dwight Hamilton said.
Hamilton began working to organize the Hillyard Festival, celebrating the community's long history that included years before incorporation into the city limits, in the 1990s. During his tenure with the festival, Hamilton developed a new logo for the celebration that was inspired by the symbol of his alma mater, Rogers High School: the pirate.
For the August 2000 iteration of the festival, Hamilton bought a Ferris wheel.
"I'd talk to kids and ask them if they went to the festival," Hamilton told The Spokesman-Review in 2000. "They'd say, 'It sucked.' There was nothing for the kids."
So it was Hamilton that Fissette went to when he needed help setting up a youth football program.
"One thing led to another, and we became tighter friends," Fissette said. Hamilton gave him a desk in his insurance office to work on festival preparations, Fissette said, and he'd help out in kind by answering the phones on occasion.
Mayor Nadine Woodward met Hamilton when she was running for office in 2019, she said Wednesday. He later helped facilitate a town hall in Hillyard when the city was considering putting up a temporary shelter on city-owned land in the neighborhood.
"Everybody respected him, everybody knew him," Woodward said. "He took my arm, and walked me into the Roxy theater, and then walked me out. He was a consummate gentleman."
Hamilton was seen also as a protector of the neighborhood, and on a Friday afternoon in April 2006, that reputation as "the sheriff of Hillyard" was solidified. A man who robbed a Hillyard bank ran off, and Hamilton flagged down a car to give chase. He jumped out of the car and "used a wrestling move to hold him until police arrived," according to an account published in The Spokesman-Review. The bank had been robbed twice in just over a month.
"I'm tired of the violation," Hamilton told the paper. "We're tired of being ripped off."
That was the code Hamilton lived by, said his brother said. You knew where you stood with Paul Hamilton.
"He was a tough dude," Dwight Hamilton said. "He didn't care what people thought. But his biggest savior was, he had the biggest heart of anybody you ever met in your life."
When Welliver, with the nickname "The Hillyard Hammer," wanted to stage a boxing match in his stomping grounds, Paul Hamilton bought him a ring and bleachers to stage the fight.
"That's the kind of man Paul Hamilton was," Welliver said. "He'd really let you accomplish your dream. It sounds like a storybook, but this man was real."
Fissette said replacing that presence will be difficult in a neighborhood on the cusp of renewal with the construction of the North Spokane Corridor and a remaking of the roads in and out of the historic area.
"At this point in time, it would take four or five people to take back what he'd been doing," Fissette said.
Hamilton had been able to attend the festival one more time, on Saturday, and shared a couple beers with festivalgoers.
"He would just gladhand, and chat, and have a great time," Cathcart said. "I was just really glad I got to sit and have a beer with him one last time."
Woodward also saw Hamilton one more time at the Hillyard festival this weekend.
"He was a bigger-than-life type of guy," the mayor said.
The family is planning a funeral, pursuant to Hamilton's wishes, at property he owns off Bigelow Gulch, Dwight Hamilton said. The City Council is also planning to bring a formal recognition of Hamilton's work in Hillyard forward in the coming weeks, Cathcart said.
Staff writer Luke Blue contributed to this story.
---