Sacajawea Middle School opens in new building, welcoming incoming class that includes sixth graders As she approached the brand new Sacajawea Middle School on the first day of school, eighth-grader Julia Contay's stomach dropped.
Though she's at the top of the food chain at the school, she felt a mix of anticipation for the year before her, eagerness to play her violin in orchestra and anxiousness about starting fresh in a brand new facility.
"I'm a little bit excited, but a lot of me is always going to be nervous before I do anything new," Julia said.
Nearly 1,000 students at Sacajawea Middle School had their first day of school Tuesday at a new building on Spokane's South Hill. While the building is a clean slate for all, sixth-graders for the first time joined the ranks of middle schoolers this year in the south side of the Spokane school district.
Funded through a 2018 voter-approved bond, the $78 million upgrade replaces a brick building from 1959.
At Julia's side was her sister Camille Contay. Fresh out of elementary school, the sixth-grader is used to only having one classroom. She was a little nervous she'd lose her way moving between classes in the unfamiliar territory.
"We never really did the rotating three classes in elementary school, so it might be a little hard," Camille said. "When we were in (elementary) school, there was more of a flexible schedule, not really where you go here and then there and then there."
The construction of the school quelled some of Camille's nerves, as student's core classes are concentrated in the same neighborhood all within wings dedicated to each grade level.
"I like the wings because then you don't have to walk across the building," Camille said.
The wings are just one feature of the new building, designed with ample common spaces for students to mingle and flow freely from commons to commons.
"It's a lot more open so people can actually walk around. In the old building, it was so cramped you could barely get to your class in time," said Blake Thompson, eighth-grader and Associated Student Body treasurer.
The library and lunchroom are two wall-less spaces allowing students to freely filter in and out.
"I like that there are no doors to the library. I like books a lot; I read a lot of books," Julia said. "I just like the idea that everyone is always welcome to come and get a book."
Adjacent to the cafeteria are the learning stairs, a set of large platforms for students to use as they see fit, perhaps reenacting movie scenes.
"This is kind of random, but I'm a huge 'High School Musical' fan, and the cafeteria just, like, reminds me of that," said Charlotte Dix, eighth-grader and ASB secretary. "Just how the stairs are, and I can recall the songs and look at them."
Sixth-grader Perry Huntoon missed the chance to be top dog at her elementary school. She'll have to wait two years to be the oldest in the school as an eighth-grader.
"We never did get to be at the top of elementary school, so that was kind of disappointing. Otherwise, I'm very excited to move into middle school and be able to be part of that community," Perry said.
Included in the Thunderbird community is Perry's sister, eighth-grader Ellie Huntoon, who knew instantly what most enthused her about the new school.
"I'm excited to be close to (Perry) again," Ellie said.
Being in the same building eases some first-day jitters, the sisters said. While they're eager to be just a classroom away, Ellie admitted she's a little defensive over her turf.
Blake said he's jazzed to spend more time playing music. A saxophonist of two years, he will be playing in the school band that practices during school and the jazz band, with morning rehearsals twice a week.
"I'm really excited for jazz band, jazz band is awesome," he said.
Athletic enemies of the Thunderbirds beware: Student athletes also are eager to hit the court, empowered by the gym that offers two basketball courts or three volleyball courts, and windows facing the rest of the school and the outdoors.
That's music to eighth-grader and ASB president Ava Andrews' ears. The basketball and volleyball player is ready for sports to begin.
"I love teamwork, it's just really fun," Ava said. "I've never played volleyball before, and being on the team is really, really awesome; it just made it a lot more fun making new friends, too."
Ava's teammates and cabinet members, Charlotte and vice president Tiffany Kiragu, each also in eighth grade, echo her appetite for (friendly) competition.
"Sports and making new friends, that's something I'm looking forward to," said Tiffany, who plays basketball and runs and jumps in track.
Charlotte plays volleyball, basketball and runs track, but she's already looking forward to the intense spirit challenge at the end of the year known as "rubber thunderbird," akin to the "rubber chicken" competition at Lewis and Clark High School. The new gym lends itself nicely to the 31-year-old tradition, during which grade levels compete in challenges, dancing and contests to determine the most spirited.
"Rubber thunderbird is a huge tradition at this school," Charlotte said. "Just looking at the gym and the way the bleachers are aligned and stuff, I feel like it's going to be a lot different this year, especially with another grade."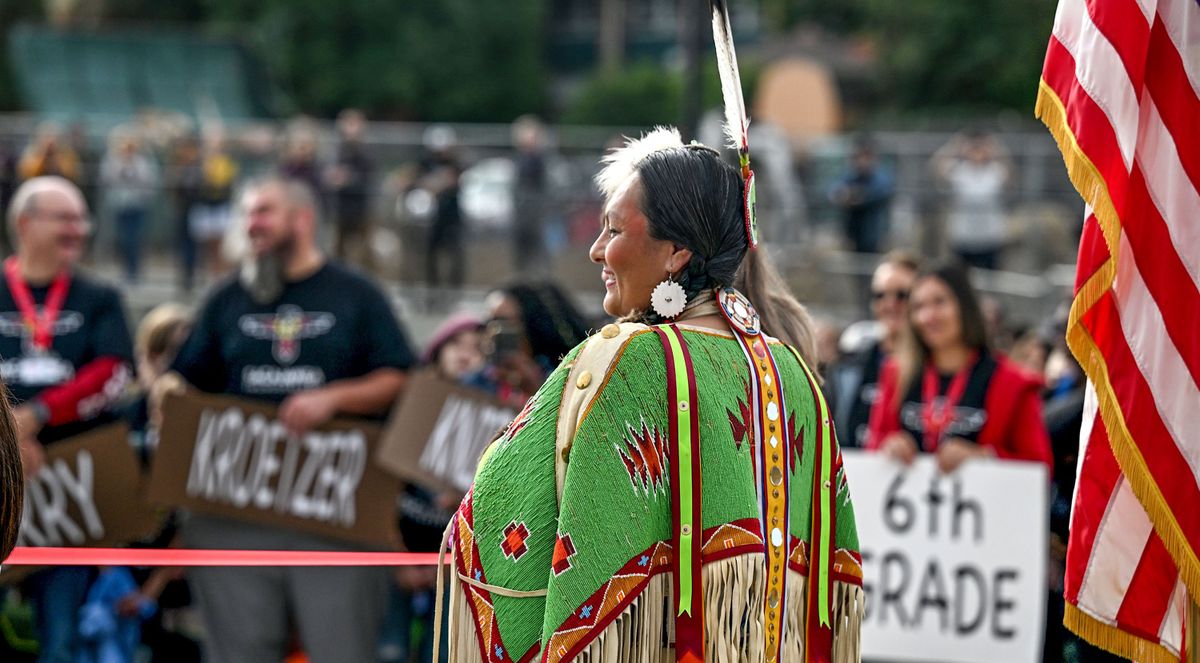 ---