News > Agriculture
Spokane Ag Show returns Tuesday
Sat., Feb. 4, 2023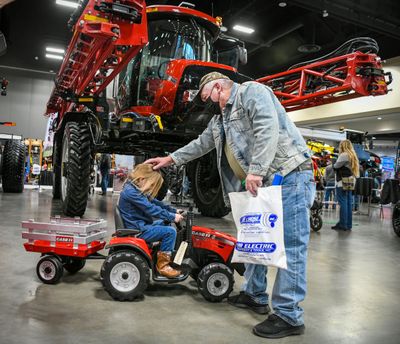 The largest agriculture trade show in the Inland Northwest will return to downtown Spokane this week.
Over 200 exhibitors from across the region and the country will display combine harvesters, tractors and farm equipment inside the Spokane Convention Center at the 46th annual Spokane Ag Show Tuesday to Thursday. It's an opportunity for agriculture professionals to network, connect with vendors and learn from industry experts about the latest trends.
"We are really proud of the agriculture industry here in the Inland Northwest and we look forward to another show," said Melissa Paul, director of the expo.
Paul said 5,000 people typically attend, 61% of whom are producers from the local region.
The event will open with "Weatherman" Art Douglas giving his usual long-term weather outlook in a 9 a.m. keynote Tuesday in the Centennial Ballroom. Douglas, professor emeritus of atmospheric sciences at Creighton University, is known for his accurate forecasts. Many farmers in the region look forward to hearing his predictions as they plan spring crops.
The show's Excellence in Agriculture Award will be announced Tuesday for an individual or organization that has made a significant contribution to agriculture in the Inland Northwest.
Wednesday morning, Randy Fortenbery, a Washington State University agricultural economist, will give an agriculture economic update and forecast.
The event is also an opportunity for the next generation to learn about the industry. Future Farmers of America will host a panel discussion Thursday from 9 to 11 a.m. on the topic "Farming is More than Dirty Boots." The panel of industry leaders is expected to attract up to 1,000 students.
Throughout the convention, there will be 44 professional development seminars on various industry topics such as "precision ag technology" and "increasing drought resilience with healthy soil."
There is free parking and a shuttle service available from the Spokane Arena. Tickets can be purchased on-site or online at agshow.org.
Local journalism is essential.
Give directly to The Spokesman-Review's Northwest Passages community forums series -- which helps to offset the costs of several reporter and editor positions at the newspaper -- by using the easy options below. Gifts processed in this system are not tax deductible, but are predominately used to help meet the local financial requirements needed to receive national matching-grant funds.
Subscribe now to get breaking news alerts in your email inbox
Get breaking news delivered to your inbox as it happens.
---