A&E > Northwest Passages
'Black is powerful': Spokane high school students use poems, drawings to share their Black experiences
Feb. 15, 2023 Updated Wed., Feb. 15, 2023 at 10:06 p.m.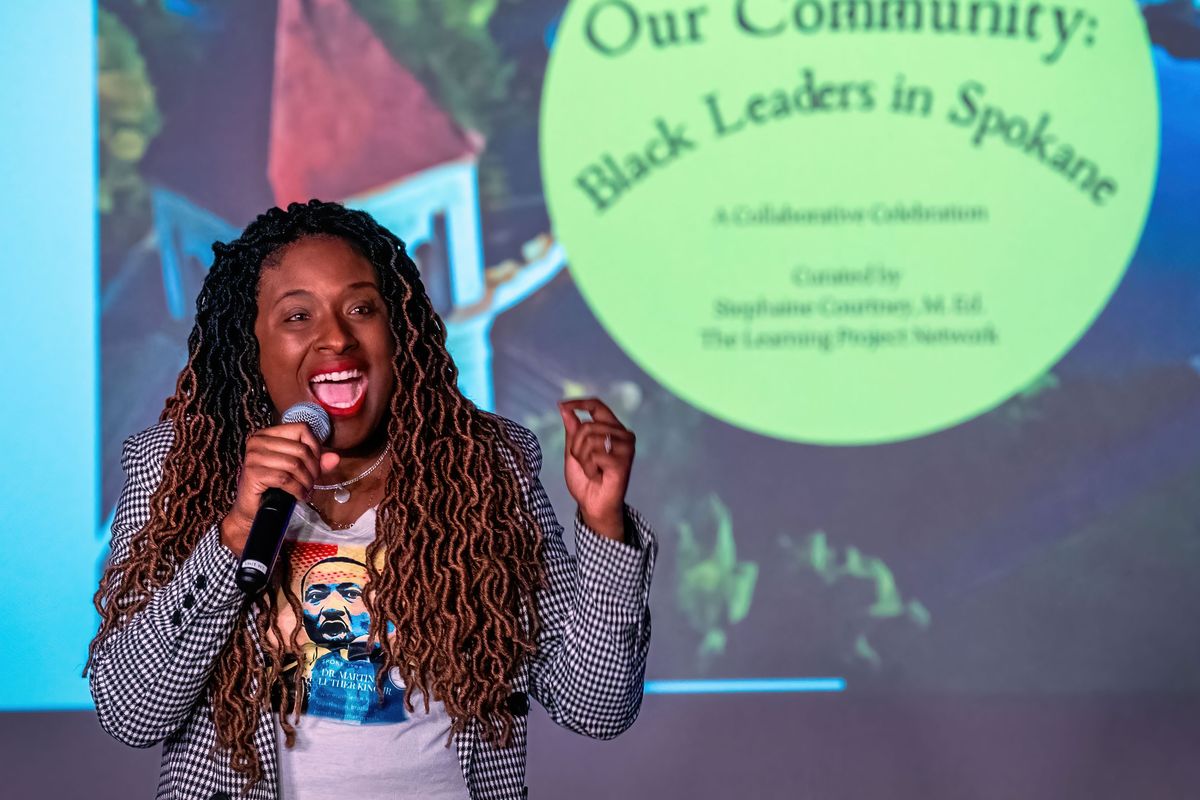 Stephaine Courtney, author of "Our Community: Black Leaders in Spokane," speaks Wednesday at the Northwest Passages' Black Voices Symposium at Central Library. (COLIN MULVANY/THE SPOKESMAN-REVIEW)
Shadle Park High School freshman Aisha Rodriguez said her Black, white and Hispanic roots make it difficult to fit in sometimes.
"There's always these standards and these places that people want to put you in, but then you never really identify with one of them," she said.
Rodriguez and a half-dozen other Spokane-area high school students shared their experiences and feelings living as minorities in a predominantly white city Wednesday night at the Central Spokane Library as part of The Spokesman-Review's Northwest Passages series.
Students recited their writings and discussed their artwork in front of about 100 people who attended the second rendition of the Spokane Black Voices Symposium.
Rodriguez drew a Black Rosie the Riveter piece because the female cultural icon was "one of the biggest and strongest female role models" she learned about in school.
"I would have to say my inspiration was my stepmom because she is one of the most powerful women in my life, let alone one of the most powerful Black women in my life," Rodriguez said.
Dante Crawford, a Shadle Park junior, read his piece, "Bright Flame." Crawford's drawing of a hand holding an orange and yellow candle flame with a chain link connecting the wrist to the flame accompanied his poem.
"This candle is like my wants and needs and everything I aspire to be in my future," he said.
He said grabbing hold of the candle can be difficult with the weight of school, family and other obligations.
"It's heavy sometimes," Crawford said.
Crawford said he knows what it's like to struggle, growing up in Chicago where he dodged people in alleys and was "always scared and fearful." He said he lost his mother in Chicago and has bounced from school to school and from home to home.
"I don't really have a mother and father figure in my life," Crawford said.
Grace Kellogg, a junior at Lewis and Clark High School, called her writing "My Brown is Beautiful."
"Black is powerful," she said.
After the students' discussion, Kiantha Duncan, former Spokane NAACP president, invited the students and other notable Black figures in the community, including Spokane attorney Natasha Hill and Stephaine Courtney, to the stage.
Courtney read a passage from her new book, "Our Community: Black Leaders in Spokane," to begin the night.
Duncan said some of the women on stage are accomplished in their own way.
"They started out just like you," Duncan told the students.
"What you do from this moment in Spokane can change your life."
Courtney said many of the children she works with need to see themselves in the different careers she outlined in her book.
"Every time you think you are not something, I want you to remember that you are something," she said.
Local journalism is essential.
Give directly to The Spokesman-Review's Northwest Passages community forums series -- which helps to offset the costs of several reporter and editor positions at the newspaper -- by using the easy options below. Gifts processed in this system are not tax deductible, but are predominately used to help meet the local financial requirements needed to receive national matching-grant funds.
Subscribe to the Spokane7 email newsletter
Get the day's top entertainment headlines delivered to your inbox every morning.
---