Sports > Gonzaga women
'We're back!': Gonzaga's Kaylynne and Kayleigh Truong announce they will return for another season
Feb. 18, 2023 Updated Sat., Feb. 18, 2023 at 8:01 p.m.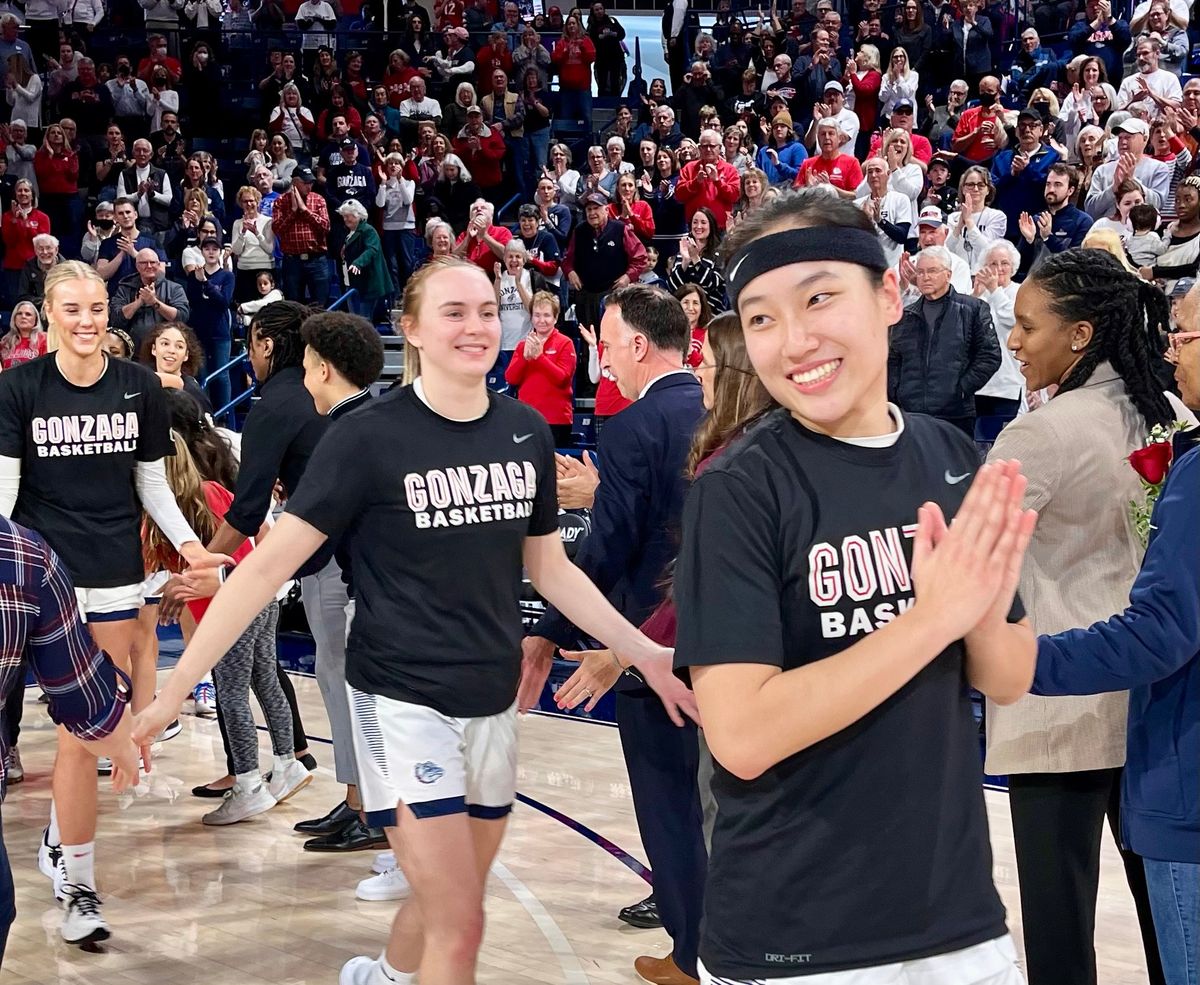 Kaylynne Truong leads fellow Gonzaga seniors Brynna Maxwell and Eliza Hollingsworth on Saturday at McCarthey Athletic Center. (Jim Allen/For The Spokesman-Review)Buy a print of this photo
Senior Day at Gonzaga was short and sweet and everything the Kennel crowd could have hoped for.
All four seniors – Kaylynne and Kayleigh Truong, Brynna Maxwell and Eliza Hollingsworth – will be back next year.
For several weeks, fans had wondered whether the Truong sisters, Kayleigh and Kaylynne, would return for a fifth season.
The answer came Saturday afternoon, just after pregame warmups as the Zags faced Saint Mary's in the final home game of the season. All four appeared individually on the big screen, each offering a message of thanks to the coaches and fans.
That sounded a lot like parting words, but a second later, they were back on the screen together.
"Zag Nation …" Kaylynne Truong said in a trailing voice. A pregnant pause followed as the four players looked at one another.
Together they announced: "We're back!"
The crowd cheered, and seconds later, Kaylynne Truong led the Zags onto the court for what turned out to be a 65-51 home win against Saint Mary's.
The Truongs' decision to return was made about two weeks ago and was partly influenced by the foot injury that has cost Kayleigh nearly her entire season.
"It was tough," said Kaylynne, who was flanked in the postseason interview room by Kayleigh and Yvonne Ejim.
"It's been a long four years, but I think Gonzaga is a really good school, and I love playing with everyone on this team," said Kaylynne, a backup last year.
"But for me personally, I was working so hard to start alongside 'Leigh,' to be able to share the court with her," Kaylynne said.
Maxwell, a senior transfer from Utah, announced earlier that she would return next season.
Hollingsworth is in her fourth year, having redshirted as a freshman in 2019-20. She will graduate this spring but like the others can still can play another season because of the COVID-19 pandemic.
Two years ago, the NCAA allowed all student-athletes whose 2020-2021 season was impacted by the pandemic to get six years to compete in four full seasons of their sport.
The Truongs' return means Gonzaga will be a heavy favorite to win the West Coast Conference next season and vie for a high seed in the NCAA Tournament.
"To have the caliber of person that they are, and the caliber of player … it's pretty special," GU head coach Lisa Fortier said.
Local journalism is essential.
Give directly to The Spokesman-Review's Northwest Passages community forums series -- which helps to offset the costs of several reporter and editor positions at the newspaper -- by using the easy options below. Gifts processed in this system are not tax deductible, but are predominately used to help meet the local financial requirements needed to receive national matching-grant funds.
Subscribe to the sports newsletter
Get the day's top sports headlines and breaking news delivered to your inbox by subscribing here.
---