News > Nation/World
Spokesman-Review pulling 'Dilbert' after creator's racist rant
Feb. 25, 2023 Updated Sat., Feb. 25, 2023 at 9:11 p.m.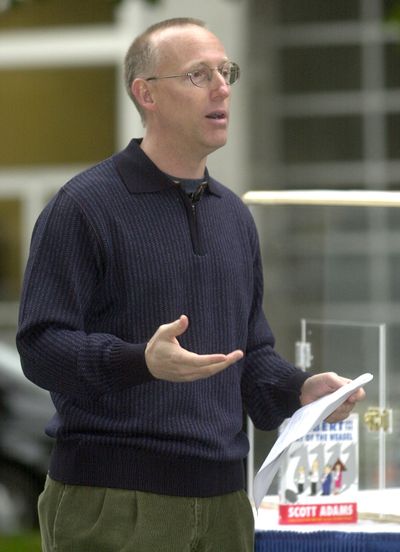 From staff and wire reports
The Spokesman-Review is joining newspapers across the United States and pulling Scott Adams' long-running "Dilbert" comic strip after the cartoonist called Black Americans a "hate group" and said white people should "get the hell away from" them.
The Washington Post, the USA Today network of hundreds of newspapers, the Cleveland Plain Dealer, the San Antonio Express-News and other publications announced they would stop publishing "Dilbert" after the 65-year-old cartoonist's racist rant on YouTube Wednesday. Asked how many newspapers still carried the strip, which Adams created in 1989, he told the Post: "By Monday, around zero."
The cartoonist, who has entertained extreme-right ideologies and conspiracy theories for several years, was upset Wednesday by a Rasmussen poll that found a thin majority of Black Americans agreed with the statement, "It's OK to be white."
"If nearly half of all Blacks are not OK with white people … that's a hate group," Adams said on his live-streaming YouTube show. "I don't want to have anything to do with them. And I would say, based on the current way things are going, the best advice I would give to white people is to get the hell away from Black people … because there is no fixing this."
The S-R's Sunday comics pages are preprinted, and daily comics pages are laid out by syndicates and sent in advance of their publication dates.
"The Spokesman-Review has reached out to the producers of its comics pages to have future pages re-sent without 'Dilbert,' " S-R editor Rob Curley said. "We will work with our readers to pick a permanent replacement for 'Dilbert' over the upcoming weeks."
In 2019, The Spokesman-Review also pulled "Non Sequitur" from its pages after the strip's creator, Wiley Miller, included a hidden obscenity about then-President Donald Trump.
Several months later, Spokesman-Review subscribers began a campaign to bring the strip back to the newspaper. After a poll of the newspaper's subscribers confirmed wide support for "Non Sequitur" to return to The Spokesman-Review, Wiley Miller penned an apology to readers and then visited Spokane to apologize in person.
Adams also blamed Black people for not "focusing on education" during the show and said, "I'm also really sick of seeing video after video of Black Americans beating up non-Black citizens."
Outrage followed.
By Thursday, the Post began hearing from readers calling for the strip's cancellation. On Friday, the USA Today Network said that it "will no longer publish the Dilbert comic due to recent discriminatory comments by its creator." The Gannett-owned chain oversees more than 300 newspapers, including the Arizona Republic, Cincinnati Enquirer, Detroit Free Press, Indianapolis Star, Austin American-Statesman and Milwaukee Journal Sentinel.
"In light of Scott Adams's recent statements promoting segregation, The Washington Post has ceased publication of the Dilbert comic strip," a spokesperson for the newspaper said Saturday, noting that it was too late to stop the strip from running in some upcoming print editions, including Sunday's.
Chris Quinn, the vice president of content for Plain Dealer publisher Advance Ohio, wrote in a letter from the editor Friday that pulling "Dilbert" was "not a difficult decision." "We are not a home for those who espouse racism," Quinn wrote. "We certainly do not want to provide them with financial support."
"MLive has zero tolerance for racism," wrote John Hiner, the vice president of content for MLive Media Group, which oversees eight Michigan-based publications. "And we certainly will not spend our money supporting purveyors of it." Referring to Adams's "numerous disparaging remarks about Black Americans," the Express-News wrote: "These statements are offensive to our core values."
"Scott Adams is a disgrace," Darrin Bell, creator of "Candorville" and the first Black artist to win the Pulitzer Prize for editorial cartooning, told the Post on Saturday. "His racism is not even unique among cartoonists." Bell compared Adams's views to the Jim Crow era and more recent examples of White supremacy, including "millions of angry people trying to redefine the word 'racism' itself."
In fact, Adams did exactly that on his YouTube show Saturday. He offered a long, quasi-Socratic defense of his comments, which he said were taken out of context, and seemed to define racism as essentially any political activity. "Any tax code change is racist," he said at one point in the show. He denounced racism against "individuals" and racist laws, but said, "You should absolutely be racist whenever it's to your advantage. Every one of you should be open to making a racist personal career decision."
In the same show, Adams suggested that he had done irreparable harm to a once sterling career.
"Most of my income will be gone by next week," he told about 3,000 live-stream viewers. "My reputation for the rest of my life is destroyed. You can't come back from this, am I right? There's no way you can come back from this."
Set in a dystopian office where the titular character is tormented by a stupid boss and a talking dog, "Dilbert" appeared in more than 2,000 newspapers at its peak, winning Adams the National Cartoonists Society's esteemed Reuben Award in 1998 and spawning a television show that aired on UPN from 1999 to 2000.
The National Cartoonists Society declined to comment. Andrews McMeel Syndication, the company that syndicates "Dilbert," did not immediately respond to a request for comment.
The degradation of Adams's public image was initially intertwined with his praise for Donald Trump in the 2016 presidential election. Since then, he has identified himself with increasingly extremist viewpoints.
In 2019, he apologized to the victims of the mass shooting at the Gilroy Garlic Festival in California for a tweet in which he used the tragedy to advertise an app he created. Adams also claimed in June 2020 that the "Dilbert" television show was canceled because he's White, adding that it "was the third job I lost for being white." He tweeted in January 2022 that he planned to "self-identify as a Black woman." He has suggested Americans were brainwashed into supporting Ukraine.
Last May, Adams used "Dilbert" to mock workplace diversity and transgender politics through a new character called Dave the Black Engineer. He also praised anti-vaccine advocates last month, saying on his YouTube show that "the unvaccinated have a current advantage."
His comic strip's reach declined simultaneously. "Dilbert" was dropped last year by Lee Enterprises, a media company that runs 77 newspapers in the United States, though that decision appeared to be part of a larger overhaul. It nevertheless continued to run in many major publications – at least until this week.
Asked to comment in more detail about his remarks and the mass cancellations, Adams initially declined. He later told the Post in a text message: "Lots of people are angry, but I haven't seen any disagreement yet, at least not from anyone who saw the context. Some questioned the poll data. That's fair."
Local journalism is essential.
Give directly to The Spokesman-Review's Northwest Passages community forums series -- which helps to offset the costs of several reporter and editor positions at the newspaper -- by using the easy options below. Gifts processed in this system are not tax deductible, but are predominately used to help meet the local financial requirements needed to receive national matching-grant funds.
Subscribe now to get breaking news alerts in your email inbox
Get breaking news delivered to your inbox as it happens.
---