Sports > EWU football
Former Eastern Washington QBs Bo Levi Mitchell, Vernon Adams Jr. find renewed enthusiasm in CFL
Jan. 29, 2023 Updated Sun., Jan. 29, 2023 at 9:38 p.m.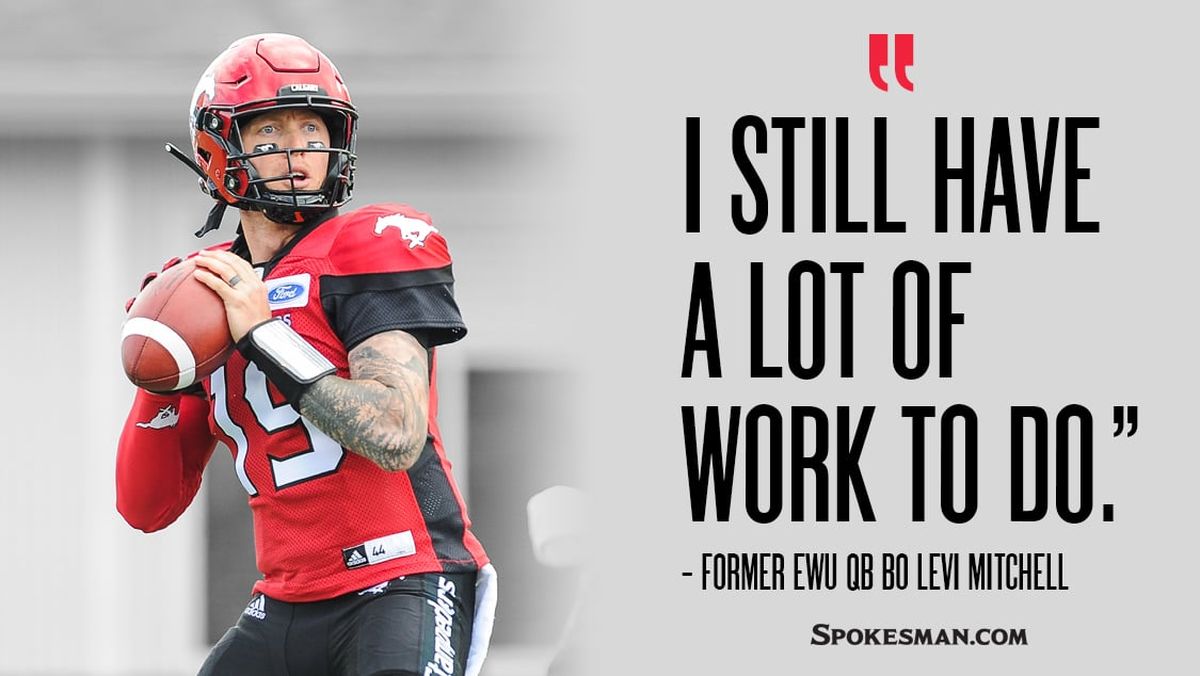 Bo Levi Mitchell versus Vernon Adams Jr. sounds so much more intriguing to Eastern Washington University football fans than Jake Maier versus Nathan Rourke.
Fortunately for both Mitchell and Adams, the former EWU All-America quarterbacks appear to be entering the 2023 Canadian Football League season with new starting assignments after ending last year on the bench for their respective teams.
Last Tuesday, Mitchell officially became the new quarterback for the Hamilton Tiger-Cats after spending the last 10 seasons with the Calgary Stampeders where he became the franchise leader with 32,541 passing yards. The 2011 Walter Payton Award winner at EWU after helping the Eagles win the 2010 NCAA Division I Championship, Mitchell has earned the CFL's Most Outstanding Player honor twice in his illustrious career. He also led Calgary to a pair of Grey Cup titles and was the game's MVP in both.
"These are moments I live for," said Mitchell at a press conference to announce his signing. "I've wanted to walk into a different stadium and win a Grey Cup for a different team, but it's all built in the locker room. I'm not going to be able to do anything until I earn the respect of every single name on the back of these jerseys. I have to get to work, and that's what's on my mind."
Mitchell was Calgary's starter for most of his 10 seasons with the club, but lost his starting position to Maier in the middle of the 2022 campaign. Calgary is committed to Maier for the next two years, which led to Mitchell's announcement last November he was leaving the team. Mitchell was set to be a free agent in February of 2023.
Adams, brought in by the BC Lions late in the 2022 season when Rourke was injured, stands to be the starting quarterback for the Lions when the CFL's nine clubs begin preseason camps this spring. Rourke recently signed a free -agent contract with the Jacksonville Jaguars in the National Football League.
Both Mitchell and Adams were on the bench last Nov. 6 when Calgary's season ended with a 30-16 loss to the Lions in the CFL's West Division semifinal. Another former Eagle, T.J. Lee, was on the winning side of that game, as well as former Eagle and Lions standout Ryan Phillips, who is now the Lions' defensive coordinator.
Lee, who has only played for British Columbia, signed a two-year contract extension last week with the Lions.
It all makes for a pair of interesting 2023 match-ups between British Columbia and the Ticats. However, those teams don't play each other until week 12 of the CFL on Aug. 24 in Vancouver, B.C., as well as Oct. 13 on the third-to-last weekend of the regular season.
Perhaps more intriguing will be Mitchell's home game versus Calgary on Sept. 30, although, the two teams will not meet in Calgary this year. Hamilton will host the 110th Grey Cup on Nov. 19 at Tim Horton's Field, and Mitchell says it's no secret he'd like to be playing in it and was a key reason he signed with the Tiger-Cats.
"It doesn't hurt – I can tell you that," Mitchell said. "Legacy is a big one for me, so for me to possibly be the guy to bring the Grey Cup back (to Hamilton) means a lot."
Hamilton has won 13 Grey Cups in its history, but hasn't won a title since 1999. In 2014, Mitchell was the MVP when Calgary beat the Ticats 20-16 for the Grey Cup title. Most recently, the Tiger-Cats lost to Winnipeg 33-25 for the 2021 championship, and prior to a canceled year because of the COVID-19 pandemic, fell 33-12 to Winnipeg in 2019.
Earlier in the 2022 season, Mitchell became Calgary's all-time leading quarterback before losing his starting position. Mitchell hadn't thrown a pass since Aug. 20 until the playoff game on Nov. 6 when he came off the bench to complete 8 of 11 for 147 yards, leading the Stampeders to a touchdown and field goal.
The result of the lack of playing time late in the year, has made his off-season better than ever in terms of recovery from injuries.
"My body felt amazing going into December, which typically isn't the case," he admitted.
"I was glad I was able to showcase a couple of things the last few drives in the playoff game. Instead of your body kind of getting torn down during an 18-game season, I was able to continue to build it up and work out during the season. I wished it was different, but it was a blessing in disguise."
Mitchell played in 165 regular season games for Calgary, and completed 64 percent of his 3,866 career pass attempts for 32,541 yards, 188 touchdowns and 89 interceptions. Those totals don't include the 17 playoff games (9-8 record) the Stampeders have played in the past decade with Mitchell on the roster.
Adams, who was an All-American for the Eagles in 2013 and 2014 before transferring to Oregon, started the 2022 season in Montreal. He was a backup at the time he was traded on Aug. 31 when a foot injury sidelined Rourke for an extended period of time.
Adams started much of the remainder of the regular season, and closed the year 139 of 219 (63 percent) for 1,798 yards, seven touchdowns and three interceptions, plus another 162 yards and TD rushing. In his career, he's played in 75 games and has completed 62% of his 1,000 pass attempts for 8,992 yards, 49 scores and 27 picks.
Both Adams and Lee have spent eight seasons in the league, with Lee playing 109 games. Lee has current regular -season totals of 467 tackles, with 23 interceptions, eight forced fumbles and four sacks.
Lee and Mitchell were teammates on EWU's 2010 national championship team, but have been on opposite sides of the field since 2014 when Lee joined the Lions. In fact, the Stampeders were the opponent for Lee's CFL debut when he had a pair of interceptions – one for a touchdown – in BC's 37-13 preseason victory over Calgary on June 20, 2014.
Despite starting his second decade in the league, Mitchell doesn't plan to hang up the cleats any time soon.
"I don't look forward to ending my career – it's not something I'm trying to rush to do," he added. "There are a lot of things I haven't done in this league. I haven't won a Grey Cup with a new team, and I've never won a Grey Cup at home. Those are things I've been looking forward to and I want to check off my list, and there's more. I still have a lot of work to do."
Local journalism is essential.
Give directly to The Spokesman-Review's Northwest Passages community forums series -- which helps to offset the costs of several reporter and editor positions at the newspaper -- by using the easy options below. Gifts processed in this system are not tax deductible, but are predominately used to help meet the local financial requirements needed to receive national matching-grant funds.
Subscribe to the sports newsletter
Get the day's top sports headlines and breaking news delivered to your inbox by subscribing here.
---