NASA, Boeing call off Starliner launch plans after parachute, flammable tape issues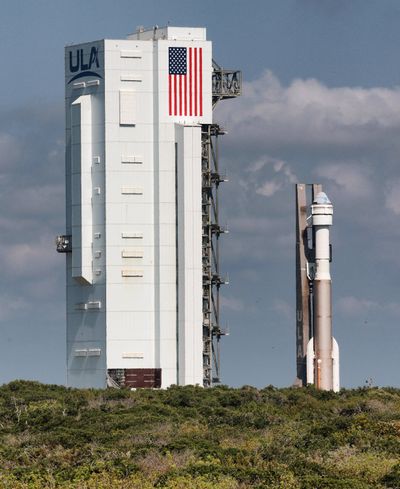 ORLANDO, Fla. – NASA and Boeing officials said the first crewed flight of the CST-100 Starliner will be delayed yet again after new issues related to the spacecraft's parachutes as well as the discovery that much of the tape used in the hardware was flammable.
"Bottom line here, safety is always our top priority. It's always been that way with human spaceflight, and so that drives this decision," said Mark Nappi who heads up Boeing's Starliner program. "You can say we're disappointed because it means that delay, but the team is proud that we're making the right choices."
The mission that aimed to take up NASA astronauts Butch Wilmore and Sunita Williams to the International Space Station was slated to fly as early as July 21 atop a United Launch Alliance Atlas V rocket from Cape Canaveral Space Force Station. This mission dubbed CFT was supposed to pave the way for the spacecraft's certification to perform regular transport service to the ISS.
CFT's July target was already a delay from the spring, and has been more than a year since Boeing's successful redo of an uncrewed flight to the ISS called OFT-2.
That mission came after more than a year and half delay from the first uncrewed flight attempt, which made it to orbit but missed its rendezvous with the ISS. NASA deemed that 2019 flight a "high visibility close call" that forced a major overhaul of the program including hardware, software and management practices from Boeing and NASA oversight.
The series of delays has seen Boeing falling more than three years behind SpaceX and its Crew Dragon, which just completed its 10th human spaceflight. The two spacecraft were supposed to share duties of flying crew to the ISS as part of NASA's Commercial Crew Program.
The two new issues for Starliner only cropped up during a checkpoint review in late May with teams looking at their severity in the last week.
The tape issue involves tape that did fly on the uncrewed test in 2022, and it is commonly used in spaceflight, but teams found that its adhesive posed a flammability risk under certain conditions.
Nappi said there's hundreds of feet of this tape in the system around Starliner's wiring systems.
"It's highly unlikely that we would go in and cut this tape off, (which) would probably cause more damage or potential damage than we're trying to solve for," Nappi said. "So we're looking at solutions that would provide for potentially another type of wrapping over the existing tape in the most vulnerable areas that reduces the risk of a fire hazard."
The parachute issue is related to a more rigorous certification process for CFT than was performed on OFT-2, Nappi said. Engineers found issues with some of the joints called soft links made of fabric within the parachute system that could pose a safety risk for human spaceflight.
"They were tested recently because of a discovery that we found during the review process where we believed that data was recorded incorrectly," Nappi said. "We possibly had a lower failure load limit than we previously had understood. We tested those and, sure enough, they did fail at the lower limit and that ended up decreasing our factor of safety in this soft link pretty significantly."
Nappi said he still thinks a launch this year would be feasible, but didn't want to commit to any date.
"Crew safety remains the highest priority for NASA and its industry providers, and emerging issues are not uncommon in human spaceflight especially during development," said NASA Commercial Crew Program manager Steve Stich. "If you look back two months ago at the work we had ahead of us, it's almost all complete. The combined team is resilient and resolute in their goal of flying crew on Starliner as soon as it is safe to do so."
Stich said NASA is still supporting Boeing's effort despite the continued delays. SpaceX meanwhile is set to send up the Crew-7 mission in mid-August and Crew-8 in early February. The space for docking at the ISS is getting more crowded, but Stich said a window late in the year could be possible if the CFT issues can be solved.
"NASA desperately needs a second provider for crew transportation," Stich said. "We are very excited of having Boeing get certified and fly our crews to station to have one flight per year. … So we support Boeing and we're doing everything we can during the investigation of each of these issues and trying to get the flight as soon as we can when it's safe to do so."
---