On Track Academy: Abbigale Cuzick thrives with her creative outlets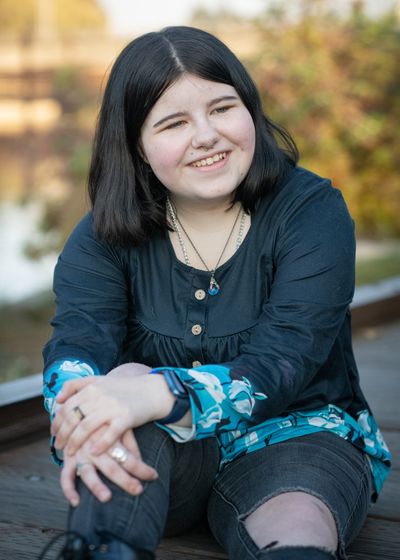 Every school has one of those students – the one who can't be summed up in a few short sentences. For On Track Academy, that student is Abbi Cuzick.
"Abbi is quite frankly one of the most amazing students to ever grace the halls of OTA. She is everything you want in a student: smart, talented, driven and a leader. She builds stained glass panels in the advanced glass class, and she designed our yearbook cover," teacher Erin Bangle said. "She teaches guitar lessons after school and she's headed to Western Washington University in the fall. And the least interesting thing about Abbi is that she does it all from a wheelchair."
At 13, Cuzick was diagnosed with Friedreich's ataxia, a rare form of multiple sclerosis. This variety of MS can also include other conditions including scoliosis and Type 1 diabetes.
"We didn't know what it was at first," Cuzick said. "I was diagnosed with Type 1 diabetes and placed in the hospital for a couple of months."
Her sister has the same disease, but not the accompanying medical conditions.
When Cuzick was finally able to return to school, she wasn't the exuberant athletically inclined kid she'd been before she got sick.
"I was still walking, but not very good. Kids made fun of me," she said. "A couple of teachers said I walked like I was drunk. It wasn't the best of times."
Then she transferred to On Track Academy.
"At first I was nervous, but it was really different," Cuzick said. "They welcomed me with open arms."
Her artistic bent led her to the stained glass studio and also enabled her to design the school's yearbook cover.
"I love art and being able to use my mind to create whatever I want," she said.
She gravitated to leadership and became active in On Track's Gender Sexuality Alliance club.
"I came up with a lot of our ideas to help keep the group together. It's fun!" she said.
Bangle has enjoyed watching her student become socially active and spread her wings.
"I don't know if anybody looks at her and sees the chair, she's just Abbi," Bangle said.
Cuzick quickly became a student that staff could rely on to make other kids feel welcome.
"Abbi is one of my point people when we have new students," teacher Kylor Allen said. "She makes students feel comfortable here."
He's been impressed with her natural leadership skills.
"She's got a knack for leadership and loads of potential," he said.
Cuzick plans to study art education at Western Washington University this fall.
"I feel like there's a lot of things I can share because of my experience," she said. "I feel like I have to make my own path and help other kids along the way."
Her teachers at On Track are confident she'll thrive in the university environment.
"She creates for herself what she wants," Bangle said. "I respect that about her so much."
"Abbi has pushed past the boundaries of being in a wheelchair," Allen said. "She says, 'This is not a limitation to me.' "
Their student is matter-of-fact about her often difficult journey.
"I've learned everyone's path is different and different is what makes people better," Cuzick said.
"Each step you take gets you closer to where you want to be, even if it's only small steps."
---