Lake City High School: Jacob Carter transitions from athlete to school's biggest fan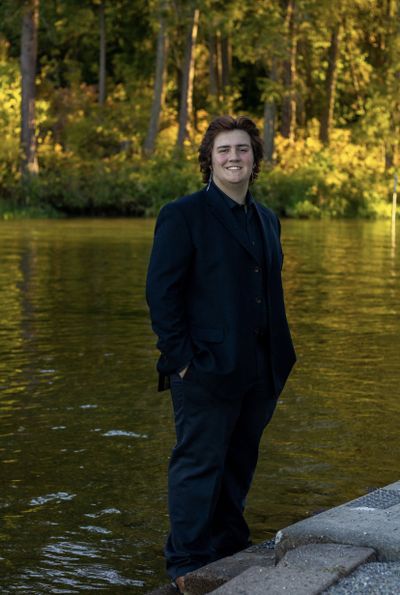 Jacob Carter started out at Lake City High School as many do, heavily involved in sports. But injuries and a pandemic combined to instead make him Lake City's best hype man, focused on inspiring his fellow students to be involved and have fun.
Carter's family moved to Post Falls when he was 3 months old, then to Coeur d'Alene when he was in the first grade. He began playing football and wrestling in middle school, receiving a concussion in the eighth grade after a hit so hard that his face mask split. In his freshman and sophomore year he played football and was on the wrestling team. He thinks he got several milder concussions his freshman year, then had a more serious one as a sophomore while wrestling. That's when his mother put her foot down and Carter quit playing sports.
"It was the best decision for everybody," he said.
It was about that time that the COVID-19 pandemic began in earnest. Carter found himself attending classes two days a week with some of his fellow students and was cut off from the rest. He, like many others, used social media to help fill that gap and feel connected.
"Social media was kind of a saving grace there," he said. "Quarantine was hard for everybody."
At the start of his junior year, Carter felt adrift because he wasn't doing his normal sports, but he was in the stands for the football games. He saw the student body president, Cayden Stone, there and Carter said Stone had such a love for Lake City that he inspired him.
"The way I saw Lake City was just a place to go to school," he said.
Carter was soon hyping up the crowds to support the football team, then got involved in basketball games as well. "It is the most fun, awesome thing ever," he said. "That's how I kind of found my love for the school."
It was Stone who encouraged Carter to run for student body president his senior year. Carter said he originally ran as a joke. "I made a funny video and made a funny speech," he said. "I used giant notecards. I wore a suit. I shaved my head."
Carter quickly realized that the role was not a joke and began to take it seriously. "It got really unfunny real fast," he said. "I like to think I was able to bring a more positive attitude to Lake City. It's on me to set a tone for the culture."
His goal has been to get every student involved in school somehow. "If you go to school eight hours a day and then go home, school sucks," he said. "That's why I encourage kids to join a club, play in a sport."
Principal Deanne Clifford said Carter is a dedicated leader and an advocate for his fellow students. Whoever replaces him as student body president will have big shoes to fill, she said. "It was his personality, relatability and love for his classmates and community that propelled him into the position of representing our student body as their president," she said.
Carter has been taking dual credit classes and plans to finish his associates degree at North Idaho College before enrolling at Boise State to earn a degree in nursing.
---