News > Spokane
'It's going to be a slugfest': Spokane mayor's race enters new phase
March 5, 2023 Updated Mon., March 6, 2023 at 11:44 a.m.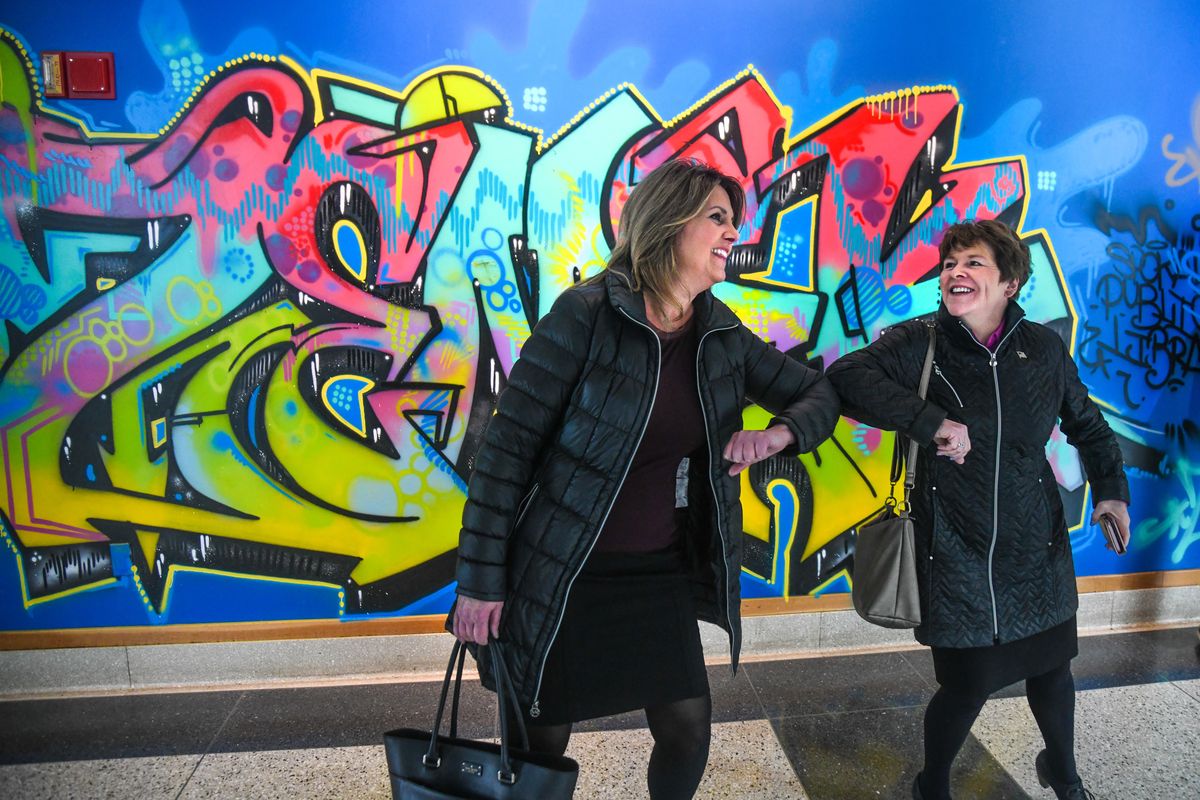 Spokane Mayor Nadine Woodward, left, and Lisa Brown, who was then the Washington state Commerce Director, meet and greet before a tour of the temporary shelter for the homeless, on March 30, 2020, at the downtown Spokane Public Library. Brown announced last week that she would challenge Woodward's bid for re-election this year. (Dan Pelle/The Spokesman-Review)Buy a print of this photo
Former state Senate Majority Leader Lisa Brown's entrance last week into the Spokane mayoral election marked the beginning of a race likely to be expensive and fraught, a starting gun Mayor Nadine Woodward responded to by returning fire.
Minutes before Brown's campaign kickoff began Thursday morning, the Woodward re-election campaign announced the incumbent would hold a news conference of her own that afternoon.
Brown, after touting her record of service to the city, argued Woodward failed to make progress on homelessness and the perception of safety downtown, core tenants of the incumbent's 2019 campaign. The city under Woodward was stuck in neutral, Brown said.
Hours later, Woodward also started her news conference by highlighting her record and the progress of her first term, particularly around homelessness and public safety, in an apparent response to Brown's earlier remarks.
She pointed to a pilot program to encourage housing density, the doubling of homeless shelter beds and a renewed focus on community policing, among other initiatives.
Woodward blamed decisions out of the state Supreme Court and Legislature for tying the hands of local law enforcement, and she proposed a new city law to crack down on public drug use that circumvents those hurdles.
Woodward also shot back at Brown and the state Department of Commerce she ran until earlier this week. She accused Commerce of frittering away millions on inefficient and controversial solutions to homelessness under Brown's leadership, and of lining the pockets of Brown's allies.
In a news release and posts to social media, Woodward criticized Brown's extensive legislative history. Many of those lines of attack seemed to have been drawn verbatim from opponents of Brown in her 2018 campaign to unseat Rep. Cathy McMorris Rodgers.
With five months before the August primary and eight before the general election, Thursday's twin events were the opening salvos of what is expected to be the region's most closely watched contest.
"Just from the announcements, it's going to be a slugfest," said Steve Corker, vice president of the Landlord Association of the Inland Northwest and former two-term member of the City Council.
Former City Council President Ben Stuckart, who lost the 2019 mayoral race to Woodward, called the incumbent's response to Brown's announcement "desperate" and "grasping." He added that he thought it was reminiscent of the campaign four years ago.
"When Nadine announced, her announcement speech was unhinged," Stuckart said. "It was just a full attack right away, blaming me for every single problem in the city."
Corker, who said he plans to support Woodward in the coming contest, expressed uneasiness with how quickly the election turned negative.
"It's very rare in an opening kickoff that you have candidates already attacking their opponent rather than just talking about their credentials," he added.
The quick pivot could be chalked up to both candidates being known commodities, Cornell Clayton, director of the Thomas S. Foley Institute of Public Policy and Public Service at Washington State University. The two figures also have clashed publicly over the response to the Camp Hope homeless encampment, acting as a sort of prelude to the campaign, Clayton added.
"But I'm not sure I would characterize it yet as going negative," he said. "They're drawing contrasts with each other's policies, pointing out where they think the other one's leadership has been lacking."
During her Thursday news conference, Woodward was asked how contentious she expected the election would be.
"We'll see," she responded. "We're off to a start, aren't we?"
She clarified that she wouldn't call it contentious to point out differences between the candidates, before adding that Brown was "a career politician" who liked boosting taxes. Unlike Woodward, Brown "was OK with the people sleeping in the field in 6 inches of snow," she continued, referring to the continued existence of Camp Hope.
"I think you're going to see an attempt for either candidate to blame the other for the failure of Camp Hope," Corker said.
When hot button issues like homelessness become the focus of an election, those elections tend to get heated, said Michael Baumgartner, Spokane County Treasurer and former two-term state senator.
"I think this will be a pretty feisty, blood and guts race," he said. "And probably sooner rather than later."
It's also likely to be an expensive race.
In 2019, Woodward and Stuckart both raised roughly $300,000. Groups like the Citizens for Liberty and Labor spent another $237,000 to help Stuckart, while groups like the Washington Realtors and Spokane Good Government Alliance dropped another $424,000 in favor of Woodward.
This year, Woodward has raised more than $100,000 and is the only Spokane mayoral candidate to have reported any fundraising. Brown also has a record of strong fundraising, accruing more than $5 million in her 2018 congressional campaign against McMorris Rodgers.
Fundraising this year is likely to exceed the 2019 mayoral race, Cornell said. Baumgartner, one of Spokane's most prolific political fundraisers, concurred, though he doubted Brown would raise anything close to the millions during the congressional race in a cycle that was favorable to Democrats.
At least for now, the record for spending by a candidate for mayor of Spokane is held by David Condon, who spent upward of $400,000 in his successful 2015 re-election bid. Corker suspects that record won't last much longer.
Not the general yet
Although the attention of Brown and Woodward seems to be squarely on one another, they aren't the only candidates in the race.
Former Spokane Firefighters Union President Tim Archer hopes to challenge Woodward from her right, pledging to be more confrontational with the state and with the other contestants in the race.
"I believe (Brown) would have us be Queen County to support King County," he said. "She also came out of the chute talking collaboration, Woodward is talking about collaboration, and I think this is a time for aggressive, strong leadership to make Spokane great again."
Archer lost his job last October after 20 years with the Spokane Fire Department because approval for his religious exemption to the COVID-19 vaccine was rescinded. He has said he felt betrayed by the mayor. He and 19 other firefighters were forced from their jobs because of how Woodward enforced Gov. Jay Inslee's vaccine mandate, he said.
"While I represented our heroes on our Fire Department, I saw our mayor refuse to answer calls from them and defer them to a hired West Side attorney instead," Archer said.
It's unclear if there will be a candidate to attempt a serious run from Brown's left. Commercial real estate appraiser Jonathan Legault, who filed preliminary paperwork to run for mayor and had been courting the endorsement of the Green Party, has since decided against running.
"It's really an institutional game at this point," he said. "If you don't have a 'D' or an 'R' next to your name, no one really pays attention."
With two well-known fundraising powerhouses in the race, it will be difficult for an alternative to find make headway, Clayton noted. A candidate that might otherwise be successful but gets a poor showing this year could also leave a lasting stain on their future chances.
"If they can't sustain a good campaign, and they get blown out, it doesn't bode well," Clayton said.
Candidates will file May 15-19 to get their names placed on the Aug. 1 primary ballot.
Local journalism is essential.
Give directly to The Spokesman-Review's Northwest Passages community forums series -- which helps to offset the costs of several reporter and editor positions at the newspaper -- by using the easy options below. Gifts processed in this system are not tax deductible, but are predominately used to help meet the local financial requirements needed to receive national matching-grant funds.
Subscribe now to get breaking news alerts in your email inbox
Get breaking news delivered to your inbox as it happens.
---