News > Business
'Like a big coffee session all day long': Tiny Oakesdale's grocery store is the heart of the community
Sun., March 5, 2023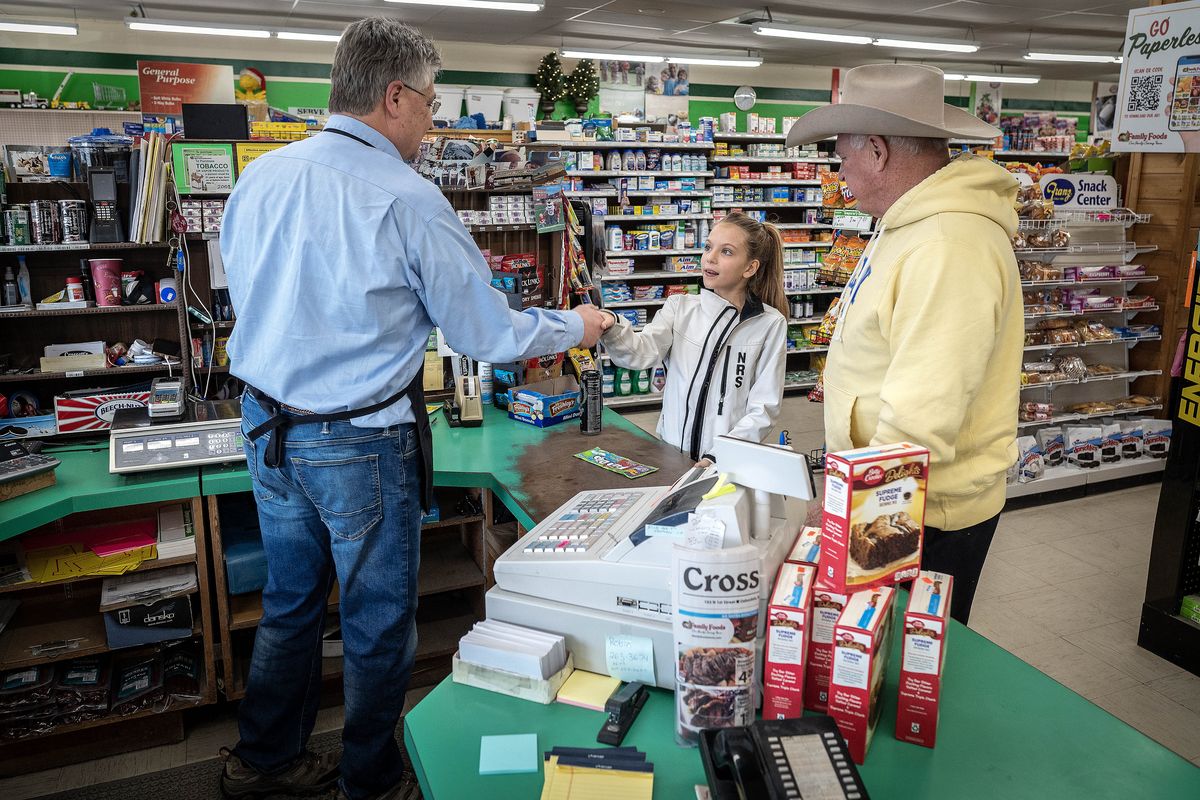 Mike Crossett, owner of Crossett's Market in Oakesdale, Wash., meets customer Alexa Byrne, 10, for the first time as she gets some after-school snacks with her grandfather, Tony Byrne, on Jan. 26. Crossett's Market is a long-time vibrant and highly reviewed family-owned grocery store in Oakesdale. (COLIN MULVANY/THE SPOKESMAN-REVIEW)Buy a print of this photo
OAKESDALE, Wash. – On the corner of Steptoe Avenue and First Street, a green awning with the words "Crossett's Food Market" covers a couple of wooden benches and an ice machine. On the windows, simple advertisements handwritten in marker on poster paper announce sales for produce and sundries.
With no parking lot, it's the kind of place where locals leave their pickups running on the curb while they step inside to shop.
Crossett's is a fixture of the Whitman County town in the middle of Palouse wheat country, about 40 miles south of Spokane, with a population of about 400 people.
Independent grocery stores like Crossett's play a vital role in small towns not only for access to nutrition, but as businesses that support the local economy and as gathering places that build community.
The store has glowing reviews on Google Maps, boasting an average of 4.8 stars from 79 reviews. They say things like, "neat little country store that seemed to have everything" or "I love stopping here when I'm headed through," and "best family-owned supermarket on the planet."
The word "friendly" appears again and again.
Mike Crossett, the owner, had no idea his store was so well-regarded online.
"See, I'm not in that world," he said. "That's nice to hear. I guess I have some friends out there."
Inside, it's cozy and humble. Eight small aisles hold ordinary grocery staples, pasta, cereal, dry goods, canned food and breads. A cold section keeps meat, dairy and frozen dinners. Besides food, there are greeting cards, pet food, cleaning supplies, office supplies – everything one would expect to find in a supermarket, just on a smaller scale.
The front checkout counter has a horseshoe shape with a cash register on each bend. They are old-fashioned registers without scanners. Cashiers must enter items manually.
Common neighborliness is what makes the store special.
"It's like a big coffee session all day long, you just visit with everybody," said Ashley Robinson, a cashier.
Crossett, donning his green work apron, shrugs. "I'm very lucky to be able to do what I am doing."
It's about the size of a convenience store, but it is much more than that. With less emphasis on snack food, lottery tickets and cigarettes, Crossett shies away from the convenience store model. He wants customers to "walk in, have a nice feeling, grab a cart and head down the aisle."
Small town life is different from shopping at a big-box store in the city. "Here, it's a reason to get out of the house and come down and visit a little bit," Crossett said.
Crossett supposes his location is good, being halfway between Spokane and Pullman. The market draws in customers from surrounding towns.
It's not just convenience. He said even commuters who work in Spokane, Colfax or Pullman still choose to shop at the market.
Oakesdale resident Josh Brown said he comes to the store once or twice a day. "You don't drive by without stopping," he said.
Brown, 42, remembers getting in trouble for running through the aisles as a child.
"It's kind of the place for kids to go in the summer," he said. "You go to the pool and then you got to go to the store to get a snack."
Crossett says his success is thanks to supportive customers and his suppliers.
He is part of URM Stores co-op, which gives his little store the same purchasing power as large chains.
He has a similar arrangement with his produce supplier, which delivers three times a week.
"These little things make my life easier and allow me to be a success," he said.
Crossett is a third-generation grocer. His grandparents owned a store in Springdale. His parents opened Crossett's Market at its current location in Oakesdale in 1948.
He didn't plan to take over the family business, though. After graduating from Eastern Washington University with a business degree and spending a couple of years in the late 1970s selling office equipment in Spokane, he'd had enough of the city and asked his parents if they had a job for him.
Since then, he has watched many businesses disappear. It's about the only store left in town, except for a service station.
Larry D. Gardner moved to Tekoa from Oakesdale a few years ago, but he still shops at Crossett's once a month.
"If the store was no longer here, I don't know what would happen to the town," Gardner said.
That's a concern Crossett shares. His two children have grown up, moved away and have "wonderful careers." Some day he will have to sell the store.
"It would be great to have some nice young couple come in and take it over," he said.
The town of Washtucna in Adams County lost its grocery store over 20 years ago.
After her husband died, Darleen Glenn retired and sold the store in the late 1990s. The store closed soon after that.
"People had to go other places to shop," Glenn said. "It was hard on the community."
Today, a café-gift shop in town sells a few basics. The closest full-service grocery store is in Ritzville, about 27 miles north.
When rural stores close, it most impacts low-income individuals and older adults, who tend to have less access to transportation.
Washtucna Food Bank serves about 60 families a month, which is a large portion of the 300 people who live in the surrounding area, the food bank's director Karin Clinesmith said.
The same dynamic unfolded recently in Northport not far from the Canadian border in Stevens County, where more people are using the food bank, since the only grocery market in town closed last summer.
As swaths of baby boomers retire across industries, there are not enough younger workers to step in and take over their businesses. Sometimes a store will close with little warning.
"By that point, when an owner has decided to close completely, there's not much you can do to turn that ship around," said Rial Carver, program leader for the Rural Grocery Initiative at Kansas State University.
When a store closes, community members are forced to change shopping patterns. That can make it more difficult to re-establish a store after locals get in the habit of shopping in another town.
The Rural Grocery Initiative helps communities explore alternative ownership models.
Carver pointed to a school district in Kansas that owns a grocery store and uses it to teach an entrepreneurship class.
Public-private partnerships between local governments and independent operators can help lower the financial risks.
Some towns own their grocery store outright and operate it like a public utility with a line in the town budget. The goal is to offer a service to the community, to cover the costs without needing to maximize profit.
Nonprofit economic development organizations can also be effective. In LaCrosse, a town of about 200 people in southwest Whitman County, an organization called LaCrosse Community Pride purchased and renovated several empty buildings including the location of a former grocery store. It now rents the space to a new store owner.
Whatever its future, the desire for a store in Oakesdale remains strong.
"I'm not trying to brag, I've just had a nice life here," Crossett said. "It's not anything to do with me being any great retail man or anything like that. Put it out there and they will come."
Local journalism is essential.
Give directly to The Spokesman-Review's Northwest Passages community forums series -- which helps to offset the costs of several reporter and editor positions at the newspaper -- by using the easy options below. Gifts processed in this system are not tax deductible, but are predominately used to help meet the local financial requirements needed to receive national matching-grant funds.
Subscribe now to get breaking news alerts in your email inbox
Get breaking news delivered to your inbox as it happens.
---